Bugaloo Kids: The Cutest Baby Shoes (And You Could Win Some!)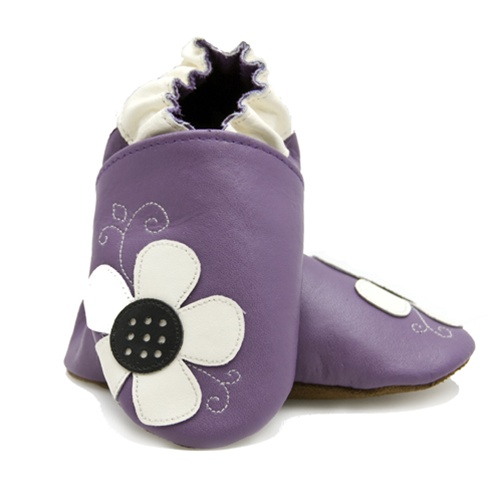 Gosh, these are such adorable designs! The leather baby shoes at Bugaloo Kids are definitely not your typical, cutesy baby designs, but more fresh and modern. I had such a hard time choosing a pair because I really liked them all!
They are the same style as the ever popular Robeez, but much more affordable. They go for a mere $15 a pair, which is very, very reasonable for this style and quality of shoe. Not to mention, if you purchase 3 pairs, then your shipping is free (they'd make a great and affordable baby shower gift, although you could just get 3 pairs for your own kids! 🙂
They are definitely higher quality than so many of the other little leather shoes that are out there. I was really impressed by these.  I personally like this style of shoes for babies because I find that they will fit a bit longer than your typical Size 2 or 4 (or whatever) style shoe, just because they are soft and flexible and they don't need to be such an exact fit.
They're great for babies toddling around the house (and outside as well), and are so much easier for little ones to learn to walk in than shoes with stiff or thick soles. My understanding is that it's actually much better for their feet and for their walking development to use soft sole shoes like this, and I can understand why! Unless you're buying very expensive children's shoes, they often don't fit well and just aren't conducive to ease of movement, especially for little ones who are still tripping and wobbling and tottering around.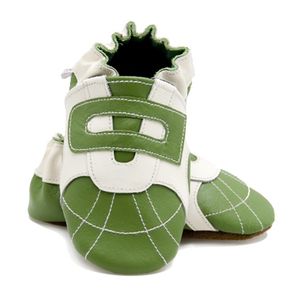 My son Caden adores them. He has the green pair pictured on the right, and I just love their simple and stylish design. When they arrived he kept exclaiming over his "Noes!" The fit is generous, and even though he's just turned 2, he's still able to wear the 18-24 month size with some room to grow.
I was blessed to see that 5% of the profits are donated to International Justice Mission, which works to fight again slavery and human trafficking. I think it's wonderful to see businesses that are using their profits to give generously to others. These are the kind of businesses that my husband and I love to support!
Want to win a pair? I know you do! 🙂
Here's how:
1) Visit their site Bugaloo Kids, and check out their adorable designs. Come back here and leave a comment letting me know your favorite design (or designs- I know it's hard to pick!).
2) Get a second entry into the giveaway by posting about this giveaway on your own blog. Leave a comment with your post url.
3) Get another entry by twittering about this giveaway (linking to this post, of course), and then come back and leave me a comment that you've done so.
4) If you've never subscribed to my blog before, earn yourself another entry by subscribing, either through email or through a blog reader. Leave a comment letting me know that you are a first time subscriber!
5) Giveaway ends on Friday, July 3, at 4 pm PST.
Comments are now closed. Thanks everyone!