An Experiment in Couponing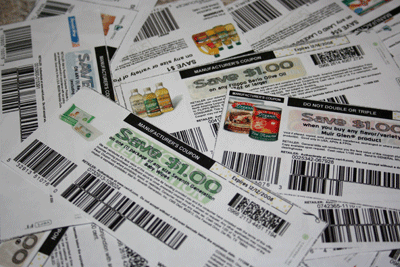 We're all after ways to lower our grocery budget, right?
Well, I decided to go back and make another attempt at something that I've previously deemed as not worth it. I've been asked before whether or not I coupon, and the answer has always been no. My primary reasons for not doing so are:
1) I live in Canada, where coupons are really not used to nearly the extent that they are in the US. It's time consuming, difficult and in the end, not especially worthwhile for the most part, though I'm sure there are many people that still do it with success.
2) We eat a whole foods diet, which just doesn't lend itself to couponing very well. When is the last time you found an add for $1 off a 5 lb bag of quinoa or Buy 1 Get 1 Free jars of coconut oil in your Sunday newspaper? Oh wait… never!
But lately, I got to thinking, what if it could still be done, to supplement and support a whole foods diet? What if you could get organic products you might normally buy for cheaper or nearly free? What if you could get some grocery staples like baking soda, organic canned tomatoes, ziploc bags and toilet paper for practically nothing?
And thus, my experiement was born.
This weekend, we will be spending an early Thanksgiving weekend in Seattle with my husband's family (to beat the actual Thanksgiving border lineups). While we're there, I'm going to go grocery shopping and I've been planning my couponing strategy this entire past week.
I'm a newbie at this, so it's taking me a long time. I understand the concept of coupons, working with manufacturer's coupons, store coupons and store sales. What is taking so much time is sifting through all of the coupons out there for foods and products that I would never dream of buying, to find the products that would actually be worthwhile to me.
What do you think? Is it possible to shave a few dollars off of the grocery budget by careful couponing of the items that work for me? Are any of you doing this (with a whole foods diet) with any success? If so, what resources/techniques are you using to do so?
When I come back after the weekend, I'll let you know how it went and what my thoughts are. Obviously, this won't be a lifestyle for me, being that I don't actually live in the States! I just thought it would be worth it to try, just for fun (yes, for fun– did I mention that I'm a geek?) and to see if it would be helpful for those of you who do happen to live where the coupons abound.
To be continued…