Introducing the 2013 Christmas Gift Guide!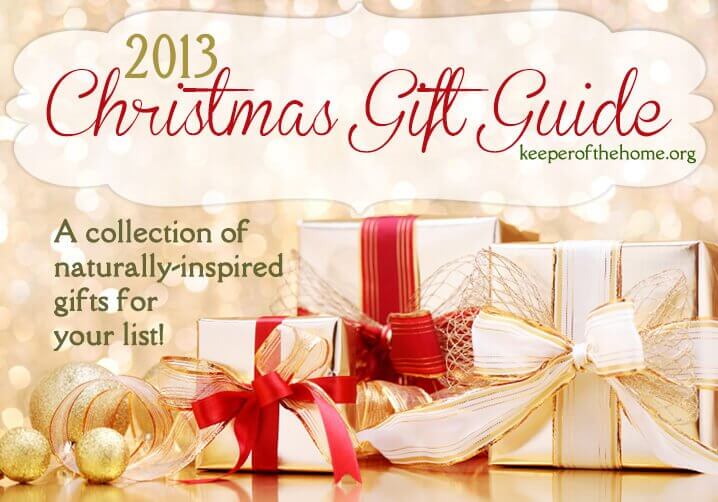 Are you thinking Christmas yet?
I'll confess, I wasn't really. Until this weekend.
As I went through and selected my favorite picks from each shop that is participating in our Christmas Gift Guide, my brain was spinning with perfect ideas for all those on my list. There really is a fantastic selection of items here!
How to use this Gift Guide
Take a look through now and get some ideas. If you're ready, go ahead and be one of those awesome, uber-organized people who does their shopping in October!
If you're not one of those (I'm more of a November gal, myself) the beautiful thing about this guide is that it isn't going anywhere.
For 3 months, from now until January 15th, you can look at this guide at any time. Go back to find a company that you forgot the name of, go find new inspiration for a gift that you're stuck on, or just get something that you need from a business you'll be happy to support!
At any time, you can find this guide here in the sidebar…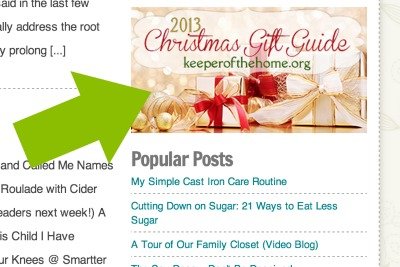 Or here in the top navigation bar…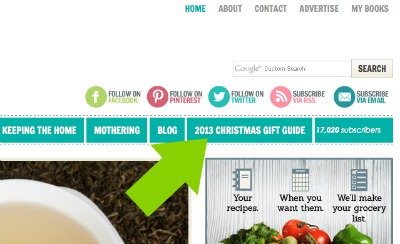 You'll notice that many companies have also included coupon codes to help you save money, so be sure to check those out!
We have also gone through each shop and selected a handful of "Our Picks" which are things that stood out to us as something that we would give to someone on our own lists, that we would enjoy receiving, or that we simply thought was a beautiful/novel/useful gift idea. These might help to get your gift-giving juices flowing, but know that each shop listed also has MUCH more in-store than the few items we linked to.
Find us on Facebook
Starting next week, we'll be highlighting companies one at a time on our Facebook page, so that you can get familiar which each of the individual shops listed in the guide (think of it as us giving you a gentle nudge that the number of days left to do your Christmas shopping are getting shorter each time you see one of the posts).
Without further adieu, here is the long awaited 2013 Christmas Gift Guide… happy shopping!
---

Apple Valley Natural Soap offers over 45 different varieties of all natural, solid, conditioning shampoo bars, body bars, salt bars, and organic coconut bars made with ingredients you can feel good about. Enjoy browsing our organic oil-based lip balms and tints, organic salves, lotion bars, and body scrubs—all at incredibly affordable prices. People love giving and getting our healthy, fabulous smelling, luxurious skin care products. All you need. Love your soap.
Our Picks: I'm partial to the Wheat and Honey Almond Bar and the Man 2.0 Bar is perfect for men. Himalayan Pink Grapefruit Tea Tree Pedi Scrub is a lovely bath luxury, the Creamy Butter Lotion Bar stays in my diaper bag, and Organic Herbal Salve is our go-to for owies of all kinds.
Price Range: $4-$15
Shipping:  USA only
Discount Code: Use "KOTHCHRISTMAS" for 10% off your order!
---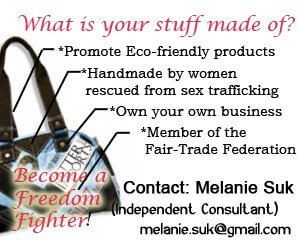 We are a small direct sales company focused on promoting products made by survivors of human trafficking. Our products are a variety of jewelry, bags and clothing some made with recycled products and some with organic cotton or natural jute materials. We offer opportunities for people to host parties and become consultants.
Our Picks: The Teardrop Pearl Necklace is beautiful. I also spotted these gorgeous Sari Bari Scarves, and these stunning Silver Heart Earrings. This Jenny Tote is totally eye-catching.
Price Range: $10-$100
Shipping: USA and Canada
---
Welcome to Bloom Naturals, health food for skin! I am a stay-at-home mother of 4 boys who was amazed to learn about all the harmful and useless ingredients found skin care so I began to make my own. I am passionate about providing the healthiest, most effective products by using only ingredients found in nature, never a laboratory. Because I never add fillers (like water) or toxins, you only paying for beneficial nourishing ingredients. Who doesn't want that! Give to the one you love the gift of restoring dull, tired, aging, and irritated skin this Christmas!
Our Picks: I have the NOURISH After Shower Body Hydration and it is amazingly luxurious. I would also love to try the Bum Butter for my littlest one, and the CLEAN baby wash. They also have a specific line of facial products that are pure and nourishing and look amazing. In addition to body care products, their laundry care selection looks fantastic, with laundry soap, dryer balls, and essential oil scent to add to the dryer balls for those that enjoy a little extra scent in their clean laundry.
Price Range: $10-$36
Shipping: USA and Canada
Discount Code: Use "KOTHCM13" for 20% off your order!
---
Welcome to The Bradford Exchange Online, your premier destination for limited-edition collectibles, personalized jewelry gifts, artistic apparel, home decor, and much more.
Our Picks: I spotted this Forever in a Mother's Heart Personalized Bracelet, or the Family Ring with Engraved Names and Birthstones. They even have a sports section with unique sports-themed gifts for the hard-to-buy-for men in your life! This personalized name necklace is beautiful, too.
Price Range: $39.99-$149
Shipping: USA
---
Miessence products, made without synthetic chemicals, are designed to have unrivalled purity, potency, and freshness. As a Miessence Independent Representative, I love helping others learn the benefits of choosing products with pure, certified organic ingredients. I'm pleased to share Miessence with you in hopes that you will have more vibrant health and beauty while treating the earth and your body with respect.
Our Picks: I immediately spotted this translucent foundation that looks amazing, and includes SPF coverage, too! This Rainforest Air Freshener would be a welcome addition to my home since I long ago gave up those chemical-laden conventional air fresheners. This Darling Salt Glow body scrub would be an amazing gift, as would this cleansing bar in geranium, which comes in an exfoliating sisal bag.
Price Range: Approximately $15-75 USD for most products. Combination packs are available with lower costs for individual products
Shipping: All major countries.
---
Down To Earth Toys carries a wonderful assortment of wooden, natural and organic toys. The majority of their toys are made in USA, with the remainder being made in Europe or else-where, fair trade. They offer flat rate shipping of $7.95 on all orders and pride themselves in excellent customer service.
Our Picks: Rainbow Playsilks provide endless imaginative fun, and these Castle Blocks are some of the coolest wooden blocks I've ever seen. Little ones would love either the Cuddle Doll or Natural Waldorf Girl or Boy dolls. Soft Fruit and Vegetable Rattles would be a perfect fit for a gorgeous wooden Child's Kitchen.
Price Range: $5-$350
Shipping: Continental USA
Discount Code: Use "Keeper13" to receive free shipping on orders over $25. Valid until December 31, 2013.
---

The Encouraging Home provides resources to help your family be healthy and fit. Young Living Essential Oils will help keep you healthy and prepared for almost any health problem, as well as keep your home chemical free. T-Tapp Fitness will also keep your family healthy in just 15 minutes a day. Tone up and get healthy!
Our Picks: Mary highlights two particular oils on her site: Peppermint Oil, and the Peace and Calm blend, which both would be welcome additions to my home! Mary also offers tons of links and articles to help you learn more about Essential Oils, as well as a free, downloadable guide! Mary also offers T-Tapp fitness products – a fitness program that you can do from home!
Price Range: $11-$100
Shipping: Worldwide
Discount Code: Use "KOTH10" to get 10% off from orders directly through Mary. If ordering through the company directly, you will receive a free bottle of Lemon Oil.
---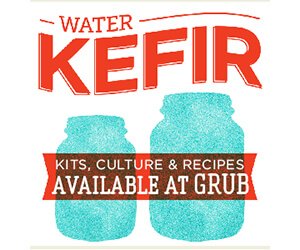 GRUB is a mom-owned business dedicated to supporting community and promoting nourishing practices through a real foods lifestyle. Water Kefir is a fermented probiotic soda that is easy to brew at home and is a tasty way to restore gut health for just pennies per day. Think if it as a natural and tasty alternative to soda that you and your kids can make together! Our water kefir kit includes live active heirloom cultures, a custom wide-mouth nylon strainer to fit your canning jars, complete step-by-step instructions and recipe, and access to our private online support group.
Our Picks: Their water kefir kit is perfect for anyone just starting out with water kefir brewing! It would make a fabulous gift. They also offer 'Grub Bucks' gift certificates, which are perfect for the healthy living lover on your list to choose their own! In addition to these products they also have classes and personal support.
Price Range: $22.50
Shipping: Continental USA
Discount Code: Use "KOTH" for FREE shipping
---
Give the gift of safe, simple, quick, and green cleaning with Norwex microfiber cloths. Using just tap water and the Norwex Enviro Cloth, you can clean your entire home.
Our Picks: This Fruit and Veggie cloth for cleaning fresh produce is intriguing! I can totally see my hubby loving the Car Wash Mitt and Car Cloth, and I happen to have one of their Enviro Cloths myself that I absolutely love. I also have the travel pack of 4 small-sized cloths and I keep one in various rooms of the house for easy access. I love them!
Price Range: $4.99-$112.99
Shipping: USA & Canada
---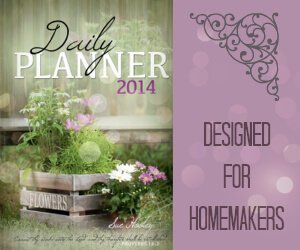 A homemaker's day can rarely be scheduled and structured the same as the day before. This uncomplicated, guilt-free planner helps women/moms to simplify their lives. The versatility of this Daily Planner allows a homemaker to immediately organize her days and duties. Included in the planner: Weekly Lay-out with two page spread and a space for menu planning, Monthly Calendar with two page view, Perforated Shopping List, Untitled pages for you to customize for your own duties and ideas, and more!
Our Picks: Since this is a one-product thing and not a shop, I can't pick out various products for you. I can, however, tell you which features of the Homemaker's Friend Planner I love the most! We actually did a review and giveaway of these planners back in the summer, and I loved the versatility and flexibility of the spread with space to write weekly tasks instead of assigning them a specific day. I also am totally in love with the perforated grocery list. I haven't lost a grocery list in my kitchen in months!
Price Range: $13.99
Shipping: USA
---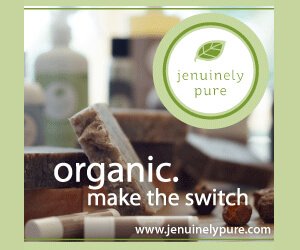 We only create products made from 100% natural and organic ingredients – pure products that are safe for you, your family and our environment. You'll love our gentle facial cleanser good for all skin types. Or try our yummy smelling body scrubs that will leave your skin moisturized. You're dry skin will thank you for using our indulgent body creams.
Our Picks: I personally love using their All Purpose Cleaner, and foaming Facial Cleanser— they work well and smell great! Their gift sets are just perfect to bless those in your life that want to use more pure and natural organic products… I like the Home Gift Set (cleaning, laundry, soap, etc.), the Body Care Gift Set, and especially the Baby Gift Set.
Price Range: $2.95-$89
Shipping: USA & Canada
Discount Code: Use "CHRISTMASKOH" for 15% off your entire order, excluding shipping; expires Dec. 31, 2013
---
Once a Month Meals is a freezer meal planning website helping people spend more time at the dinner table than the drive thru. Membership gives you access to 8 different customizable freezer menus each month including recipe cards, grocery lists, cooking day instructions, and printable labels.
Our Picks: Right away I noticed the many varied menus that they offer, including a gluten/dairy-free one that caught my eye.
Price Range: $8/month
Shipping: n/a
---
Exotic | Sophisticated | Unique. All natural, hand-crafted beauty products: mineral makeup, sugar scrubs, nail lacquer, toothpaste, and dry shampoo. No chemicals, bismuth oxychloride, talc, fragrances, parabens, dyes, fragrance oils, perfumes, or preservatives. Safe for sensitive and blemish-prone skin. Because Beauty is more than skin deep.
Our Picks: I totally want to try their Exotic Mascara as I've been searching for the perfect natural mascara for forever! They also have an amazing selection of colors of eyeshadow, and I love the various lip colors available! I also spotted this Dry Shampoo that I am so totally wanting to try. (I recently discovered the wonders of dry shampoo on busy days chasing kiddos with no time to shower, and I am thrilled to find a natural version!)
Price Range: $5-$20 with $.99 foundation samples
Shipping: Mainly USA & Canada
Discount Code: Use "KOTHCHRISTMAS" for 30% off of orders totalling $25 or more.
---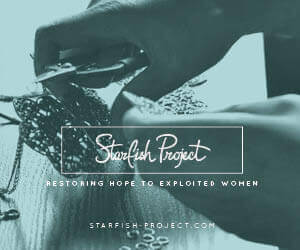 Starfish Project was established in 2006 to empower exploited women in Asia. The Project developed a socially responsible jewelry business in order to provide women with alternative employment and a range of holistic care services. Starfish Project provides opportunities for women to heal and grow through counselling, vocational training, language acquisition, family education grants and health care access, as well as providing housing in our women's shelter. As of 2011, the Project had grown to support approximately 35 women, primarily through the jewelry company where women have taken on new levels of responsibility and leadership, and are able to provide for their families through meaningful employment.
Our Picks: I absolutely adore these silver lattice leaf earrings, and the Locket Charm on Antique Gold Necklace is totally my style. This unique Wood Stretch Bracelet caught my eye right away, as did the elegant child-sized Butterfly Necklace, since I have a three-year-old daughter and a 3-year-old niece. I also noticed that they have a gorgeous Silver Engraved Bangle Bracelet that bends to fit around your wrist. Perfect, since I have tiny wrists that are usually too small for bracelets!
Price Range: $15.99-$79.99
Shipping: International
Discount Code: Use "HOMEHOLIDAY13" to save 20% off your entire order. The code will expire on December 31, 2013.
---
Stay-at-Home Yoga is a virtual yoga studio fits the benefits of regular yoga practice into your busy schedule, with four types of classes available to members – whenever and wherever you roll out your mat. All of our classes are designed to help restore your natural physical alignment to reduce your physical pain and emotional stress.
Our Picks: The flexibility of the online video model is really quite brilliant. Check out what others have been saying about Stay At Home Yoga. They have pose-by-pose selections, as well as mini yoga breaks for even just a few moments in the middle of your day. They also have some fantastic looking series classes set up. Check out their site to see the full range of offerings.
Price Range: $7.99/month, $79.99/year for unlimited class access
Shipping: n/a
---
Tasteful Tikes
Tasteful Tikes is a boutique unlike any other! We create extraordinary children's clothing from fine vintage linens that have been refashioned into unique one of a kind clothing. We only use the most unique and interesting vintage linens to create children's fashion unlike anything you can find in retail stores today. As Moms ourselves, our mission is to bring you children's clothing that is special enough for every special occasion or event but is also affordable and practical for everyday living. Your little angel will love wearing our comfortable clothing! We also carry fine and rare vintage linens from the United States and Europe as well as non-toxic nursing necklaces and scarfs for Natural Mommies.
Our Picks: Oh goodness – I have a 3-year-old daughter, so this store is just total eye-candy to me. This Vintage Toddler Smocked Coat is gorgeous, as is this Refashioned Vintage Blue Toile Dress. My daughter would go crazy for this one, since it includes pink: Refashioned Vintage Pillowcase Dress. I also fell completely in love with the selection of vintage handkerchiefs and linens.
Price Range: $7-$32
Shipping: USA
---
Trades of Hope partners with women around the world who have escaped lives of prostitution and poverty by providing them with an opportunity and hope. By purchasing beautiful, handmade items from these women, Trades of Hope provides a sustainable income to women whose families would otherwise have none. All items are created under Fair Trade principles and are purchased directly from the artisans.
Our Picks: The New Leaf earrings caught my eye immediately because they are my favorite color (and they are stunning). I also spotted these adorable Peruvian Angel Finger Puppets that my kids would absolutely love, as well as this beautiful Hope Blooms Scarf. I also totally adore this Love Bowl (and its twin, the Hope Bowl). Lastly, I just have to mention this Nativity Set – it is such a unique and beautiful representation of the Christmas Story.
Price Range: $16-$48
Shipping: Continental USA