16 Books On My "To Read" List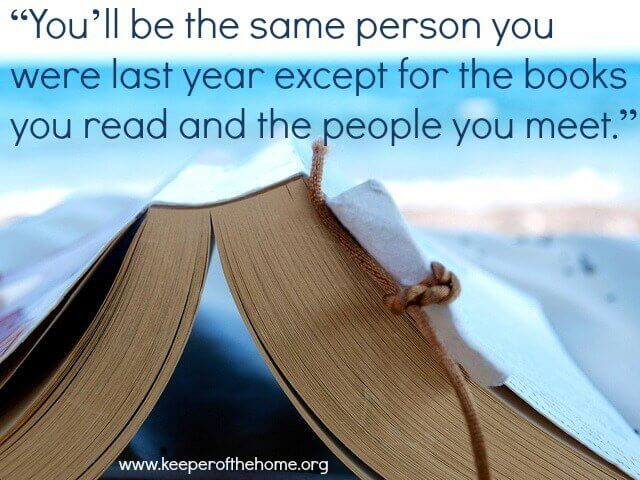 I firmly believe that one can never own enough books.
Our family has been on a mission to simplify and declutter over the past year or so. Books are one of those areas where I begin to sweat profusely and develop nervous twitches when I attempt to weed out the ones I want to get rid of.
Making the switch to primarily digital books has made all the difference for me. Now I don't have too worry about having too many, and I can also carry a sizeable library wherever I go, whether it's simply out to the backyard, to the doctor's office, or while traveling halfway around the world.
More books to read? Yes, please!
It should not surprise you, then, that I'm pretty happy about the 97 eBooks and eCourses that we compiled together for this week's astounding Ultimate Homemaker's eBook Bundle sale.
There are a good number of these resources that I already owned or was familiar with, but there are also plenty I've yet to read, and I've delighted in filling up my Kindle folders with new books, just waiting for a quite moment (or a bathroom break with a locked door… let's be honest, moms).
Making for time for reading more books is always a priority for me, because I truly believe that the books I read have a huge impact on the person I am at present, and the one I am becoming.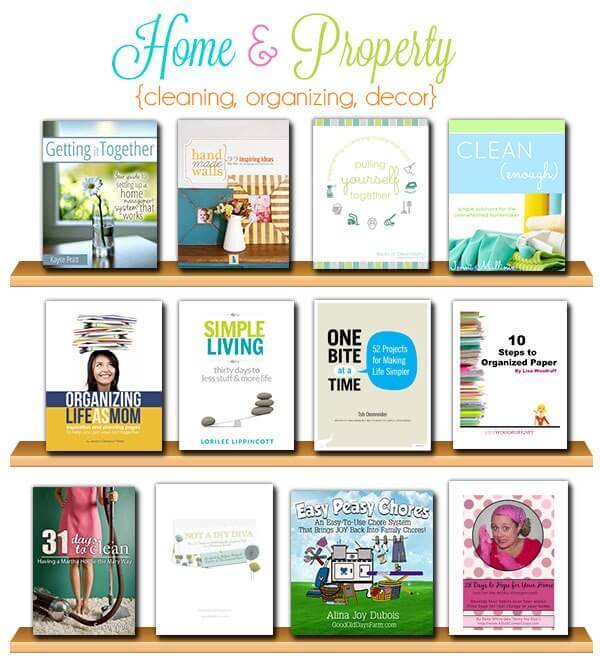 So often I share about books I've already read, but today I just want to tell you some of the books from the bundle that I can't wait to read:
(Note that I haven't linked to the individual books, but you can find the link to every one of these books on this page)
Pulling Yourself Together: Implementing a Cleaning Routine that Sticks by Becky of Clean Mama.
I try. Honest, I do. Creating cleaning routines I can do. Sticking to them, not so much. My husband can attest to how many times I've come up with the "perfect" routine, only to have it flop within weeks. Needless to say, this book appeals to me (and my husband).
NOT a DIY Diva by Melissa of The Inspired Room.
I'm many things, but one of those women who picks up ugly, discarded furniture from the side of the road, or for 25 cents at a garage sale, then swiftly sands, paints, distresses, and then decorates it into a gorgeous dining room buffet that draws complements from everyone who visits their home? Nope, I'm not one of them. I don't really do DIY when it comes to the home, much as I feel like I should when I spend (waste?) time on Pinterest. My home sense and decorating skills need work, for sure.
Easy Peasy Chores: An Easy-to-Use Chores System That Brings JOY Back Into Family Chores by Alina Joy of The Good Old Days Farm.
Last year, in a fit of inspiration and madness, I bought the book Manager's of Their Chores by the Maxwell family. I know, this book works for many, but it did not work for me at all. It is huge, complicated, and I got really hung up when it came to actually creating and printing out our chore cards and actually implementing the schedule. For me, it was a FAIL and a waste of more than $30. I need simple and doable, and Alina's ebook looks like it will deliver.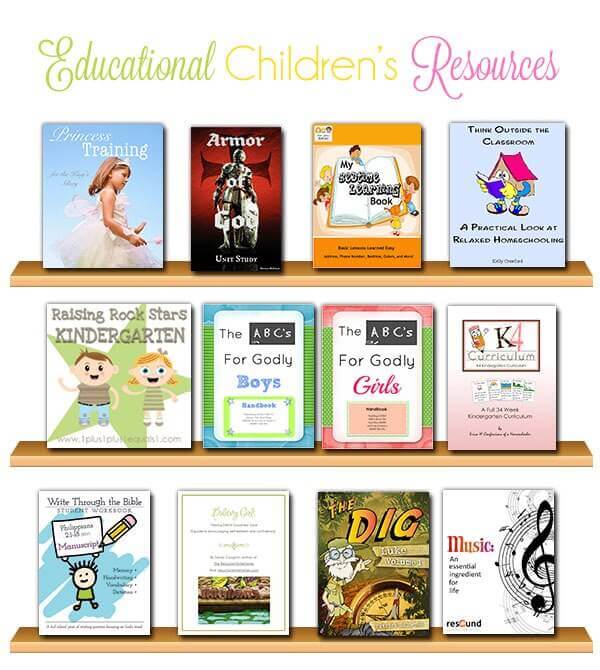 Balcony Girls (1 & 2) by Sandy of The Reluctant Entertainer.
I have an 8 year old daughter who desperately wants to learn to be more self-sufficient in the kitchen, and as a hostess. Reading through the sales page, these books impressed me with the character and virtue lessons that they teach, so that our daughters can really learn what it means to be a friend, a gracious hostess, and one who truly serves. I can't wait to go through these with my daughter when we get back home from our year abroad, and maybe find another mom and daughter to do them together with.
The Dig for Kids by Patrick (husband of Ruth from The Better Mom).
I'm always looking for new material that will work for our circle time devotions before we begin our homeschool days. These look meaty enough, but still fun and lively and entertaining for kids.
Seasonal Meal Plan on a Budget: A Month of Meals from My Humble Kitchen to Yours by Diana of My Humble Kitchen.
Not only is Diana a writer here at KOTH and a sweet friend, but she's also an incredible cook. I love pretty much any recipe of hers that I try, and she frequently causes me to drool all over my keyboard. Her style is definitely Spanish-inspired (her family is from Spain), and there's so much Mediterranean flair, mixed in with homesteading "grow it yourself" or farmer's market fresh seasonal focus, but she's also very budget conscious. Add to that her firm understanding of nourishing and traditional foods and I'm positive that this meal plan will be something I'll love to use.
Plan a Fabulous Party by Mary of Giving Up on Perfect

I'm not really a party planner, but you know? I think I should learn. There's something about throwing a fantastic party (in a way that doesn't make you loose your mind, which is the whole premise of the book) that really makes people feel special and I'd like to learn to master that skill.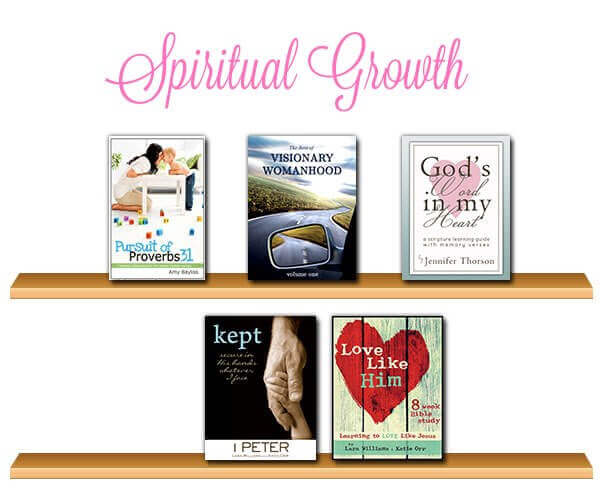 Kept and Love Like Him by Katie and Lara of Quench Bible

These are two Bible studies from Katie and Lara, who are also part of the HelloMornings team. I can tend to get into a rut of simply reading the Bible or using devotional books, but not actually digging in and truly studying the Word, so I'm glad to have these resources to encourage me to do just that.
Redeeming Childbirth: Growth & Study Guide by Angie of Redeeming Childbirth

Now, there's no announcement coming any time soon, but we do hope to add to our family again in the future at some point, and this is something that I would love to read while preparing to welcome a new baby.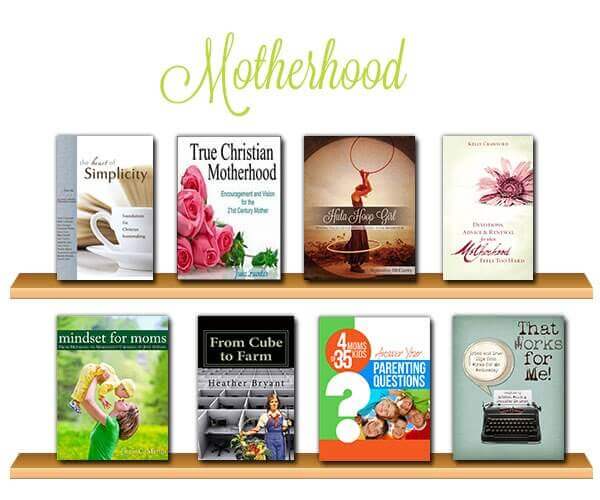 Hula Hoop Girl by September of One September Day

The sub-title for this book is "finding your center while keeping momentum". I like the sound of that. It can be all too easy to get unbalanced and overwhelmed as a mom. I've heard so many good things about this eBook and am eager to read it soon, to glean some wisdom and encouragement from another mom who has also struggled with overload and burnout, and come out on the other side.
Mindset for Moms by Jamie of Steady Days and Simple Homeschool

I already owned this one and have read bits and pieces of it, but it's the kind of book that you can go back to again and again for, well, changing your mindset. The short readings and thought-provoking quotes are perfect for helping you to shift your attitude or the way that you think about things. We can all use positive attitude adjustments sometimes, and for me, that's what this book offers.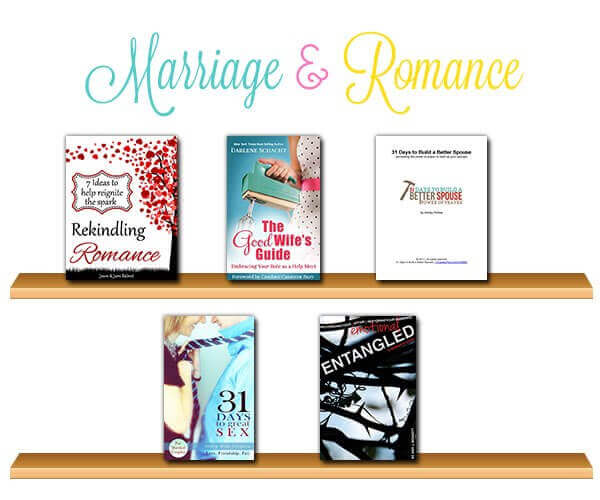 31 Days to Build Better Spouse by Ashley Pichea

You might read the title of this eBook and think "Wow, a book that's going to help me change my spouse!". Except that really, it's about changing your own heart by bringing your husband before the Lord in prayer, and ultimately trusting God's work in his life. Probably a much better idea than wanting to them our husbands ourselves right ladies? 🙂
31 Days to Great Sex by Sheila of To Love, Honor and Vacuum

In most Christian circles, we're totally afraid to talk about this topic, but I don't think that's a good thing. Sex is important and it needs to be talked about. I'm going to read this book. I think we should ALL read it.
42 Days to Fit by Brandy, Emma and Stacy

Though we're doing a ton of walking on our journey this year, I haven't been incorporating much intentional exercise into my days. The ideas in this eBook look simple to implement and don't require a bunch of fancy equipment or gear,. It was written by moms that I really respect and I know that, despite their busy schedules, they've found ways to add effective workouts into their daily life, which is exactly what I want for myself!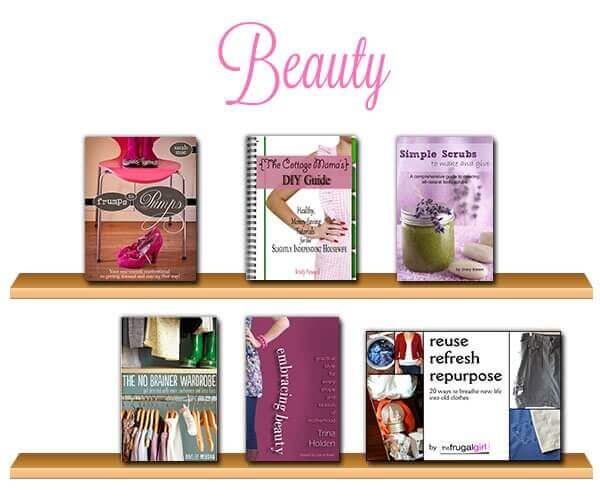 Embracing Beauty by Trina Holden

I've begun to skim through this eBook since I first downloaded my Ultimate Homemaking eBook Bundle, and I have to say, I can't wait to read the whole thing! Trina is in the trenches of young motherhood, just like me, with often chaotic and messy days, and the changing body that comes along with pregnancy, nursing, pregnancy, nursing, etc. This past two years, I've been learning a lot more about my personal style and how to embrace and accentuate my natural beauty, both for myself, and for my husband. I can't wait to glean more from Trina's own story and tips.
Homeschooling from the Heart (audio seminar) by Renee of FIMBY

Homeschooling is an area where I can never get enough fresh encouragement. Though I love it and feel called to homeschool my children, it can also be an incredibly difficult thing to do. This audio file comes from Renee of FIMBY, and I thoroughly appreciate her approach to educating her children, so I'm sure that this will be a worthwhile listen.
I want to read these books, too… where can I get them?
Note- This sale has now ended. Hopefully we'll be doing it again next year! 🙂
You'll find the links to each of these eBooks and eCourses in this post, as well as the entire list of all 97 digital resources included in this collection for homemakers. Right now, every one of them is available as part of the bundle package, a $640 value selling for just $29.97, this week only.

Don't forget that this bundle sale ends very soon– Saturday, May 4th is the last day to purchase your bundle! If you haven't got your bundle yet, you can buy it here, or learn more about the details here.
Which books are on your "to read" list?
Top photo taken by Simon Cocks, adapted by Stephanie Langford. Quote taken from this post.