What You Should Know about rareEARTH Products
A few months ago, a box arrived in my garage from rareEARTH products. (Yes, we are those people who don't use our front door.)
"Can we open it?"
It's always a special day when a package comes, somehow it make even the hottest summer day feel like Christmas.
"Mmmmmmmmm, what's that smell? Can I have it???"
This was from one of my boys. One of my teenage boys.
That had my attention. If you have boys, you know they don't usually like things that smell pretty. (Or at least they won't admit it!)
I wasn't expecting this particular box and I could tell it was from a company asking for a review. As crazy as this year has been for our family, I just didn't feel like I could make the time for it…
But my teens kept asking if I had written the review AND if we could get more of the rareEARTH products.
And the products were candles and sprays.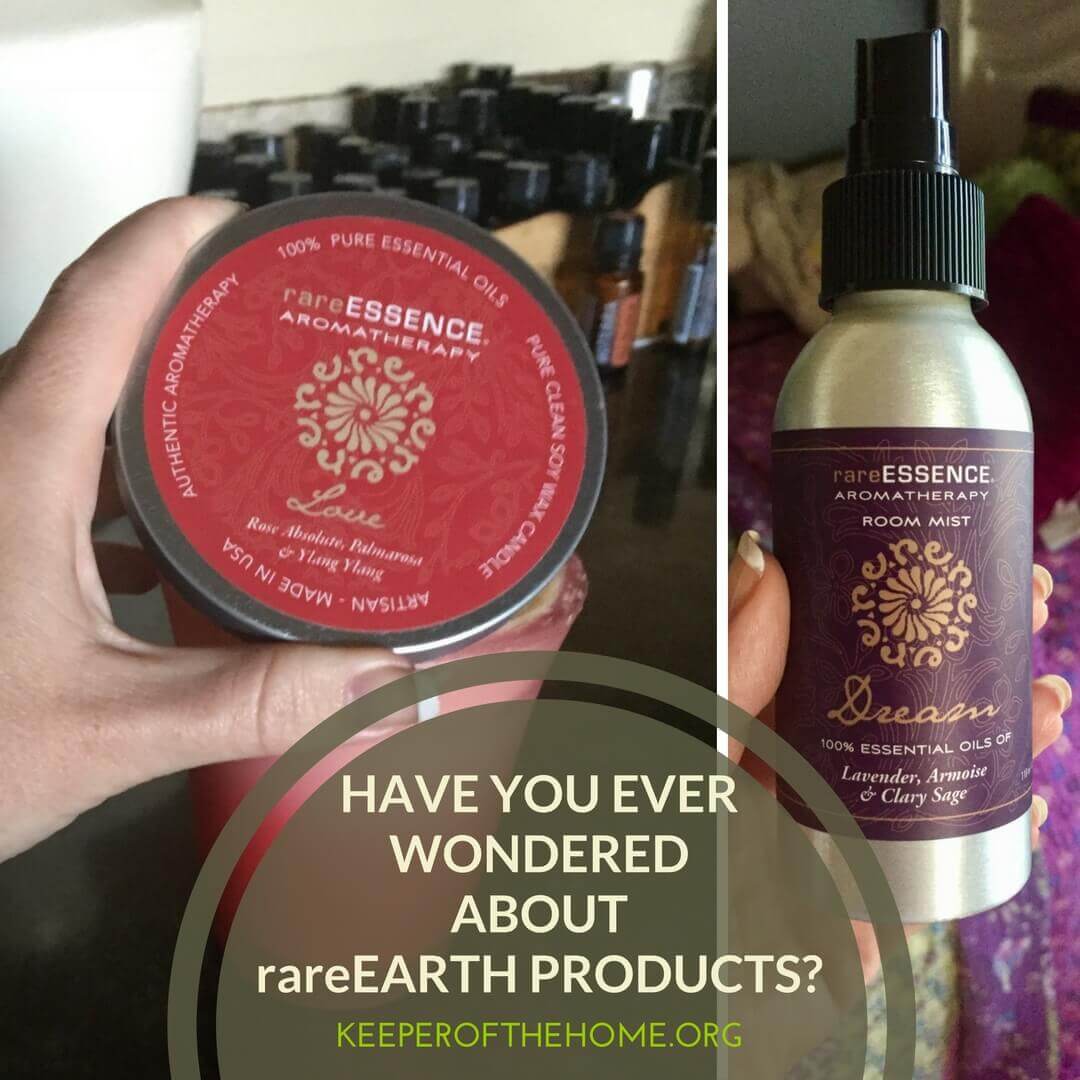 The danger of candles
We have tons of candles from my husband's old business. I avoid using them because they were cheaply made and full of harmful chemicals. (Sorry, babe.)
Black smoke trails all across the room when they burn, and when I blow them out, I have to hold my breath or I have a nasty coughing spell.
I've hidden them all and only bring them out when we lose power. (Although…I think the girls have their own stash of them somewhere! I know I smell something…)
Unfortunately, as cozy and fun as they can be, candles often have harmful toxins. The type of wax, the scents, and even the wicks can be made of ingredients that put our health at risk.
But my kids. kept. asking.
A better candle
So I went back to the box and pulled out the brochure.
And then I realized that these weren't just ordinary, run-of-the-mill candles.
Intrigued by the dogged determination of my teens to get me to write a review and their interest in this company, I did some research.
I found that rareEARTH is committed to creating 100% all-natural artisan products that are made in the USA. These candles and their other products are safe, synthetic free and, wait for it…..responsibly sourced!
Even more, they are beautiful.
These people are speaking my language!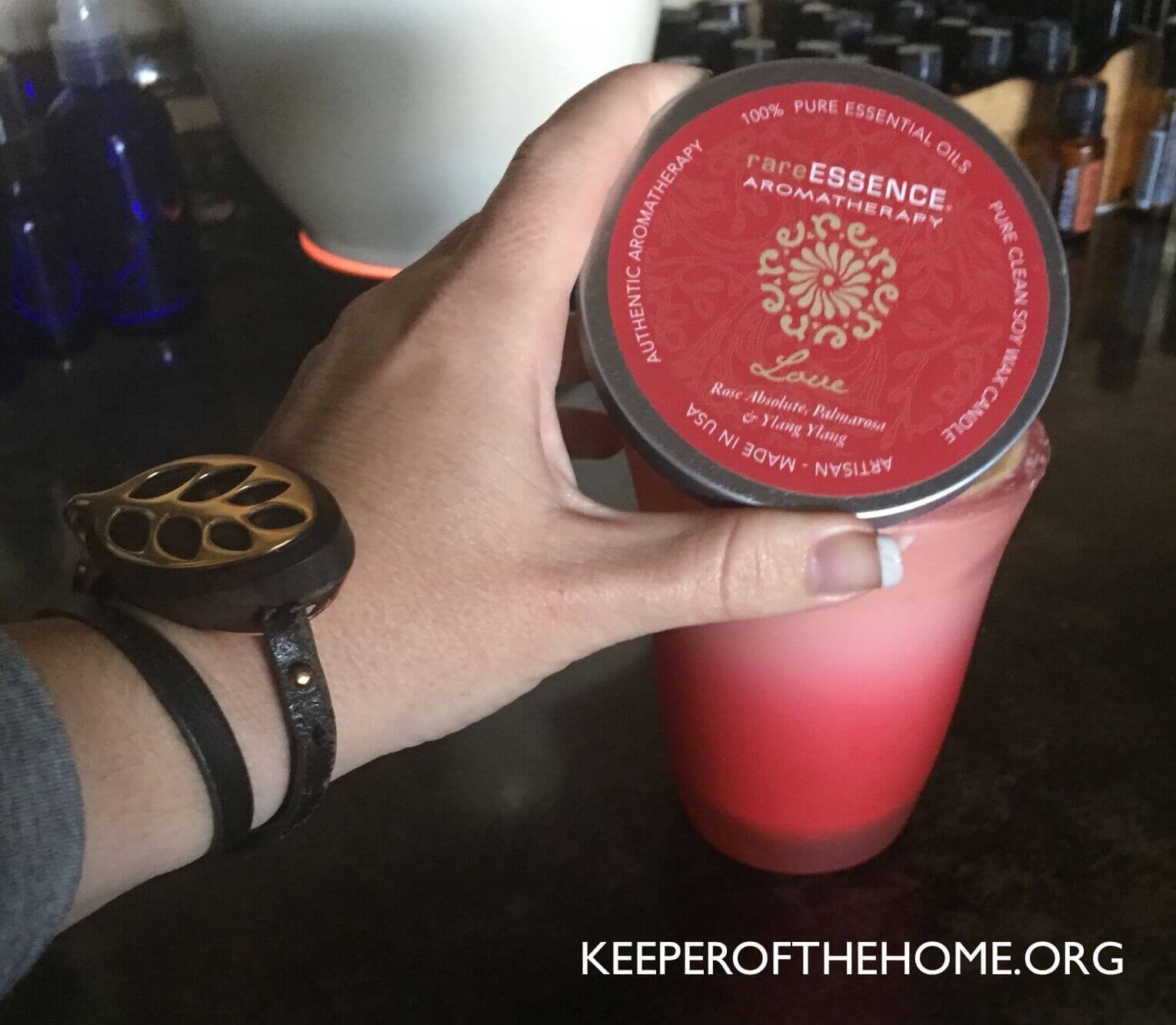 Room sprays that sing hallelujah
I went back to the box and pulled out a room spray which I had no intention of squirting in my home. But now my curiosity was totally piqued!
Most room sprays, or all room sprays that I had come across until rareEARTH entered my garage, were full of more toxins. Some room sprays contain DOZENS of toxic chemicals.
Go to the EWG and read up on air fresheners and the damage they cause to our lungs, skin, even reproductive systems. Think allergies, asthma, cancer, and then the environment!
So you can imagine my surprise to find an air freshener in the box! I was skeptical to say the least, but having read the rareEARTH mission statement, I took a second look.
And then I sprayed. And sprayed. And sprayed!
It was one of those hallelujah moments. AAAAHHHHHHHH!!!! I couldn't believe someone had taken on such a seemingly impossible task of making an actual room spray GOOD for your health and environment.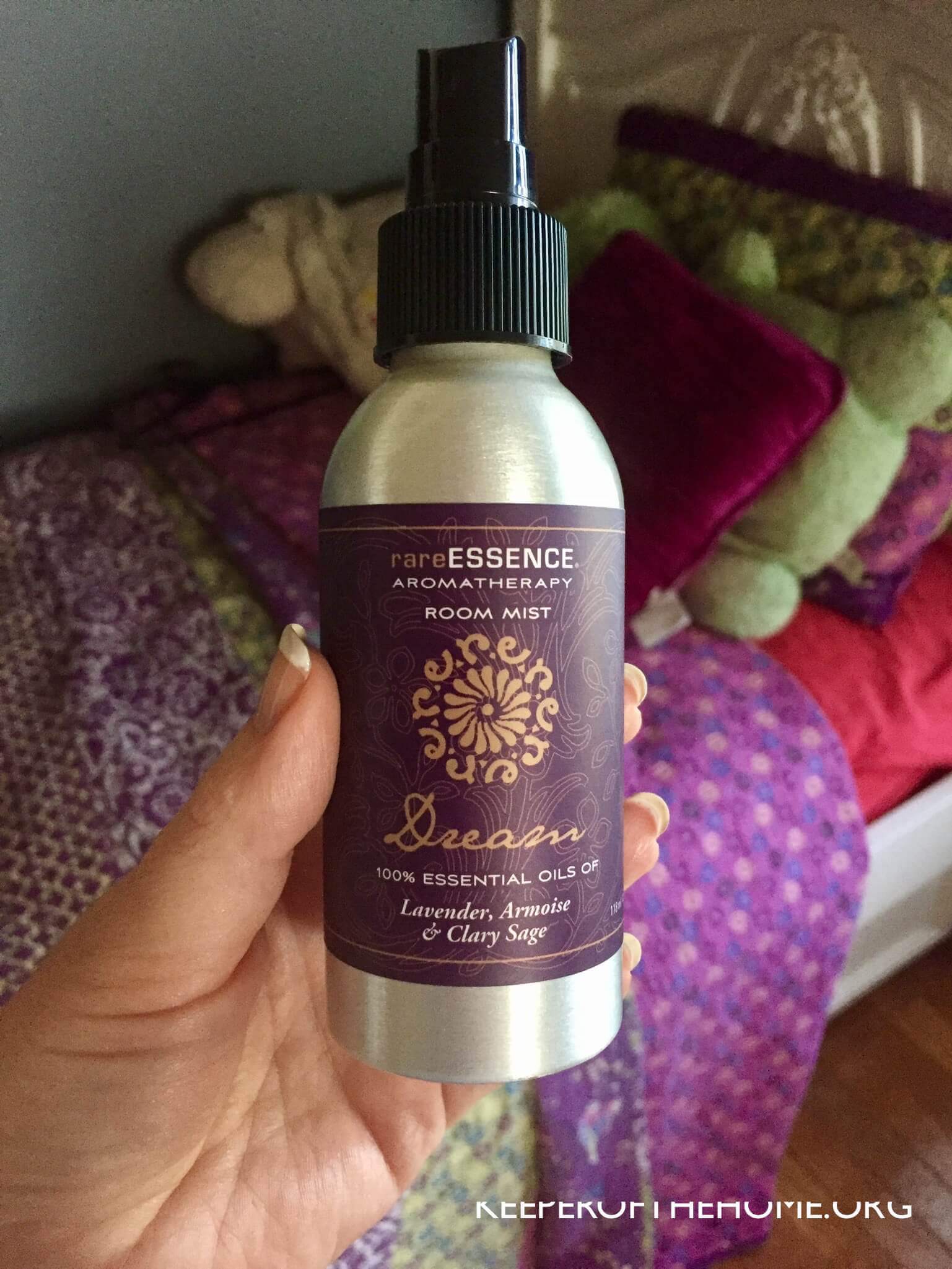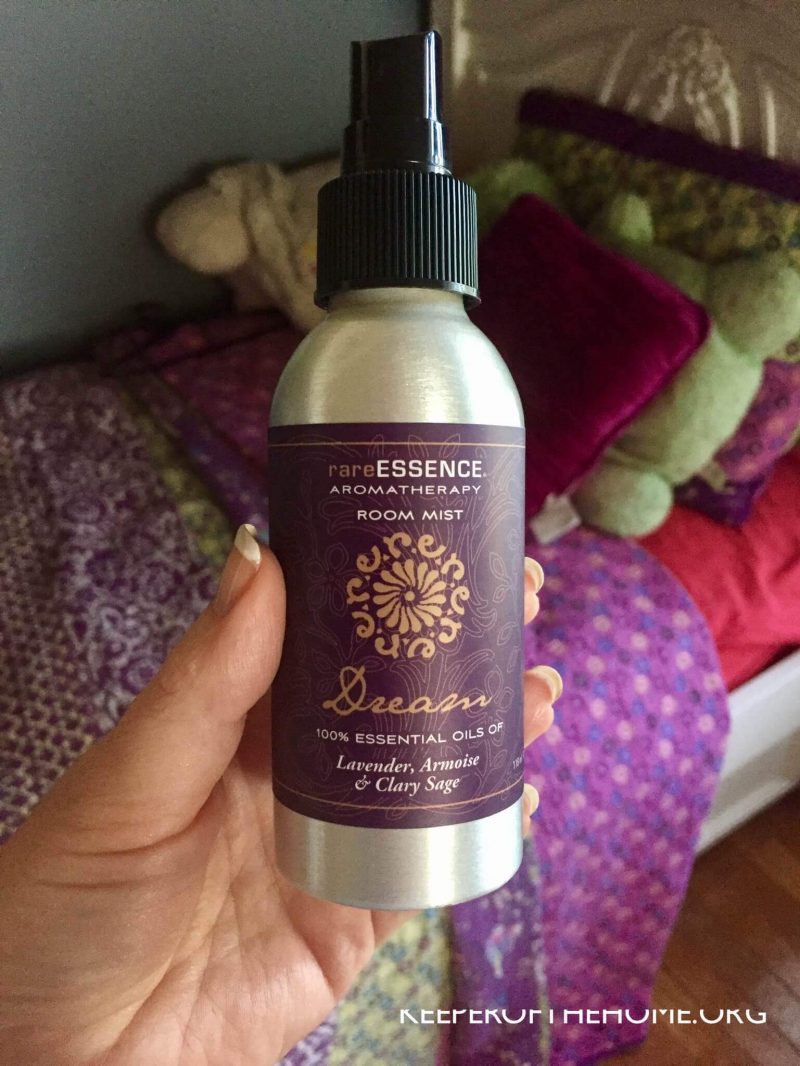 Sure, I can make my own. I love using my essential oils in diffusers and often use them in spray bottles, including cleaning sprays. 
But this was different! Intoxicating without the toxins, made only with purified water and essential oils. No synthetic ingredients. No phthalates. Plus, it makes a beautiful, thoughtful, loving gift! Especially during these seasons when I don't have T.I.M.E. to make it myself.
More about rareEARTH
According to their website, rareEARTH believes that "the positive energy we feel is transferred into everything we create – we hope you feel, see and smell the love and care that we put into each and every one of our products."
Their commitment is to creating products that are 100% all-natural, are made in the USA, and are safe, synthetic free, responsibly sourced, and beautiful.
It all started in 2011 when Sherri Jobelius and Brian Paulsen started the company. They don't cut corners, and they never have. All their products are artisan crafted by hand in small batches from their Minneapolis headquarters.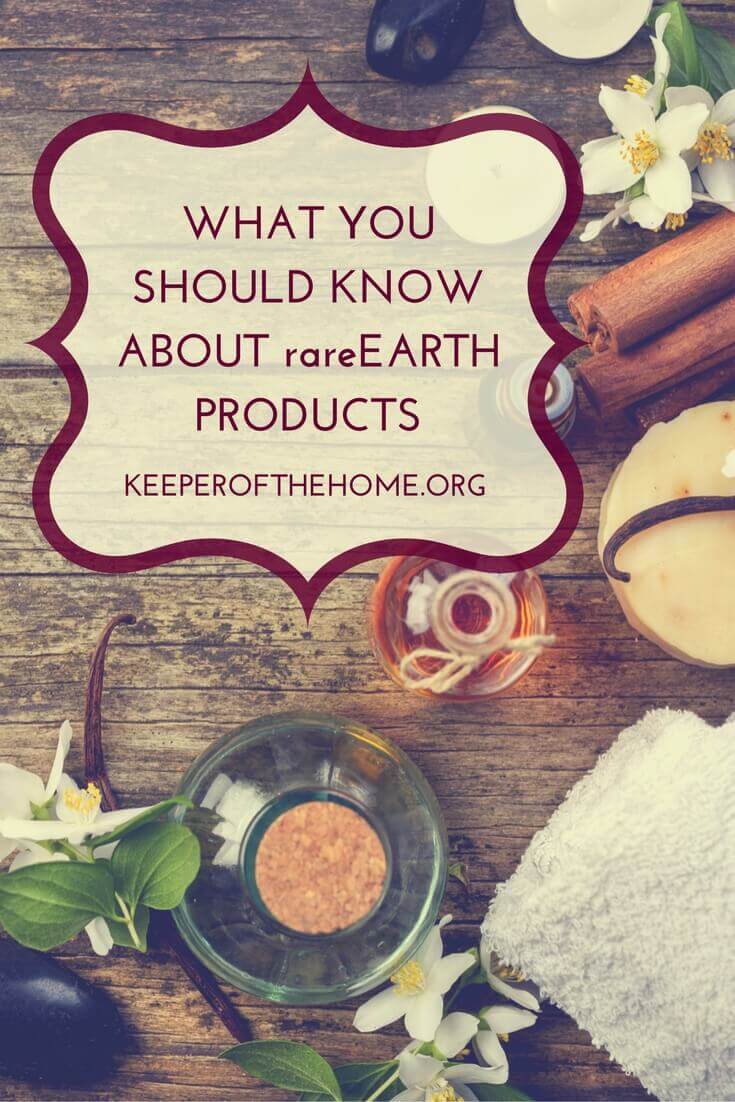 They take their mission seriously: they hand-color all their pillar candles, hand-pour their candles, mix the mineral pigments for colors, blend the oils for just the right blend of aromatherapy, and decant the perfumes to honor the ancient principles of perfumery.
Nothing is halfway. And when you see their products (and smell them!), you'll appreciate that.
In addition, they have an uncompromising environmental standard in everything they do. That includes how they source their essential oils and waxes. It means they use only FSC-Certified (Forest Stewardship Council) approved papers. Their glassware has as much recycled glass as possible.
They also "constantly strive to reduce our footprint and examine our ingredients and processes to lessen our impact on the environment," which also makes me feel good about supporting them.
Breathe deep, be well
You can "Breathe Deep and Be Well" with all rareEARTH products. 
You might expect that these candles will cost twice as much as the toxic candles that are so popular. But you would be wrong.
As I was looking through their online selection, I noticed that their prices were about the same as what you'd pay for similar candles, minus the toxins and chemicals. There are cute travel tins (which would make great gifts!) in a variety of scents, and larger pillar and jar candles. And votives!
The room mists come in 12 different scents and are in a light metal bottle. They're easy to spray and I can't wait to try out a few other scents. (Because those boys! And their "scents"!)
But really, finding something my teens and I can agree on…is priceless!
A special rareEARTH offer for KOTH readers!
Convinced to try some rareEARTH products? Wanting to give it a try?
GOOD NEWS! When you use the code KOTH15 at checkout, you'll save 15% off all products.
So…go to rareEARTH and enjoy some savings on their fabulous proucts! 🙂
Offer is good for a limited time.
This post contains affilate links.