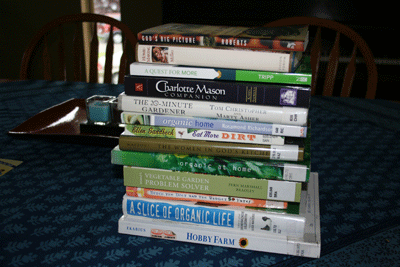 I just love a good book and our family has a book budget that is continually being used to the max! However (quite sadly), with all of the site problems and transfers I've had to focus on in the past few months, reading has mostly gone by the wayside.
So how excited was I to grab this stack of books from the library last night (well, the top four I own and was already working my way through)! I finally feel as though things are calming down and there's time to read again, and I am just thrilled to no end! It was all I could do to go to bed at a normal hour last night and not stay up till all hours of the night reading!
What's on your reading list this summer?