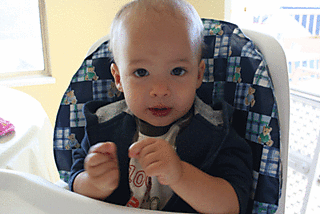 I eagerly said yes when Donielle of Raising Peanuts suggested that she write about baby signing. Having used it with Abbie, and now using it with Caden (that's him on the left- he's signing "more" for a sip of smoothie), I know firsthand the benefits, and they are many! Enjoy this fantastic tutorial!
With babies and toddlers we seem to play a guessing game every day. They whine and cry while we try and figure out whether they need to eat, or drink, or need a diaper change. Or maybe they want teddy, a car, or to read a book. The first couple years of their life seemed to be an endless question mark. But it really doesn't have to be that way.
You can teach your child how to speak before they can actually speak themselves.
Children have a natural tendency to talk with their hands from the time they are infants. They reach and point to objects, they wave their hands about when they're happy or push things away when they get mad. Teaching your child to use signs instead of their screams just makes sense. And it's a lot easier than it sounds.
When my son was about 14 months old, it hit. He started screaming when he wanted something, constantly pulling at me. It was then that I pulled out a couple of my books on infant and toddler care and taught him the sign for please. And the yelling stopped. Just like that, he would quietly stand there and ask "please". I was hooked and wished I had started sooner.
Signing with babies and toddlers works so well because physically, they develop coordination with their hands before they even have the ability to talk and form words. Beginning at a young age is most beneficial, but starting out during the toddler stage, like I did, still helps immensely.
How to start
With no knowledge of ASL (American Sign Language) myself, it seemed very daunting to have to learn all of these signs to teach my young one. In reality though, you'll be learning right along with them so don't worry about having to learn it all before they do. Just pick one sign and use it until you feel comfortable with it and either your baby understands it, or if starting with a toddler, they use it themselves.
Use the sign. If your child is screaming for something he wants, sign the word (i.e.please)
Help him to sign it as well before handing over the object he wanted.
Each time he wants something, take the time to work through the sign until they pick it up themselves. Depending on the age of your child, it could take a day or a couple weeks before they get the hang of it.
Don't worry if they aren't signing it correctly to begin with. Keep using the correct sign yourself and they'll eventually pick up on it.
Keep using the signs they have learned and add in more, one at a time.
Also make sure you say the word aloud as you sign. It's a great way to relate an object or action to the actual word.
Great ones to start with include: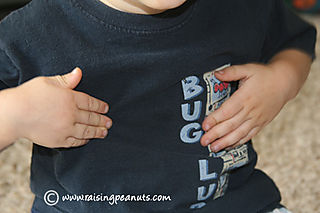 "Please"
(open palm and make a small circle over the chest)
(and yes, he does this one 'wrong', with both hands. He just really wants stuff!)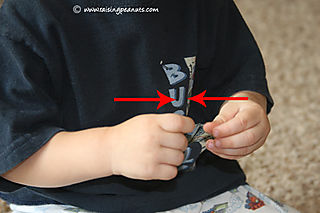 "More"
(thumb and fingers pressed together, bring both hands to touch)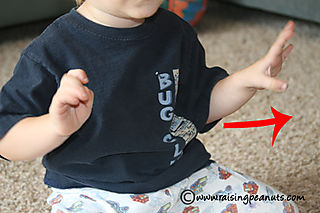 "All Done"
(both hands out to the side and wave them away)
Now that we have a vocabulary of about 15 different need based signs, I no longer have to play the guessing game. At just two, he can't yet speak a lot of real words, but with sign language, he can always tell me what he needs.
There are many books on the subject of baby sign language, but we also love to watch the Baby Signing Time dvd's and the Signing Time t.v. show on our local PBS station. These shows really seem to captivate the attention of little ones as they showcase other kids and babies using sign language and have lots of fun songs. Now don't get me wrong, I'm not into letting babies and toddlers watch a ton of t.v., but I do allow learning shows like these a few times a week. We watch them together so he can see me sign along with it and we both learn new signs each time.
Signing takes patience and perseverance, but it is so worth it in the long run.
What about you? Do you teach your children sign language?
More information on the web:

Our very own signing video from a few months ago

Intellectual Benefits

Emotional Benefits

Video dictionary of signs for little ones (a great way to actually see how the sign is done)

Fox News Youtube video
Donielle is a self proclaimed "kinda crunchy" wife, homemaker, and mom to one sweet little boy who just turned two. Visit her at her wonderful blog, Raising Peanuts!