Living Simply Saturday: Escaping the Technology Trap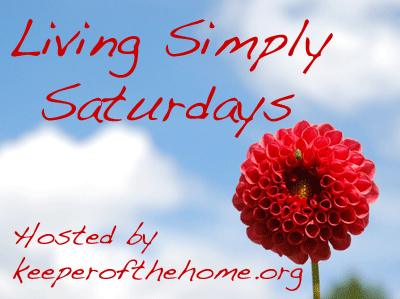 I have a confession to make.
I hate Facebook. And I don't Twitter. I'm not on MySpace. I don't do Delicious or Digg or Stumble.
Why, you ask? Because for me, these types of social networking and bookmarking only seem to add more clutter, busyness and obligation to my already very full little world.
I'm not sure about you, but I find it enough to simply keep up with my email! I do write my blog, and I do have a select group of blogs that I enjoy reading a couple times a week, but I keep it pretty minimal and skip it if I don't have time. I don't generally get on the web just to surf, although I have been known to get a bit distracted from time to time and find yummy food blogs or gardening sites or online deals.
I don't own a cell phone. I do, however, own a pink iPod Nano that my sweet husband bought me so that I could listen to sermon mp3's and worship music when I'm out. I still prefer using a desktop over a laptop (but maybe it's because I'm just so sold on my Mac, rather than my hubby's PC?).
We don't care about having cable tv, but we do enjoy watching DVDs and videos sometimes. Even though I know they're not the best, I haven't been too concerned yet about getting rid of our cordless phones because I find them so convenient. I still prefer pen and paper over typing at the computer for notes, brainstorming, etc. but when it comes to writing my ebook, working on a blog post or fleshing out a larger article or paper, nothing beats typing a mile a minute and using that blessed invention we call spell check.
Why share all of this?
Because this week's chapter focused on the ways that we use, abuse and let life get cluttered up by technology (I'd give you a great quote from the chapter, but my 1 year old just knocked my copy of From Clutter to Clarity
behind the bed frame and I'm not quite sure how to get it out without moving the entire queen sized bed!).
The gist of the chapter was not telling us that technology is bad (a thought which I have a tendency to move towards, as I begin to long for the pioneering days of Ma Ingalls). My husband and I often get into the discussion over whether technology is really a harmful thing (my argument) or whether it is just the ways that we choose to use it (I have a feeling his is the wiser, more balanced answer).
Last year, I read the book Better Off: Flipping the Switch on Technology. I was really challenged by the author's experiment in living for over a year without the use of modern technology. At many times throughout the book, I felt so aware of the ways in which technology has negatively impacted us, and yet also so grateful for some of the technology that I use every day (running water, washing machines, cars!). The author's conclusion, though he chose to live with much less modern technology than most of us do, was that it's a matter of assessing both the benefits and drawbacks of what we choose to use, and ultimately, opting to use those tools which truly better our lives, which will look different for everyone.
All of my above ramblings were simply to share some of the technology that I have chosen to use, and also to forgo (and I'm certainly not the example- there are still areas that I would like to evaluate further). It isn't about whether Facebook is good or bad, whether we'd be lost without our cell phones (or iPods in my husband's case) or whether we use an outdoor drying line or can't imagine life without our dishwasher. I think it comes down to honestly evaluating our use of technology and whether it genuinely adds to our life and helps us to accomplish those things that are most important, or actually weighs us down and adds further clutter to already busy and hectic lives.
How do you feel about the use of technology? What does it look like in your life? Do you tend to embrace it or avoid it, and why?