Homemade Marshmallows are one of those things that sound so elusive to most people. I mean, who makes their own marshmallows? Only crazy people, right?
Well, what if I told you that you can make homemade marshmallows that are not only easy to make, but also much tastier than their store-bought counterparts? And they just so happen to include only real food ingredients, including a completely natural sweetener.
Sound too good to be true? It's not! I'll show you how to do it, and soon you will be making your own homemade marshmallows for a fun treat that is sure to please the kids and adults alike.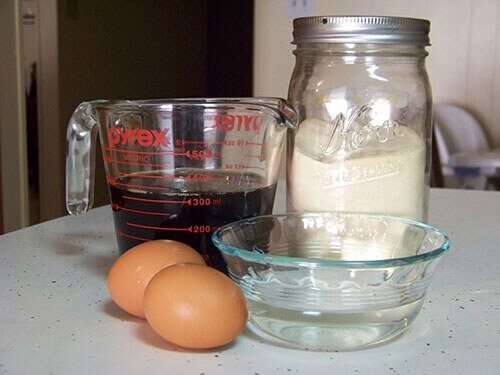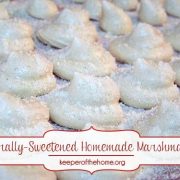 Print Recipe
Homemade Marshmallows Recipe (Naturally Sweetened)
Ingredients
1

cup

pure maple syrup

2

egg whites

2

teaspoons 

vanilla extract

2

Tablespoon 

unflavored gelatin

1/2

cup

water
Instructions
Place egg whites, maple syrup, and vanilla extract in the bowl of a stand mixer. Beat on high until peaks form when you lift the beater out of the mixture.

While the egg mixture is beating, heat the water and gelatin in a small saucepan over medium heat until the gelatin is completely melted.

With the mixer still going, carefully pour the gelatin mixture into the bowl of the stand mixer. Try to pour it down the inside of the bowl so that it doesn't hit the beater and make a mess. Continue beating on high for 10 minutes.

While the marshmallows finish beating, lightly great a 9x13 glass pan and then dust with coconut flour.

Once 10 minutes is up, spread the mixture in your prepared pan. Allow to set for at least 4 hours or preferably overnight. Use a sharp knife or kitchen scissors to cut the marshmallows into desired shapes and sizes. You can also pipe the marshmallows onto a baking sheet that has been dusted with coconut flour to make fun marshmallow shapes.
Notes:
This is not the typical method for making homemade marshmallows. Usually you heat up your sugar to a specific heat and then beat it with the gelatin. However, I have found that this method is much easier and faster, and it offers great results.
You can substitute the maple syrup in this recipe for honey. I would recommend using the mildest honey that you can find because it will definitely give it a distinct honey taste that might turn some people off. If you have maple syrup, that is my first preference for this recipe.
Try adding other extracts and spices to the marshmallows to create different flavors. Cinnamon, coconut, peppermint, and citrus are a few ideas that sound delicious!
After cutting your marshmallows into your desired shape and size, you may roll each individual one in more coconut flour to prevent them from being so sticky.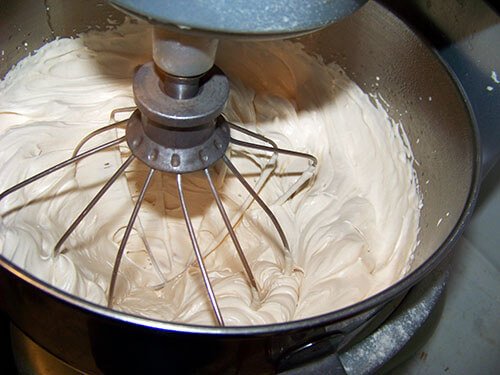 Ideas for using the marshmallows:
Put a few in a glass of steamy homemade hot chocolate.
Top baked sweet potatoes with butter, cinnamon, and a few marshmallows. Then pop them under the broiler for a few minutes for a special holiday side dish.
Roast them indoors and make homemade 'smores for an extra special wintertime treat.
Sprinkle the top of your unbaked brownies with homemade marshmallow, then bake as normal. This is totally worth the indulgence.
Cover them in chocolate. This is one of my all-time favorite treats!
Eat them plain. Savor each one, because they are that good!
What ideas do you have for using your homemade marshmallows?