Frugal Real Food Thanksgiving Menu + Stress-free Cooking Timeline
Guest post by Tiffany Terczak
I'll be the first to admit — this is the time of year when we typically throw caution out the window. We toss aside "healthy" recipes and reach for the shortening and corn syrup and pre-packaged short-cuts that we've always used, all for the sake of tradition.
I'm including myself in this category too. I've been craving hot chocolate for WEEKS, and I'm not talking about the healthy kind. I'm wanting the instant hot chocolate, ripped open from a single-serve package with little miniature marshmallows that I'm sure are nothing but artificial sugar. And I want my hot chocolate served next to an overly sweet and sticky cinnamon bun that I used to make before we switched to real food.
Not a healthy combination in the least, but it's tradition. And who am I to thwart years and years of unhealthy eating and poor dietary habits?
Well folks, I'm a parent. I'm a real foodie who's also a mom, trying to change the standard for my kids so that they live healthier lives… and I want to do it all without going broke.
Thanksgiving is coming up and tradition says the menu is lined with sugar-filled this and pre-packaged that and all sorts of other foods that are essentially nothing but empty calories. As a real foodie, my insides are screaming!
Where are the whole grains?
Why is the green bean casserole filled with soy?
How did we come to rely on a cranberry side dish that's made 50% of sugar?!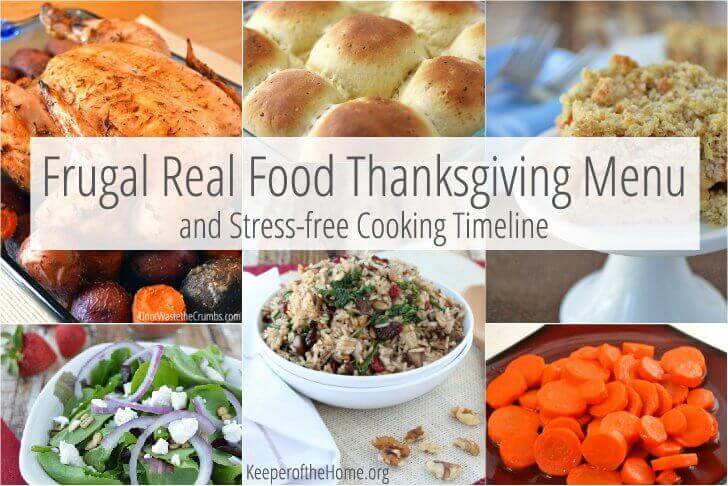 Fortunately, many real foodies have paved the way for us, experimenting in their own kitchens so we don't have to. They've replicated our favorite dishes that taste the same, if not better, than the processed alternatives we've grown up with.
On their own, these dishes are mightily delicious. With very few modifications, they can be frugal too. Considering that the cost of food is ever increasing and salaries aren't quite following suit, I think it's fair to say that we could all use a little help when it comes to eating real food on a budget.
With the big festivities rapidly approaching, I'd like to share with you a Thanksgiving menu that's just a tad bit different than the usual menu, but just as delicious nonetheless. There's still the turkey and the gravy of course, but we've done away with the processed ingredients and sugar-laden dishes.
[Tweet "This Thanksgiving menu is 100% real food. "] There's nothing fake or from a can, and it's all really, really scrumptious! In fact, I'm willing to bet that you just might find a new family favorite… even among the die-hard hot cocoa with fake marshmallow fans in the family.
BONUS! This Thanksgiving menu and a corresponding shopping list is available as a FREE download HERE. To help you make this Thanksgiving even easier, it also includes a detailed timeline action plan so you can get more done with less stress! Be sure to download it today so you are fully prepared to shop, prep and enjoy your holiday stress-free!

Frugal Real Food Thanksgiving Menu
This classic recipe inspired by Alton Brown is a favorite in our family. A quick overnight brine leads to a super-juicy bird that even the novice cook can't ruin. To make it real-food friendly, make these easy and frugal substitutions:
Substitute 1/2 cup maple syrup for 1/2 cup brown sugar.
Use homemade chicken stock or water for vegetable stock.
Substitute 1 teaspoonground allspice for 1 1/2 teaspoon allspice berries.
Substitute 1/4 teaspoon ground ginger for the 1 1/2 teaspoon chopped candied ginger.
Use melted butter in place of canola oil.
Tip: Allspice can be made using cinnamon, nutmeg and clove. Get the exact recipe HERE, along with 24 other simple food substitutions that will save you money!
Cost Breakdown
Not including the cost of the turkey (which will vary), this recipe can likely be made with what you already have on hand and cost less than $1.50.
Other Real Food Options: Savory apple citrus brine, simple salt and aromatics brine or mandarin-roasted turkey.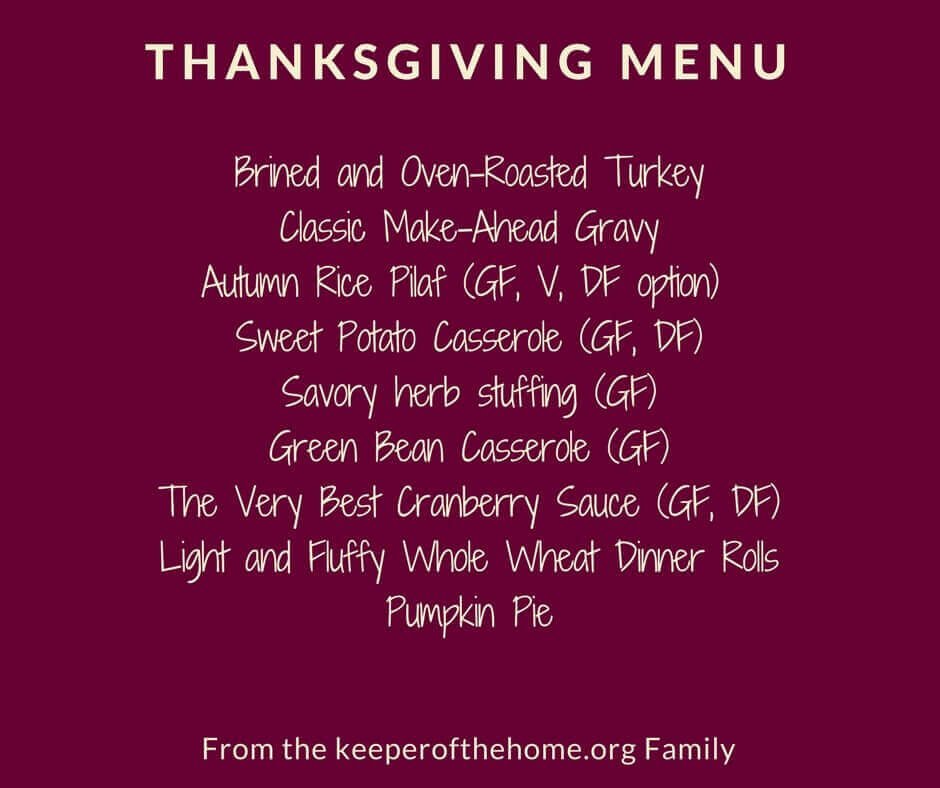 No Thanksgiving dinner is complete without the gravy, but this make-ahead recipe means you can enjoy the deliciousness of homemade gravy without standing over a hot bird at the last minute. Be sure to make the following changes to the recipe to keep it easy, and real food friendly:
Toss vegetables with olive oil in place of cooking spray.
Don't skip the fresh herbs since you'll be able to use them in other recipes.
Cost Breakdown
Even if you don't have the staples of celery, carrots, and onions on hand, this simple recipe should cost no more than $1 to make. Much more affordable than the canned variety!
Other Real Food Options: Roasted garlic gravy and pan-drippings gravy.
Whether it's sausage, clam, or classic, every family has their favorite stuffing. We're taking a different route this year with this delicious autumn rice pilaf instead of the usual stuffing. Not only is it naturally gluten-free, but it can be made ahead of time and tailored to whatever items I happen to have on hand at the time.
Cost Breakdown
This entire recipe can be made for less than $3, and that's if you had nothing in the pantry. But I'm guessing you have rice, some sort of leafy green, some onion, cinnamon and probably a nut of sorts, right? If that's the case, consider this one in the bag, because that's pretty much all you need!
Other Real Food Options: Savory herb stuffing (GF), cranberry and sausage cornbread stuffing and sprouted whole wheat stuffing.

I'm a candied sweet potato girl myself, and this casserole that has been modified to fit the real food rules is exactly what I want to see at my own Thanksgiving table. It's naturally gluten-free, and can easily be made dairy-free, but without a traditional nut topping, it's also suitable for those with nut allergies.
Cost Breakdown
As written, this recipe costs roughly $3. A few substitutions can trim a dollar or two, but it really depends on what you have in the pantry and your dietary needs. Those who don't have nut allergies can easily swap pecans for part of the toasted coconut, and those who don't have dairy allergies can use butter in place of coconut oil.
Other Real Food Options: Light and fluffy mashed potatoes, honey cinnamon roasted butternut squash and root vegetable saute.
I'll be the first to admit that I'm a sucker for Green Bean Casserole. While my mom made it with canned cream of mushroom soup, this version is 100% from scratch, 100% real food and doesn't lack one bit in taste. As a bonus, it's gluten-free … including the homemade French fried onions!
Cost Breakdown
This recipe runs roughly $2.50 when you include the fresh green beans, fresh mushrooms and healthy fat. Although when you think about it, the traditional version that uses canned cream of mushroom soup and canned green beans will run you at least that much, so this recipe is truly a win-win!
Other Real Food Options: Skillet Brussels sprouts, roasted carrots and stuffed mushrooms.
I have a tendency to make WAY too much cranberry sauce for Thanksgiving. What seems to be a side dish in my eyes is really a relish, a condiment to the turkey and stuffing. With that said, you'll want to make this entire recipe anyway, even if it's supposed to serve 10 people. There's nothing better than leftover turkey with leftover sweet potatoes and cranberry sauce on the side in my opinion, so the more the merrier!
Cost Breakdown
Everything remotely related to cranberries and apples is in season, so this is easily an affordable dish. Use whatever honey you have on hand and ground cinnamon for the whole stick and you can easily make this dish for less than $3, too.
Other Real Food Options: Fresh cranberry sauce, cranberry orange relish with ginger and nuts and cultured cranberry sauce.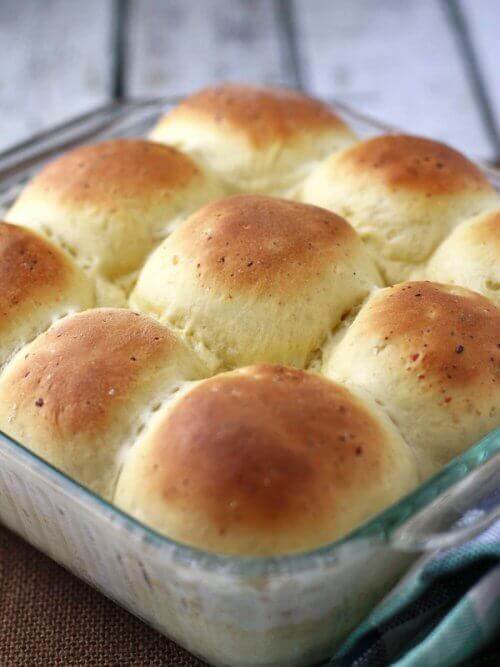 Light and Fluffy Whole Wheat Dinner Rolls
Say bye-bye to store-bought rolls and say hello to these light and fluffy puffs of deliciousness that will soon grace every holiday menu. Made with whole grains and naturally sweetened with honey, guests will never guess that these rolls were not from the store.
Cost Breakdown
When made with whole wheat, these rolls cost less than $4, which happens to be less than the traditional Hawaiian dinner roll served at Thanksgiving. Think these don't measure up? Make a double batch and I dare you to not eat two!
Other Real Food Options: Mini garlic chive muffins (GF, DF, EF), whole-grain rolls (GF),easy dinner biscuits and rosemary olive oil bread.
No Thanksgiving dinner is complete without dessert, and the classic recipe must go to the beautiful orange squash, pumpkin. Did you know you can make your own pumpkin puree in the slow cooker? Definitely a must-do if you're looking to keep costs down. The best part is that you can't taste the difference!
Cost Breakdown
The most expensive part of pumpkin pie is the pumpkin itself, so you if you can find a baking pumpkin for $2.50 or less, you're best of making it 100% from scratch. On the other hand, if you can find canned pumpkin for $1 per 15 ounces, snag one (or two) and you'll be making this dessert for less than $2.
Other Real Food Options: Pumpkin pie panna cotta (GF, DF, EF), apple oatmeal bars (GF, DF option) and maple pecan pie.
The Bottom Line
You'd think that since there's so much food at the table, Thanksgiving dinner is going to be expensive. Quite the contrary my friends! You can feed a full table all of these delicious dishes for less than $20. Of course, this doesn't include the turkey itself since that will vary from region to region, but even turkeys are on average $1 per pound. Add that all up and you're feeding a table of 12 for less than $35 — 40% less than the national average in 2013. Not too shabby given you're providing wholesome, nourishing food to your table!

Thanksgiving Day Stress-free Cooking Timeline
Last year I was in such a frenzy trying to get my portion of Thanksgiving dinner ready on time that I nearly forgot to take a shower! With so many dishes going at once, it's tricky to time it all so that everything is ready and hot at the same time.
Hopefully, this simple timeline will help eliminate some of day-of stress and flurry. It's written according to the recipes above, but you can substitute with the items on your own menu and tailor to fit your family's schedule.
Earlier in the Week
Thaw the turkey.
Print out all the recipes and make notes of how long each takes to complete.
Use the shopping list and double check your pantry for all ingredients, including condiments like butter, salt and pepper, and shop for last minute items if needed.
Wash all vegetables with an all-natural produce wash. Peel chop and prep all vegetables that will be cooked.
Prepare meals that can be made ahead of time, like the cranberry sauce, make-ahead gravy and desserts.
Clean the house in 2 hours or less.
Night Before
Brine the turkey.
Wash all dishes and empty the dishwasher.
Set the table for dinner.
Set aside plates and utensils for dessert.
Set out serving ware for dinner and dessert.
Do a quick pick-up of the house, picking up items that don't belong and hiding them (yes, hiding them!) out of sight for the big day.
Divide recipe cards into hot dishes and cold dishes.
Organize hot dishes by time it takes to complete, putting the longest ones first.
Thanksgiving Day
Prepare the turkey.
Bring dishes that you've already prepared to room temperature if needed.
Set out appetizers.
Prepare side dishes, completing the ones that can be served room temperature or cold, first.
Double check condiments for the table.
When the turkey is pulled to rest, place all hot dishes in the oven to warm before serving.
Find even more tips for a stress-free Thanksgiving HERE.
DON'T FORGET! This FREE step-by-step guide for preparing for the big day is designed to help you get more done with less stress. The guide includes the above real food menu, a complete shopping list and a detailed timeline action – already written out for you! Download it for free HERE, and then tape it to a kitchen cabinet the week of Thanksgiving so you always know where it is!
Do you have any Thanksgiving traditions — food or stress-free tips — to share? Leave them in the comments!
Disclosure: This post contains affiliate links. When you buy through our links, we earn a small commission, which helps to keep this site going so that we can continue to offer free and useful content, so thanks!