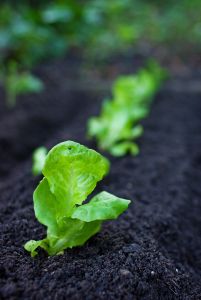 This week's baby step is:
Very simple. It is to grow something edible, anything at all, this summer. And eat it!
Why this step is important:
I think there is something crucial about connecting with the seasons and the way that food grows. Though I find it difficult to express in words, there is something so life giving, so beautiful, so invigorating and exciting about it. It develops in me such an appreciation for the goodness of God and the miracle of His creation.
With all the talk of the economy and rising food costs, developing skills that promote self-sustainability is a very, very good thing.
For me, though, it's not even just about the costs. It's that I want to have the knowledge and experience in growing and harvesting my own food, to know where it's coming from (and what's on or in it- this is important!), to have tended to it with my own hands, to have had the dirt under my fingernails, to watch those delicate little seedlings pop up from teensy little seeds and then marvel at the miracle it is as they grow into full fledged, food producing plants.
So why grow?
Pure and simple, for the self-satisfaction of growing something yourself!
to teach your children where food really comes from, and to let them participate and learn from the process
For organic/natural foods, right in your backyard
Because nothing tastes better than a freshly picked tomato, or the candy sweetness of home garden carrots, or the juicy crunch of a snow pea right off the vine
0 mile food- walk out back door, pick food from garden, and eat. I love it!
It costs so little to grow your own food, and every little bit counts with the food and gas costs rising as they are
How to get started with this step:
It is entirely up to you how you go about this step. It could be starting your own square foot garden, or tilling a plot in your yard. It could be adding a tomato plant in a container onto your deck. It could be as simple as placing a potted herb on your kitchen window, or growing your own sprouts for sandwiches using a canning jar. It is entirely what works for you!
Just choose something that feels manageable to you. If you really don't feel that you have the time and energy to take on something big, then start very small and you can always add a little more next year. It has to be achievable, so that you can feel successful in it! Don't bite off more than you can chew! (This coming from the girl whose first garden was 16 x 16 feet, at a community garden she had to walk or bike to with her 1 1/2 year old, with about 12 different kinds of vegetables, and she knew nothing, truly nothing, about gardening- but that's besides the point!)
Online Resources:
Here are a few links to get your going and inspire you!
Homegrown Revolution- watch this video and be amazed at what can be done in a city lot!
Growing tomatoes in containers– Some great tips from a farmer, for my friend Lindsay who's trying her very first tomato plants on her deck this year!
Square Foot Gardening (official site)- This is a great method, and you can start as simple or elaborate as you like. Lots of good info here!
How to grow potatoes in a garbage can- I'm pretty sure I'm going to do this (I better get started soon)- it looks so simple!
You Grow Girl– A fun site with lots of interesting articles, tips, etc.
Organic Gardening- Site of the magazine by the same name, with lots of info about how to grow different types of vegetables and fruits, and many other helpful articles.
Baker Creek Heirloom Seeds– The site where I purchased my seeds this year. Here is a link to their Gardening Guide (good, overall info), and also to their page with gardening related links. As well, they now have a forum that looks to have much helpful info!
Sprouting seeds– A simple tutorial for sprouting seeds using only a canning jar and a cloth. I've done this myself, using broccoli and clover seeds to make sandwich sprouts, and it was so easy, and the sprouts were more delicious, fresh and crisp than those I buy at the store!
Reading Resources:
Here are the books that have been inspiring me this year (well, the last is highly recommended by others and not read by myself yet, but hopefully next on my list of books to buy).
The second one, How to Grow Vegetables and Fruits by the Organic Method, is an oldie but a true classic (first published in 1959). I have learned so much by pouring over this book, and it is just filled to the brim with info on every fruit or vegetable you could think of, growing seasons, garden planning, minerals and deficiencies, fertilizing, mulching, composting, seedlings, etc. You name it, it's in there.