3-Ingredient Mango Ice Cream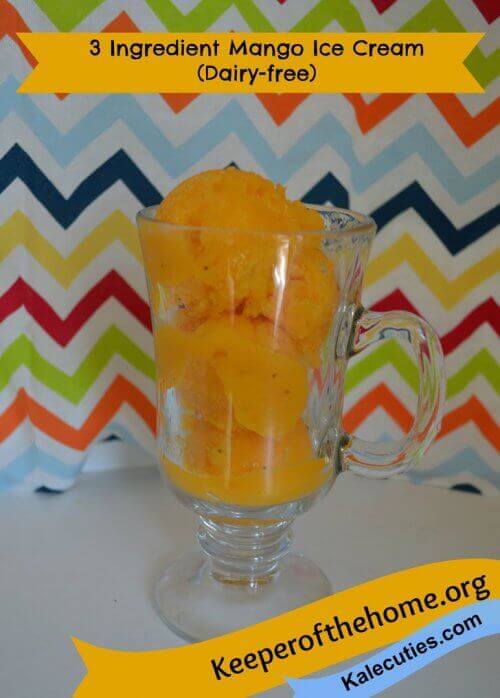 Guest Post by Allison of Kale Cuties
I LOVE ice cream! I mean, WHO DOESN'T? Isn't that why there's a whole song about it? 🙂
Unfortunately, my carefree enjoyment for ice cream came to a halt around my freshmen year of college when my doctor confirmed a dairy allergy. Going dairy-free was hard and meant usually going without. The few times I did give into my cravings my JOY for this cold creamy treat was short lived as bloating, stomach cramping and even allergy like symptoms would soon follow.
My two options were to go without ice cream or to pay $7 a quart for a dairy-free alternative. Needless to say, we went without more often than not. 🙁
But, my love for this refreshing treat just kept calling my name. And so, I headed to the kitchen determined to create a cheaper, healthier, cleaner dairy-free option.
MANGOS + BANANAS + LEMON JUICE = TROPICAL PARADISE
It's cool and creamy just the way ice cream should be. Best of all there is no added sugar! The mangos and bananas add enough sweet flavor that will leave your taste buds asking for more.
Not only is this recipe clean, it's ridiculously EASY to make. In 10 minutes or less, you can also enjoy this refreshing treat with those you love. You can totally skip the freezer part of this recipe and just drink like a smoothie.
How to prepare mango
So before you run away (because, let's face it, mangos can be intimidating), let me show you the easiest and quickest way to get the great taste of mango into your belly. And it doesn't involve buying another kitchen tool that you will only use once a year!
Here's what you'll want to do…
First cut around your mango pit making large slices. You'll just need to feel around the pit when making cuts.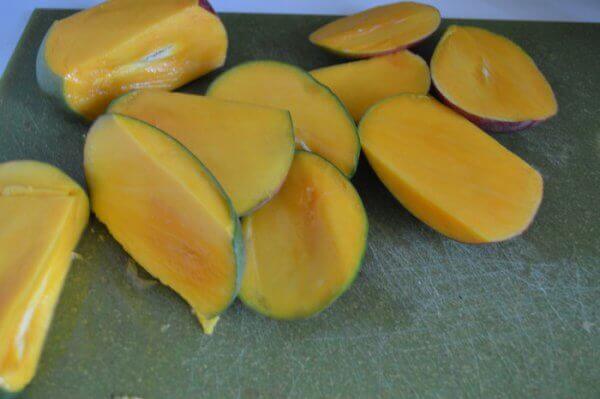 Next, take a glass or cup and place a large slice of mango so the mango is sitting on the lip of the glass. You'll want the flesh of the mango facing towards the inside of the cup. With one hand hold the glass, while the other hand is pulling the mango down the side of the cup by the peel.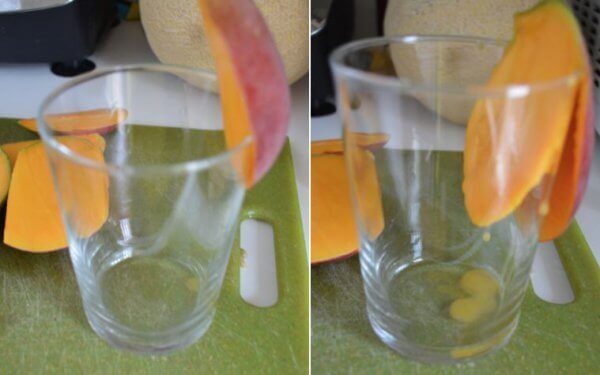 Repeat until all the mango is peeled. This whole process literally took me 2 minutes.
Mango Ice Cream
Now that you know how to handle your mango, here's how to make your own Mango Ice Cream: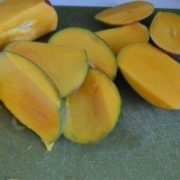 Print Recipe
3-Ingredient Mango Ice Cream
Ingredients
2

ripe large mangos

2

ripe bananas

frozen or unfrozen will work

1

tbsp.

fresh squeezed lemon juice
Instructions
Begin by cutting around your mango, making large slices around the pit. Peel your mango once slice at a time until all the skin is removed. (See above for a super fast way) If you want, you can also cut more mango flesh off around the pit of your mango. Place mango in the blender, but wait to blend.

Peel bananas and place in blender. If using frozen bananas you will need to run the bananas under hot water or place them in the microwave for 30 seconds so that the peel is easier to take off.

Cut lemon in half and squeeze juice into a bowl until you have 1 tbsp. of lemon juice reserved. Place lemon juice into blender.

Blend all ingredients together until mixture is smooth in texture. Place smooth mango mixture into a freezer safe container with lid and freeze for at least 4 hours or for overnight.

* If you have leftovers or are making the ice cream ahead of time, remove mango ice cream from the freezer and allow it to sit on the counter for 30 minutes before serving. This will allow the ice cream to soften.
Allison is the creator of kalecuties.com, a wife, mother of 2, and follower of Jesus. I love vintage decor, lazy days at the lake, bargain shopping, thunderstorms during the day, a good book, bodyweight exercises, and experimenting in the kitchen especially when I don't have to clean it up. Connect with me more on Facebook, Pinterest, or Twitter.