(Summer Giveaway Week 2013) Win $100 Worth of Back-to-School Gear from MightyNest!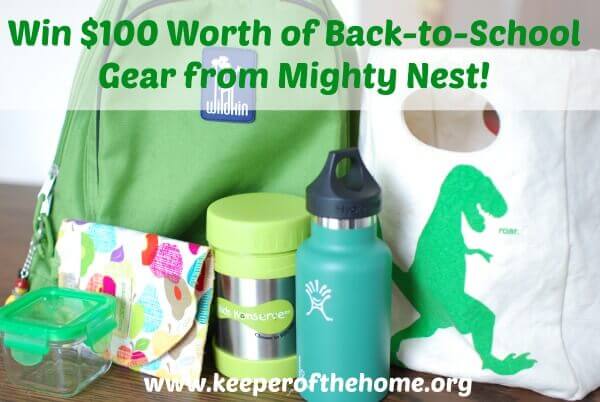 OK friends, let's talk about the products we busy homemaking mamas own. There's a lot of marketing out there these days aimed at us – stuff they try to convince us that we need… and usually I'm just kinda meh about it all. I'm the type of that doesn't really want to buy something unless it speaks to me.
How does something speak to me, you ask? I connect with things that are both useful and beautiful. Accomplish that, and you'll likely have me as a life-long fan.
I am a busy mama – sun up to sun down and beyond and sometimes I meet myself coming. I desperately need things that are functional and easy and helpful, but when I get the opportunity to own something that is BOTH useful AND beautiful… well let's just say I do a geeky little happy dance of joy.
I don't even know how to explain it to you (perhaps you feel the same way??). I feel lighter and happier in my day-to-day liturgy of laundry and dishes and kid-wranglin' when I am using beautiful and functional things. They just speak my language, you know?
That's really the main reason why I LOVE Mighty Nest so much. Their store is jam-packed full of items that are BOTH incredible useful and functional, and really – what more could I ask for?
OK, yes, a shopping spree, I could ask for that… who wouldn't?! (Or maybe winning $100 worth of their stuff, ahem!). Dude, I really need to stop answering rhetorical questions, eh?
I love these back-to-school items that Mighty Nest sent me to check out. Let me show you the awesomeness I (and one lucky winner) get to experience: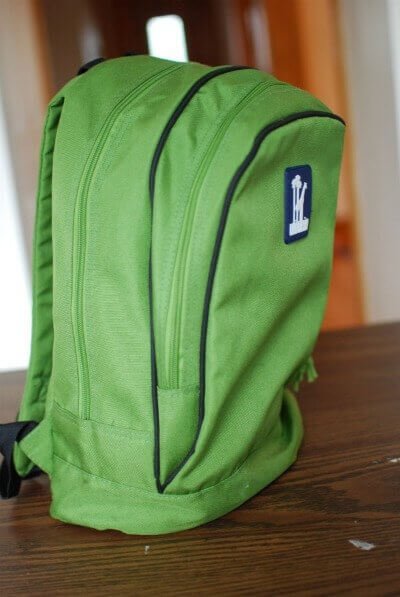 The Sidekick Backpack. There are two compartments, each very roomy and more than big enough for my nearly-five-year-old to haul around his trains and blocks as he takes his little siblings on living room camping trips (that was today's adventure).
If you're wondering about the durability factor in this backpack, well let's just say that my little dude is a very good test for this. He plays hard. The backpack, however, has survived without a scratch thus far, and believe me – that means it's pretty durable.
The eco-friendly Dinosaur T-Rex lunch bag (in the top photo) is also one of my new favorites. It is made from organic cotton (and the lining is free from BPA, phtalates, and lead!) and printed with non-toxic dyes. It has a simple snap closure that makes it a breeze to take in a rush, and… get this – it's fully machine washable! That's just total awesomeness right there.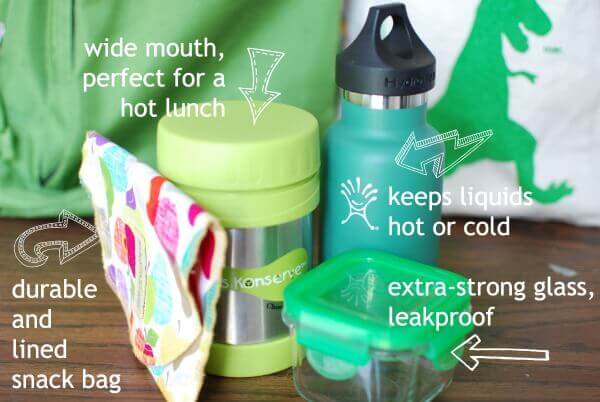 I've written about my undying love for reusable snack bags before, and I'm still just as enthusiastic! Reusable snack bags have rocked my world, and I love it. They are durable, washable, and completely free from BPA, PVC, Lead, and Phthalates.
So far I've used them for crackers, nuts, raisins, apple slices, grapes, and tortilla chips (Confession: they weren't organic. Oh well, I'm over it). The bag is clearly high-quality and well-designed, and it's obvious that I will be using it for years to come.
I've also become a huge fan of the Stainless Steel Thermos by Kid Konserve. It's got a wide mouth which makes it perfect for eating right out of it while out of the house and not close to dishes, etc. It is insulated and leakproof, and of course (like all of Mighty Nest's products) it is free from harmful toxins. I love having something to use for warm food while on a day trip. I find it saves on eating out costs when you're sick of cold picnic-style food and just kinda crave hot food, ya know?
The Hydroflask is a handy and sleek little bottle that is kind of amazing. It keeps cold liquids cold for up to 24 hours, and hot liquids hot for up to 12! Maybe I'm nuts but that was seriously impressive to me! You could take coffee, tea, or ice cold water… or anything really, and expect to be ready for you many hours later! How handy! I love it.
Of course, you can't really go wrong with a good supply of smaller glass containers for anything from blueberries to yogurt. These glass snack cubes are pretty awesome – they are made of extremely durable tempered glass and they are also leakproof.
I used mine the other day to take some little bits of leftover homemaker breakfast sausage to the zoo for my one-year-old's lunch, and it was perfect. I also love it for applesauce, and yogurt. It's the perfect size for baby foods!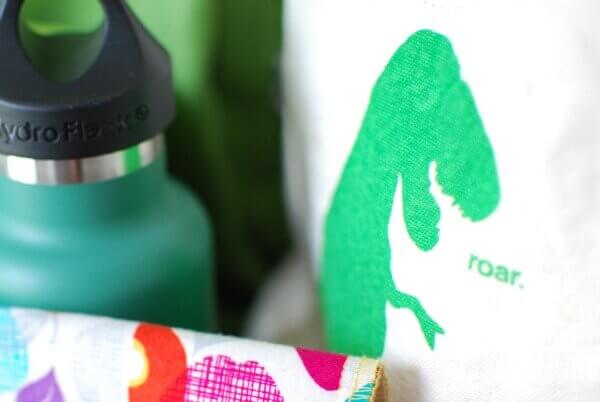 As I was saying above – the marriage of functionality and beauty is what really draws me in to a company and its products. I love Mighty Nest's products for their fabulous attention to detail in every way, like this T-rex lunch bag. The tiny "roar" just gets me – it's cute and simple, and I just love it.
I am so grateful to companies like Mighty Nest for caring about our health, our environment, our practical needs, our wallets (so many affordable options!) and our aesthetics. I'm proud to support them in what they are doing, and I LOVE my Mighty Nest gear!
Would you like to join me in appreciating these amazing products* for yourself? Enter below for your chance to win ALL of the products described above! 
*Colors and patterns may be chosen by the winner, depending on availability.
Disclosure: All opinions expressed are my own. I honestly use and love these products. This giveaway was generously sponsored by Mighty Nest, and I received the products for free for the purpose of review.