(Summer Giveaway Week 2013) Win a Set of Daily Planners for Homemakers (FOUR winners!)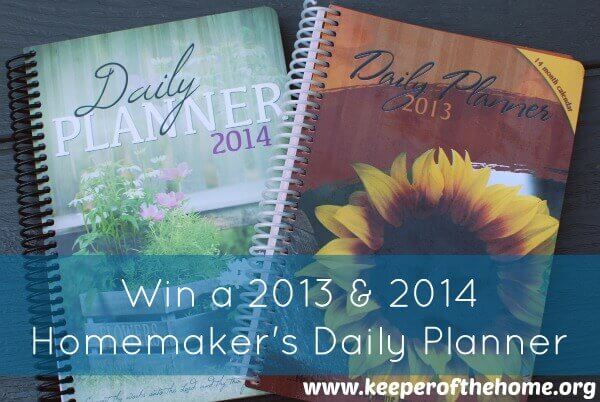 By Beth Ricci, Contributing Writer
Some people enjoy the luxury of being naturally organized. Me? Notsomuch. I mean – I love organizing in theory, I just don't often make time to actually be organized.
That's why I need systems that work pretty well flawlessly, so that my left-brained artistic self can just float around with my head in the clouds all day. OK, I'm only half serious. I have to come down from the clouds from time to time to change diapers and all that fun stuff.
It is true though that I am the type that really lives by William Morris's famous quote to only have things "that are useful or beautiful" in my house. The Homemaker's Friend Daily Planner falls smack dab in the middle of the "useful" camp. It's designed specifically with homemakers in mind, and the various features make it easy to use and love.
Here's how Sue, the designer of the planner, describes it:
A homemaker's day can rarely be scheduled and structured the same as the day before. The versatility of this Daily Planner allows a homemaker to immediately organize her days and duties.

My passion was to publish an uncomplicated, guilt-free planner to help women/moms to simplify their lives.
Bam! That alone sold me on it before I even saw it. My days are never the exact same, nor are they always predictable.
Here are three features that I especially appreciate about this planner: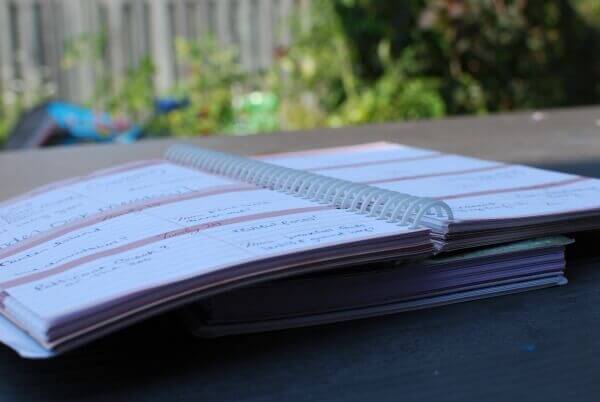 1) Different Layouts
There are several different layouts for different overviews: weekly, monthly, and yearly. I like using the weekly the most as I can write as much details as I want but still see the entire week at a time.
I also really love the layout of the weekly pages – there is room for you to write things in for each day, and a large space to mark down general stuff for the week.
I appreciate being able to note things that need done but not having to put them on a specific day. I need that kind of flexibility in my day-to-day life as a mom of littles. My days are always different from one to another, and this planner provides the perfect mix of scheduling and flexibility.
2) Tear-Out Grocery List + Menu Planning
One of my favorite features is something I've never seen before in a planner, and that is the perforated tear-out grocery list. What a brilliant idea! I typically just stick a piece of scrap paper to the fridge, but this is so much neater and easier to keep from getting lost.
I also love that each day includes a small section to jot down my plans for a daily menu. It's like all of my random scraps of paper are combined in one neat and convenient little package – it's great!
3) Monthly Calendar (perfect for homeschooling!)
With my firstborn turning five next month, I am in full-blown planning mode for the various activities and plans I want to include in our first official homeschooling year. The monthly calendar shows two months at a time and is perfect for more long-range planning of homeschooling goals.
***
Today The Homemaker's Friend is offering FOUR lucky readers a 2014 planner and a bonus 2013 planner so that you can get started right away! Enter below for your chance to win!
If you don't want to wait for the giveaway to be over you can get a sweet deal until the end of August: you can receive a free 2013 planner with the purchase of a 2014 planner! Order through the website HERE.
Disclosure: All opinions expressed are my own. I honestly use and love this product. This giveaway was generously sponsored by The Homemaker's Friend, and I received the products for free for the purpose of review.