Spring Giveaway Week: 4-Week Course on Blogging for Income (a freebie for ALL my readers!)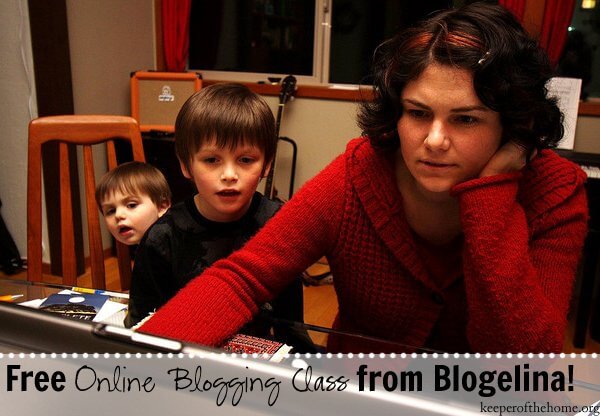 When I first began blogging over 5 1/2 years ago, I didn't have the faintest clue what I was doing.
What started as a hobby soon grew into a small income-earning venture, and then eventually into a part-time business that I run from home, which contributes greatly to our family's income.
While blogging certainly isn't for everyone, I do know that many of you are seeking to earn some sort of income while continuing to be a "keeper of the home".
Blogging for income takes a whole lot of hard work and perseverance among other things, but I believe that blogging gives stay-at-home-moms a unique opportunity to make money while choosing their own hours and keeping their families first.
It's Spring Giveaway Week, but today we're doing something a little bit unique. Usually, you have to enter each giveaway and hope that you win…not today!
Tanya from Blogelina is offering a 4-week online beginner's blogging class for FREE! (available for every. single. reader. Woot!)
Who is this blogging class for? This class just might be perfect for you if:
you're new to blogging
you're already blogging but wanting to take the blog to the next level
you're a SAHM who wants to learn how to earn extra income through blogging
you're a work-outside-the-home mom who would love to come home
Now, I haven't taken the course myself. The topics that Tanya covers are things that I already feel comfortable and familiar with through my own blogging experience, but here's the thing: This is the type of course I really wish I could have taken way back over five years ago when I was just starting out.
Obviously, a lot of bloggers get going without taking a course, and some of them wind up having successful, income-earning blogs. What you don't see, however, are all of the countless hours we spend learning this craft, the endless google searching for things we just don't understand, and how much we bang our heads in frustration at the mistakes we make along the way.
I recently talked a bit about how I started out blogging:
When I first began, I think I had read a total of 5 different blogs, ever. I knew so little about what I was about to do. I hadn't thought to learn anything about blogging before I began. I had no business plan, no written goals. Coding was a completely foreign language to me, and I had no clue there was such a thing as blogging etiquette. I simply wanted to write, so with my standard-looking WordPress.com site and a self-made (read: awful) header, I began.

Looking back, that's not a terrible way to begin a blog (because we all have to start somewhere), but it's not a very good way, either. The novice blogger today can be leaps and bounds ahead of where I was, thanks to the plethora of helpful tutorials and information available for free. Use it. It is your friend. The more you can glean about your craft before delving in too deeply, the better.
This 4-week class is offering the types of helpful, getting-started (or getting-more-professional) information that I was sorely lacking in and had to learn the slow and hard way. Wouldn't you love to do it the easy way?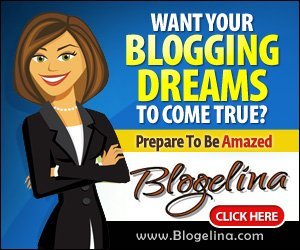 What the class includes
A 60-page manual that walks you through the steps of starting your own blog. This covers: how to get your blog started on the right foot, questions to ask as you begin blogging, how to choose a web host for your blog, why your blog design is so important, 9 different ways to easily monetize your blog, how to draw visitors to your blog, and more.
4 class sessions, every Tuesday for 1 hour from 8-9pm EST, with a presentation that also allows you to ask questions directly and get immediate answers from someone who knows the ins and outs of earning income from blogging. This also allows you to network with other bloggers who are starting out and expand your influence.
A year of free web hosting ($84 value)
It's normally a $17 sign-up fee, but it's actually valued at over $100 because it includes 1 year of paid hosting (an $84 value). You'll learn in the course why having your own paid hosting is important, and I fully agree with Tanya on this point. If you want to be serious about blogging, you don't want to be using something free like Blogger (Blogspot) or WordPress.com.
On that note, she also offers a transfer service to convert Blogger blogs to WordPress (and gives reasons why you want to do this) as well as a service for your initial WordPress setup.
Who is Blogelina and how can she help your blog grow?
Tanya is the woman behind the blog and has been involved in the blogging world since mid-2009 and grossed over $30,000 in 2011 alone. As a fellow professional blogger, I'll tell you that is an excellent income, and so she is clearly doing something right!
Not only does Blogelina offer this course, but the site is full of useful posts containing information on how to grow your blog, including tips on how to increase your blog traffic, improve your bounce rate, ways to keep readers coming back for more, free weekly blogging tips, and affiliate marketing tips and tricks.
All you need to do is click here to sign up, and you'll enter your email. That's it! You will receive an email with all of the details that you need for the course.

Having troubles? Just email Tanya through the link at the bottom of this page and she'll make sure that you get signed up for the course.
The special offer for this 4-week free online blogging course ends June 9th, so if this is something that you'd like to do, please make sure to sign up right away!
Disclosure: This giveaway post was generously sponsored by Blogelina. The offer itself is not related to Keeper of the Home in any way, and all questions or issues in regards to the course must addressed by contacting Blogelina directly.