Spring Giveaway Week: 2 Year-Long Subscriptions to Plan to Eat!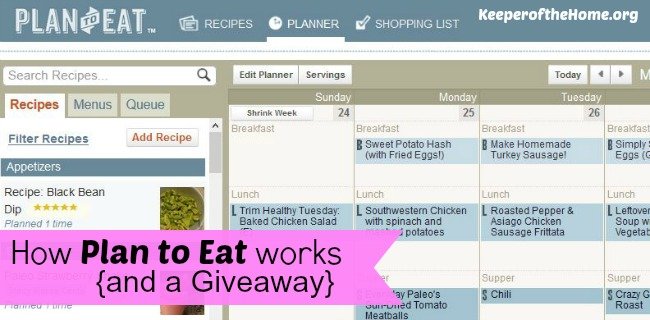 By Stacy Karen, Contributing Writer
In this digital age it is easy to find a lot of great recipes online. Perhaps you pin recipes to Pinterest, bookmark them, or save them to your computer. Whatever you do, there are still the extra steps of menu planning and grocery list making to deal with.
Plan to Eat makes all of this so easy, you won't believe it.
Here's a basic rundown of how Plan to Eat works:
Virtual Recipe Book
Plan to Eat allows you to save recipes to a virtual recipe book. It's like having your own customized cookbook with only recipes you love and use (or ones you want to try).
Recipes can be typed directly into Plan to Eat or saved from around the web. It's easy to add recipes using the handy Save Recipe button in your web-browser tool bar.

Just click the Save Recipe button whenever you find a great recipe online and Plan to Eat will fill in the ingredients and directions for you: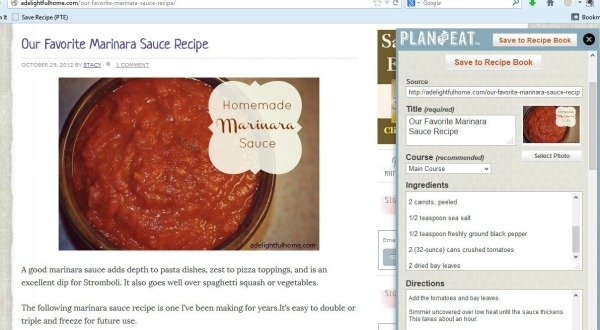 It will also include a link to where the recipe was found, a picture, and select whether it is a main course, side dish, soup, and so on. This can also be done manually.
Sometimes this info doesn't upload and you will need to copy and paste it in yourself. But this is fairly quick.
Add categories, tags, and any other information you like before saving.
I used the tag feature a lot when I was doing the Whole 30 challenge. It was nice to be able to easily filter my saved recipes by label so I could select a menu just from the Whole 30 approved recipes, without wading through all of the ingredients.
Saving a recipe from the web adds it to your Plan to Eat recipe book; you then have the option of adding the recipe to your planning queue or directly to your meal planner, if desired (or do nothing and simply save it to the recipe book).
Plan to Eat also allows you to save recipes of friends and join recipe groups. These recipes will be part of your recipe book and visible when menu planning.
Meal Planner
The most exciting aspect of Plan to Eat is how easy it makes meal planning.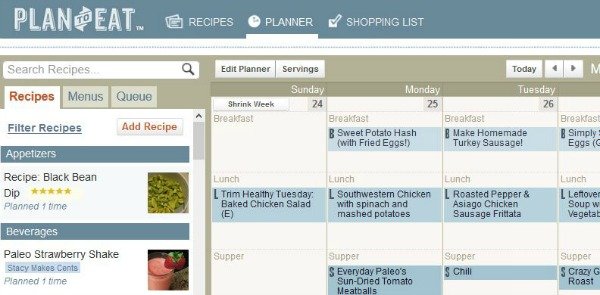 The drag-and-drop feature makes planning a menu quick and simple.
View recipes in the left bar and drag them to the appropriate day and meal. If you make a a mistake, simply delete it.
I love how clean dragging and dropping is. When I plan on paper I often find myself writing  a meal, then scribbling it out when I realize it is not suitable for a particular day. With Plan to Eat I simply drag it somewhere else. So nice!
Recipes can be filtered in the left bar to make finding what you want easier. For example, you may choose to view only main courses when planning dinner and breakfasts only when planning your morning meals.
It's also possible to filter recipes by tag, member, website, or rating, or view saved menus, or your queue (recipes can be added to the queue after saving online or when viewing in the recipe book).
Notes and extra ingredients can be added to each meal. For example, say I planned a baked salmon dish for dinner but wanted to add a side salad. I could drag the salmon recipe to the dinner space and side salad to the notes and add lettuce, carrots, tomatoes to the ingredients list (if I want them added to the shopping list).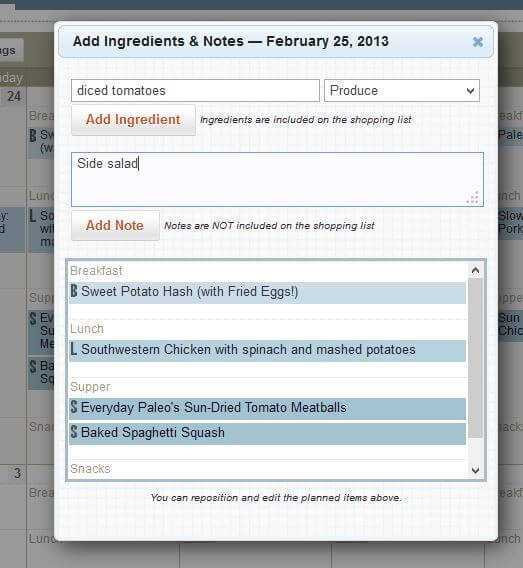 Meals can also be added to the meal plan directly from the recipe book. This is handy if you are browsing through recipes and find something you know you'd like to make this week or next. When that happens, just click "plan" and a calender will pop up. Then select a date and it's on the menu. Easy.
Shopping List
Plan to Eat automatically generates a shopping list based on the menu plan you created. This saves me lots of time! No flipping through cookbooks trying to make sure I have all of the ingredients.
Ingredients are even categorized!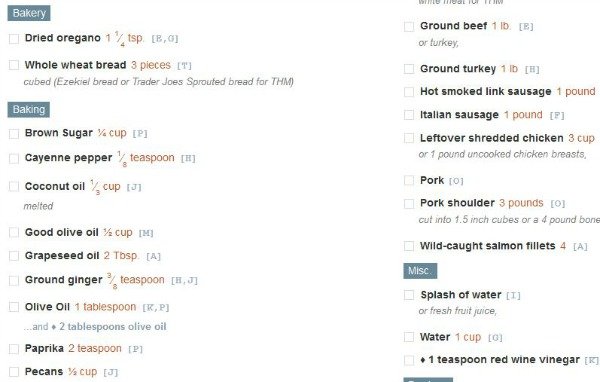 The beauty of this is that shopping lists can be viewed on your smartphone while at the store! No lost shopping lists (mine always hides at the bottom of my purse or is left on the kitchen table!).
Occasionally items will show up as instructions, such as: "combine yogurt and berries in a bowl." This is easily remedied (simply, click and edit).
Shopping lists can be edited considerably, items deleted, and ingredients rearranged (drag and drop to whichever location and order you chose).
Menu plans and shopping lists can be created for any time frame you choose. If you only shop once a month or every other week, you can print off everything you need to buy or view it on your phone.
Mobile Ready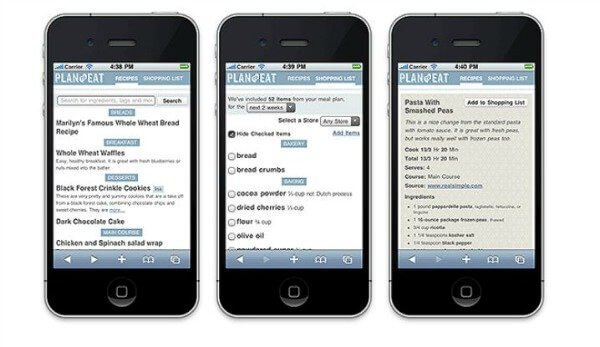 Image from Plan to Eat
The recipe book, meal plan, and shopping list are all viewable on your phone. I don't have a smartphone, but have viewed them on my iPod touch. I love this feature!
You can also check off items once they are purchased and even view your previously purchased items (pantry inventory) so you know exactly what you need to buy.
The whole mobile ready thing saves a lot of time and frustration (if you're apt to lose things). It also cuts down on paper clutter.
Is it worth the cost?
I signed up for Plan to Eat a few months ago (after seeing it around the web for almost a year). I was worried it wasn't worth the money; couldn't I save recipes online for free?
After using Plan to Eat for some time, I can say that yes, it is worth the investment. While it's true I could save  recipes online for free, I can't organize then, menu plan with them, or create shopping lists with then as simply as I can with Plan to Eat.
I find that Plan to Eat saves me time and money as well as keeps me organized (at least in the menu planning department). I paid for my own Plan to Eat membership and plan to renew again next year.
You can win a membership!
Today we are thrilled to offer 2 year-long memberships (worth $39 each) to our readers, because we are such huge proponents of meal planning! It saves you time, money, sanity, and truly helps you to put nutritious, homemade meals on your table.
If you know that you need to make strides towards regular meal planning and you're looking for a tool to help you do it, I highly recommend that you check out Plan to Eat's tour (so that you can see what it's all about) and then sign up for a free 30-day trial to see how it would work for you!
Would you like to be entered to win 1 of 2 Year-Long Memberships to Plan to Eat ($39 value each)?
As a huge bonus, all Keeper of the Home readers who use the coupon code "NaturallyInspired" before July 31 will receive 30% off of their annual subscription to Plan to Eat.
Giveaway ends 6/9/2013 at midnight.
Disclosure: All opinions expressed are my own. I honestly use and love this system. This giveaway was generously sponsored by Plan to Eat.
;