Spring Giveaway Week: MightyNest Picnic Gear Pack (with Review!)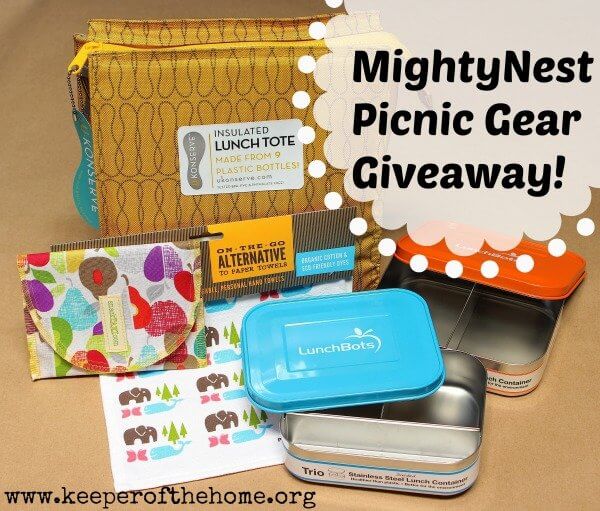 By Beth Ricci, Contributing Writer
What's summer without a picnic or two or twenty? Um, nothing, that's what.
OK, maybe that's a bit extreme, but isn't it true that two of the most universally loved human experiences are eating and enjoying the great outdoors? Put the two of them together and you've got sheer bliss, baby!
My kids love picnics so much that they have pretend ones all year long indoors. A blanket on the floor and a plate of snacks = happy little people, which also incidentally = a happy mama. It's good.
The one wrinkle in this whole plan is that I haven't had a great system for packing a picnic lunch and taking it places. I have used throw-away baggies (cringing at the wastefulness and expense) and bulky, plastic yogurt containers, thrown together in a plastic shopping bag, or a cloth bag if I can find one in the mad dash out the door. (I know, I know – planning ahead and all that. One day…)
This summer we bought a zoo membership since the Toronto zoo is just a few minutes from our doorstep. It's the perfect outing for my little ones at the ages of almost 5, 3, and 1.
However, I've really been wishing lately for a nice, insulated lunch bag that would help keep things fresh while walking around before lunch time, and I've had my eye on some nice divided lunch containers to hold all of the little items my kiddos love to snack on, like carrots, berries, crackers and cheese, etc. (When you throw it all into one container things get kinda gross and mushy).
When I was given the opportunity to review this amazing prize package from Mighty Nest for y'all today I jumped for joy at the chance. Seriously. I was excited. I eagerly awaited the package in the mail, hoping it would be as awesome as I thought it would be so that I could write this review with enthusiasm and conviction.
Easy-peasy.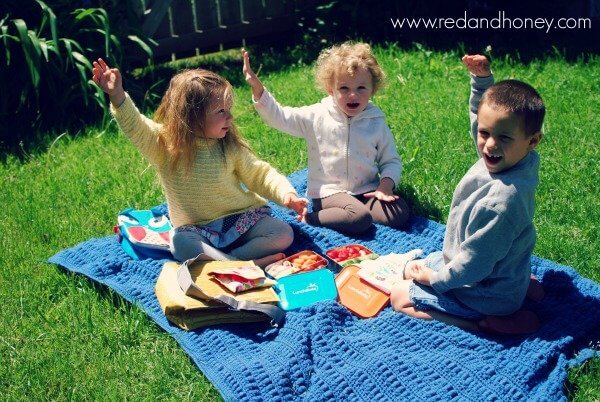 Can I just say: if all of the products that Mighty Nest sells are as high-quality as these – I'm going to seriously be ordering more ASAP.
Let me level with ya: I'm a frugal hate-spending-money kind of mama. I shop at thrift stores and "make-do" whenever possible.
But these products? Dreamy. Love, love, love them, to infinity and beyond, AND… to be perfectly honest – after using them, I would honestly go and spend the money to buy them for myself, knowing how awesome they are.
Here are five reasons I LOVE my Mighty Nest picnic gear:
1) Beautiful
My hubby doesn't get it, but I bet many of you fellow-mamas do. When something is pretty, I am like eleventy-billion times more likely to use it than if it's ugly. Pretty dishtowels? More fun to use. Pretty pots and kitchen gear? More fun to cook. Pretty lunch bags and picnic gear? More fun to pack up the snacks and lunch for a day out. It's just true.
2) Quality
That cloth napkin? Yeah, it's like 2 parts washcloth, 1 part adorable, and 1 part sturdy. It's well made, thick, organic cotton with a terry cloth back that I find way more effective at wiping peanut butter from toddler hands and faces. This ain't yo dolla store flimsy piece of synthetic fabric that doesn't wipe a dang thing.
I never thought I'd say this about a napkin, but it's really impressive.
Same goes for that snack taxi, also made of organic cotton. How cute is that pattern, by the way? Like I said: beautiful things are way more fun. It's strong and secure, perfect for any non-liquid snack.
The lunch bag is strong and thick (but also light-weight!), insulated nicely to keep things fresh. It's made out of recycled pop bottles (<– how cool is that?!?) and is obviously well-made and will last for years to come (I can honestly see this being something our family uses and loves for the rest of our lives; it's that well-made). There's just such an obvious difference between this bag and some random cheapo thing bought at your typical big-box store.
The stainless steel containers are beautiful – I was concerned the lids might not stay on well, being stainless steel also, but they totally slide on and stay snug. I put them into the lunch bag sideways without worrying about them opening and spilling. I have a duo and a trio, and wasn't sure which I would enjoy more – but it turns out I love them both for different things. It's nice to have the smaller compartments for things like berries or trail mix, and it's nice to have the larger ones for things like meat or boiled eggs or crackers.

3) Integrity
This is how Annie described their company to me:
"Mighty Nest is a place where people feel motivated and welcomed, not discouraged and judged; somewhere people are empowered to make changes in their lives, whether large or small."
Isn't that beautiful? I love that there is something motivating them other than just the bottom line. Their integrity shines through with beautiful eco-friendly, healthy, well-made products. That's the kind of company I want to support!
4) Earth-Friendly
When you build a company on a certain kind of values, everything you do and sell will flow from that. For Mighty Nest, it is evident that they value caring for the earth and caring for our health.
Mighty Nest is a unique site that provides you the ability to research, get advice and buy natural, organic and non-toxic products all in one place.
All of the products they sell are free from known toxic ingredients such as: BPA, PVC, phthalates, lead, melamine, formaldehyde, flame retardants, parabens and more.
5) Practical
There are a LOT of products on the Mighty Nest site. I seriously got lost browsing around their beautiful selection!
Here's a wee confession for you: I get a little twitchy sometimes at some things in the natural-living, eco-friendly world. Things like a $200 reclaimed Balinese wood toilet brush holder? Pretty silly.
But the things on the MightyNest website are not only beautiful and extremely high-quality – they are wonderfully useful and practical, too! I will be using my new picnic gear several times weekly, I'm sure. I could easily fill my cart with dozens of items I would use all. the. time.
(Maybe I'll start making my birthday wishlist from there instead. After all, I may or may not be turning *cough* thirty *cough, cough* in a month.)
Would you like to be entered to win your own picnic pack from Mighty Nest like the one I received? (The answer is yes, of course you do, silly!)
Click below to complete one Rafflecopter form, for all of your multiple entries, and then you're done! If you're reading in an email, make sure that you click through to enter from the actual website.
As a bonus, from now through to the end of June, Keeper of the Home readers will receive 10% off at MightyNest with the code "KOTH10"!
Giveaway ends 6/10/2013 at midnight.
Disclosure: All opinions expressed are my own. I honestly use and love these products. This giveaway was generously sponsored by MightyNest, and I received the products for free for the purpose of review.