Outdoor Scavenger Hunt Ideas for Kids
The days are getting longer and the snow is finally melting, which means it's time to get outside and play! After a long winter, I'm beside myself excited to get outside with my toddler and baby.
Whether you're taking a hike, going camping, or just spending free time outdoors, nature lends itself to many learning opportunities for your children.
Why You Should Make Getting Outside a Priority
Explore creation
Time in nature points to our Creator. Since getting outside invites curiosity and wonder as we explore, it's a great opportunity to share with our children all that God has made.
Get natural Vitamin D
There are so many benefits to soaking up some sun. One of which is our exposure to natural Vitamin D.
Vitamin D is essential for building healthy bones, strong immune systems, cardiovascular health, and even prevention of cancer. Plus after a long winter, extra Vitamin D can help pull us out of the blues!
Of course you, can get  Vitamin D from your diet and by taking cod liver oil, but the sun is way more frugal – it's free! A mere 5 to 15 minutes out in the sun (without sunscreen) can keep you and your children's Vitamin D levels at optimal levels.
Step away from the TV
Screen time toward the end of the winter seems to increase for my family. We're tired of coming up with creative ways to beat the blues, and we opt for playing learning games on the iPad or watching educational videos.
With the new rays of Spring, getting outside decreases screen time significantly!
Improve gross motor skills
Getting outside allows our children to play on different terrains, which helps them develop their gross motor skills in fun new ways.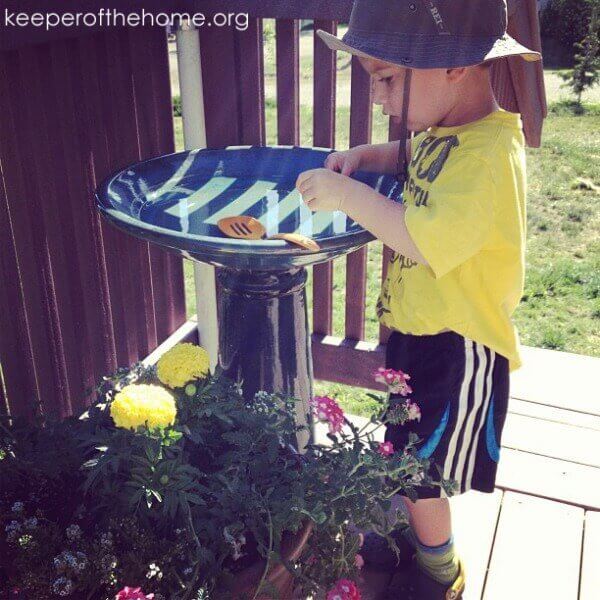 Now that we've learned why it's important to get outside with our children, I want to share with you one of my family's favorite outdoor activities – scavenger hunts!
Outdoor scavenger hunts are a fun and intentional way to spend time outside with our kids.
Below are 20 of our favorite outdoor scavenger hunt ideas.
Outdoor Scavenger Hunt Ideas for Kids
Nature Scavenger Hunt @ Intentional By Grace
Toddler Nature Scavenger Hunt @ Intentional By Grace
Scavenger Hunt Guide with Pictures @ Hands On As We Grow
Printable Zoo Scavenger Hunt @ I Can Teach My Child
Early Reader Scavenger Hunt for Kids @ Brisbane Kids
Scavenger Hunt for the Toddler @ Brisbane Kids
Spring Sensory Scavenger Search @ More Fun Mom
Scavenger Hunt Camping Cards @ Flanders Family
Garden Treasure Hunt @ One Perfect Day
Toddler Nature Study @ Intentional By Grace
Scavenger Hunt Printable for Toddlers @ Live Called
Outdoor Number Hunt @ Making Boys Men
Simple Scavenger Hunt @ East Coast Mommy Blog
Children's Scavenger Hunt @ Smashed Peas and Carrots
Backyard Photo Scavenger Hunt @ No Time for Flashcards
Outdoor Bible Verse Scavenger Hunt @ Rachel Wojo
Nature Scavenger Hunt Printable @ Inspired By Familia
Outdoor Color Match @ Frugal Family Fun
Spring Scavenger Hunt Bingo Cards @ Craft, Interrupted
An Irresistible Word Scavenger Hunt @ Playdough to Plato
The possibilities are endless when it comes to what type of outdoor scavenger hunt you want to try!
What are some of your favorite outdoor scavenger hunt ideas?