Making Your Own Convenience Food Mixes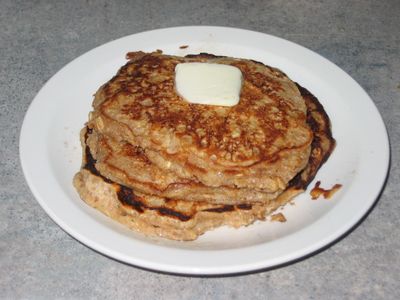 As a stay-at-home mama to a highly active 2 year-old daughter, and our "coming into his own" and very mobile 9 month-old son, Jonathan, I know how tempting it can be to reach for the convenience foods while grocery shopping. However, I've found that with a little planning I can make many convenience foods from scratch at home. We've found this to be a great way to streamline our time in the kitchen.
One of our favorite quick fix breakfast recipes is this Oatmeal Cinnamon Pancake Mix. The flavor of these pancakes is delicious, but I think my favorite part is that one large batch of the mix lasts our family about a month. Once the mix is complete it takes very little time to make pancakes for breakfast from scratch.
A jar of this pancake mix also makes a great housewarming, new baby, or holiday gift.
Oatmeal Cinnamon Pancake Mix Recipe
Ingredients
Oatmeal Cinnamon Pancakes
2

eggs

1/3

cup

applesauce

2

cups

of Oatmeal Cinnamon Pancake Mix

recipe above

1

cup

water

Optional: one mashed banana or fruit of your choice
Instructions
To make pancake mix
Mix pancake mix ingredients together in a large bowl. I use my hands to make sure the brown sugar is mixed in well. Store the mix at room temperature in an airtight container or gallon-sized freezer bag.
To make pancakes
Beat eggs in a large bowl. Gradually beat in applesauce. Alternately add mix and water to mixture. Blend well. Preheat and oil griddle. Pour 1/3 cup batter per pancake. Cook until bubbles form around edges, flip and cook until done.
Notes
Mix yields 10 cups. Pancake recipe yields about 10 pancakes
If you would prefer, I believe that you could probably leave out the powdered milk in making the mix, and instead substitute 1 cup of milk for the cup of water when mixing it up in the morning. Another option might be to use 1 cup of buttermilk, kefir or watered down yogurt instead, but add it the night before in order to soak the flour. I haven't tried this myself, but I don't think it would be difficult to play around and find a way to make it work!
Here are a few other ideas for streamlining your time in the kitchen.
– Freeze cooked portions of meat for adding to tacos, pizza, pasta sauce, and soups.
– Chop and freeze raw onions and peppers for tacos and fajitas.
– Freeze cooked portions of brown rice for tacos, stir-fry, and soups.
– Cook and freeze beans for tacos, beans and rice, brownies and more.
– Freeze fresh fruit like strawberries and banana slices for baking and smoothies.
– Make your own cake mixes.
How do you save time in the kitchen while still cooking from scratch?
Allyson is the happy wife of Tim  and stay-at-home mama to Emahry (2 years) and Jonathan (9 months). She and her husband strive to bring glory to God as they live, love, and learn together. Allyson regularly blogs about family, faith, frugality, and her journey as a wife and mom at A Heart for Home.