How to Nurture Generosity in Your Children
What a great topic! I love it, so I'll hand it straight over to Jamie without further ado…
*******
Guest Post by Jamie Martin of Steady Mom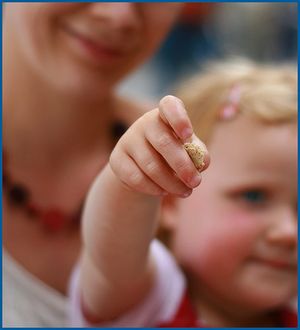 Photo by Milena Mihaylova
One
Sunday afternoon our family of five headed out to visit a friend. As we
drove, my husband was telling the children about his job with Love146,
an organization combating child sex slavery and exploitation in
Southeast Asia. He was leaving soon for a work-related trip to
Cambodia, and described to our kids the poverty there.
When
he finished, all was quiet – for a few minutes. Then a little voice
piped up from the back seat. "I know what we could do, Daddy, to help
the people. We could buy them a cow. That way they would have milk to
drink – because they probably get so thirsty."
Tears
filled my eyes as I listened, amazed by my child inventing solutions to
poverty. How can we nurture these generous spirits, I wondered?
Over time, I've developed a few ideas:
1. Discuss the importance of giving.
Some parents believe finances shouldn't be discussed with children, but I disagree. When it comes to generosity we need
to talk to our little people. When you give, let your children know
why. Read stories and biographies with them in which characters
sacrifice to give to others. Discuss Bible verses that inspire giving.
Proverbs 11:25 is a good example: "A generous person will be enriched,
and the one who provides water for others will himself be satisfied."
Other verses to consider: 2 Corinthians 9:10-11; Acts 20:35; Proverbs
19:17; and James 1:27.
2. Model generosity and involve your children in the process.
Don't
just write a check to your favorite organization and mail it. Let your
children watch as you write it. Say a prayer together before sending.
There have been times in our family when we've had "Giving Days." For
this event, we would give our monthly online donations together as a
family. The children would gather around our laptop after dinner, and
we'd pull up websites of various organizations that we support. One by
one we would submit our donations, letting the children take turns
clicking the mouse to send the funds.
We
invite the children to pray (if they want) for those who will benefit
from our money. It always touches our hearts to see our two
internationally-adopted children praying for others in their birth
countries.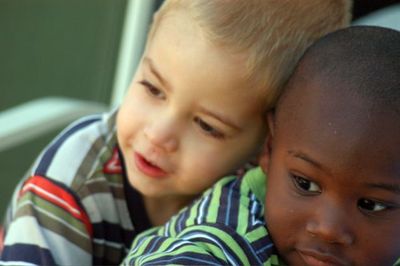 3. Watch for natural opportunities to reinforce this valuable lesson.
Returning
to my initial story, my husband and I wanted our son Jonathan to
realize that buying a cow could make a real difference. It was an
unsought-after opportunity to reinforce generosity. So we searched for
organizations to donate toward the purchase of a cow for a needy family.
Throughout
the year, many opportunities arise to involve your children in donating
toys or school supplies for various holidays. Take the time to seek
these out and watch your kids get excited about the joy their gift can
bring to someone.
4. Don't quench your child's generosity.
There may come a time when your children want to give away something you think they should keep. If at all possible, let them be generous.
Recently one of our sons wanted to give his favorite book, which he had
recently received, to another friend as a birthday present. I talked
with him, making sure he knew he wouldn't get it back afterward. He
understood, and he really wanted to bless someone else. I let him, and
he hasn't regretted it.
Some families require their children to set aside part of an allowance for giving. This can be a good exercise in teaching the discipline of giving. But generally, I think mothers should focus on inspiring generosity instead of requiring
it. A child's personal motivation will produce longer-lasting results
than a parent's force. When giving is a lifestyle, it becomes a natural
way for a child to interact with the needs he or she notices in the
world.
In the process of nurturing generosity
in our little ones, we find ourselves blessed. Through the act of
giving away, we gain infinitely more – depth in our relationships, our
marriage, our children, and our faith.


How do you attempt to instill a generous spirit within your family?
Jamie writes about her journey toward becoming a more intentional, professional mother at her blog, Steady Mom. She candidly presents the realistic picture of her successes and
struggles doing life with her six-year-old daughter and two
four-year-old sons (not twins!). In between moments of living and
learning with little people, you can find Jamie with her nose stuck in
a satisfying book.