The World is our Classroom
As a homeschooling mama who is just in her beginning years, I loved reading through this post! It really illustrates the type of learning environment that my husband and I aspire to develop in our home. There are so many excellent ideas here, and I hope that you will be both inspired and also that you will share some of the ways that you are creating rich and meaningful learning opportunities for your own family!
*******
Guest Post by Abbi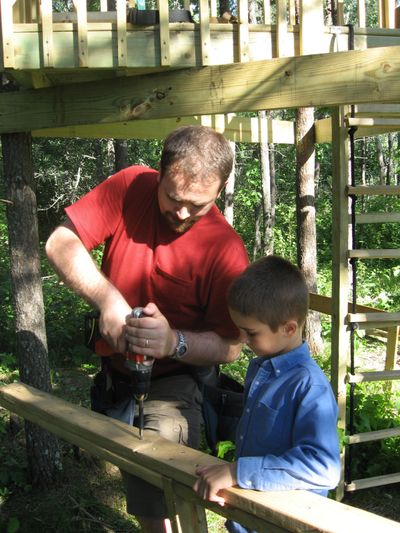 I feel so thankful to be able to homeschool my children ages 9,7,5 and 3. We love being able to learn together and just spend time together.  My husband and I were also both blessed to be homeschooled as children and know firsthand how homeschooling can well prepare you for life in "the real world". I know not everyone wants to homeschool, and that is okay, but what makes me sad is when I have parents tell me "We would love to homeschool but we just don't have the ability and often they will name something that they feel they are lacking in. Another thing that makes me sad is when I talk to parents who are homeschooling but they are totally overwhelmed by many workbooks and busy work that lots of curriculums provide, but they know of no other way.
My goal in this post is to tell you that homeschooling is not just for those that have parents that are super smart and have loads of patience (neither description applies to me). Nor is homeschooling meant to be a replica of the public school in your home. Homeschooling is for those that have an enthusiasm for learning and are willing to share that enthusiasm with their kids. Homeschooling can be a very fun adventure for the whole family that prepares your kids to be wonderful additions to our world.
  In our home we do use regular textbooks for some of our core subjects (Math, English and Spelling) but for the rest we enjoy doing a lot of family studying using a lot of different ways of learning. Some might wonder if that really works, "Do you really learn when you don't use a "school book"?" This Spring when the kids were taking achievement tests, my 9 year old Mara was about to take her Science test, she started to panic "Mom, I've never studied science!" I assured her that she knew a lot about science and didn't have any need to worry. Sure enough the test results proved this to be quite true as she was in the 98th percentile and at a grade equivalent of 11.8 (She just finished 4th grade).
  Here are some of the educational activities we enjoy that don't involve text books. You probably will find that you do a lot of them too, but perhaps you never thought about how much your child is learning.
SCIENCE
·         Walks in the woods with identification manuals in hand.
·         Learning to indentify wild foods, collect and eat them.
·         Growing a garden (complete with starting some of the plants indoors)
·         Raising fruit trees (even trying to raise oranges and bananas in the house).
·         Having many fun science books on hand to browse through and read together just for fun before nap times. We own quite a few and I also check them out regularly from the Library.
·         Regular trips to the local Science Center where there are many hands on activities to try and fun classes just for homeschoolers.
·         Finding a Monarch caterpillar, feeding it and watching it grow, turn into a chrysalis and then into a butterfly.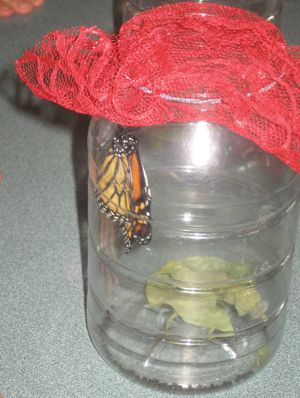 ·         Making a box solar oven together and attempting to use it.`
·         Making our own laundry soap.
·         Cleaning with Vinegar and Baking Soda and having fun watching their reaction to each other.
MATH
·         Baking together and as they get older on their own. Have them help you double, triple and half recipes (or any other amount you care to try).
·         Taking your children grocery shopping and having them help you figure out what is the best value on items by noticing volume and price.
·         While grocery shopping have a child keep a running tally on how much everything will cost by using a calculator.
·         Enjoy learning about fractions when cutting up pies, pizzas and such like.
·         We have a couple of boys that really enjoy numbers and so just for fun at some mealtimes we will spend time just challenging each other with oral math problems.
·         Have a rummage sale or bake sale and let the kids help (or manage completely if they are able) with the checkout table.
·         Get watches (not digital!) for the kids and teach them how to tell time and then give them reason to use them.
·         Be open about using math in your own life (such as budgeting). When children realize that math is actually useful it will make it much more interesting.
·         Teach them how to sew (my job) or do carpentry work (Ken's department) where they get to do measuring and figuring and such like.
·         Play games like Dominos and Monopoly and have the kids do a lot of the number work.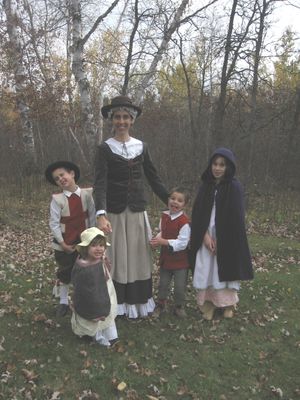 HISTORY
·         Read together! There are so many neat biographies out there as well as historical fiction. History does not have to be dry and boring!!! The kids and I have a  reading time together every day after lunch and before our rest time, this time has been a wonderful time to get through many, many neat books and series. Some familiar examples would be: The Little House books, Ralph Moody's books (Little Britches is the first one) and many others. My kids just beg me to keep reading more on things like that.
·         Have good books available for the kids to read on their own. They will be far more likely to pick it up when it is handy and looks fun.
·         Read historical books yourself and then excitedly tell them about some of the neat things you learned.
·         Have fun learning about a certain time period complete with finding as many books (and videos or DVD's) as possible on that era, using the internet, making foods to go along with that time period, dressing up in period dress and trying things like making candles, spinning and whatever else you can think of to go along with that time period. When doing this you don't have to feel like you have to get it all figured out before you begin. We had a wonderful time learning about Viking Era, Pioneer times and the Colonial Period in this way and I simply got lots of books and then as we  came across something that we wanted to try we would do it if we had the time and the resources needed.
·         Visit older people and be interested in them and their lives. They have so much to teach us and they usually love to tell stories.
·         Visit Museums, Historic sites and Living History Museums. I absolutely love Living History Museums as they teach you so much in such interesting ways! As you travel be aware of learning places you might be passing. We took a recent trip with my parents and we were passing within 7 miles of the spot of the "House in the Big Woods", so we took a little side drive to see it. Now not only have the kids heard the story but they can also visualize where it happened.

GEOGRAPHY
·         Get to know people from other countries. One way we have especially done this is befriending international students at our local university.  Invite them into your home. They usually enjoy learning more about America and then in turn love to tell about where they are from.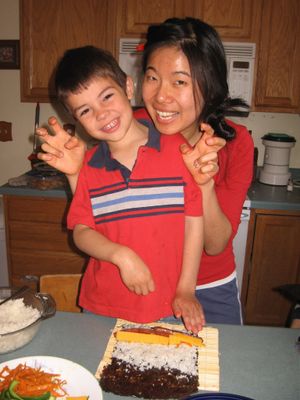 ·         Try ethnic foods. We have had a lot of fun trying recipes from other countries, we have also had several international students who have enjoyed coming over to cook for us (and then we usually get to help). Another way is to visit ethnic restaurants.
·         Have maps and globes prominently displayed throughout your home. My favorite way we have done this is to have a laminated map on our table as a tablecloth. It is a little unusual but it has promoted many learning discussions!
·         Take advantage of the many fun books and videos available at the library. In 2008 we decided to study a State each week. We found a series of books at the library which we read from each day before naps. We also tried foods and any special activities we might learn about from each state. Now we are on to countries and again our library has a nice supply of books about many of the different countries.
·         Travel! I wish we could do this more but we do enjoy what we are able to do. We keep track of each state we have visited.
·         Collect state quarters and then have fun placing them on their correct state on a map.
·         Play games. There are quite a few games out there that help you learn more about geography.
·         Put together puzzles. After putting together a couple of puzzles (with tiny pieces) of the world I feel much more in tune with where things are.
HANDWRITING
·         Have your children write letters. REAL letters that they send to somebody. This is a much more meaningful way to practice writing and grandparents or somebody like that really appreciates them as well!
·         Get a Calligraphy set. It is even more fun to try really fancy writing!
·         Have the children write our Bible Verses, illustrate them and hang them around the house.
LITERATURE
·         Read aloud to your children! Books are so much easier to understand and get into when you can read them together.  Plus you can create some really great memories with your kids! (I know, my parents spent many hours reading to my siblings and I and we loved it!)
·         Shut down the TV and electronic games in your house. I think that kids will have a much higher interest in books if the books don't have to compete with that.

SOCIAL STUDIES (or political science)
·         Get involved as a family in the whole political process. We have done that and are amazed at how much information our kids have learned.
·         When a Governor, Senator or any other such person comes to your town, try to go see them if possible. Often you will be in a group with few children and yours will quite likely be given some attention. Last year we had a lot of fun meeting various leaders and the kids got to shake their hand and listen to them speak. They now have a personal experience to remember when we speak of various leaders.

ENGLISH
I confess this isn't my strong point and I don't have any great ideas for eclectic learning in this department. One thing I do know is that reading good books is helpful for learning good grammar. This is a subject I am quite thankful that we can have textbooks in . J If anybody else has neat learning ideas for this area I would love to hear them!
 There are so many ways that we have fun learning together that I have just begun to touch on them. Here are a few final tips:
~Something that I think is of major importance when teaching with kids is being excited about learning yourself. They really pick up on that. If you think learning is fun and are regularly trying to learn new things, they most likely will too.
~Another thing is don't be afraid to learn together. You can't possibly know everything there is to know about every subject. There are many times that we pull out books or use google and learn together.
~A third tip is: Take advantage of the knowledge and experience of others. We have many friends and family that have expertise in many different areas. We love to visit them and learn from them. For example: My dad raises goats and other farm animals , raises gardens and an orchard and grafts fruit trees plus he does a lot of metal and wood working. We have learned a lot from him. We have a friend who helps to fight forest fires by dispatching water planes and helicopters. We have been able to visit her work a  couple of times and so how she does it, go inside of the planes and helicopters and talk to the pilots. That is couple of the knowledgeable people we have in our life, I am sure you have many people you could learn a lot from too!
~Fourth thing: Remember it is not all about academics! I think we all are happy when our kids do well at academics but the truth is some people excel more in that area while others excel in other areas. God made us all different and we need to embrace that. I think everybody should work at academics but how well you do does not determine your worth. Sometimes working with your hands is not given as much attention but it doesn't have to be that way in our home schools. Knowing how to make and fix things is very valuable and we need to encourage our children to excel in that area as well.
~Most of all (to repeat what I have been saying throughout this post) have fun and don't get stressed! Homeschooling can be a wonderful way to enjoy the blessing of children that our Heavenly Father has given us.

Abbi lives with her husband Ken and 4  homeschooled children ( Mara, Jonathan, Aaron and Megan ) in Northern MN. She blogs at Proverbs 31 Living about living as a Christian woman, Family, Homeschooling, Homemaking, Natural and Green living, Sewing, Gardening, Cooking, Frugality and all sorts of Crafting.
What are some of the ways that you teach your children and encourage them to learn and explore, without the use of textbooks and curriculum? Do you agree that learning can often happen best in these natural, real life ways?