Tell Us Your #MyNewNormal Story and Win a Blendtec 725! {$649.95 value!}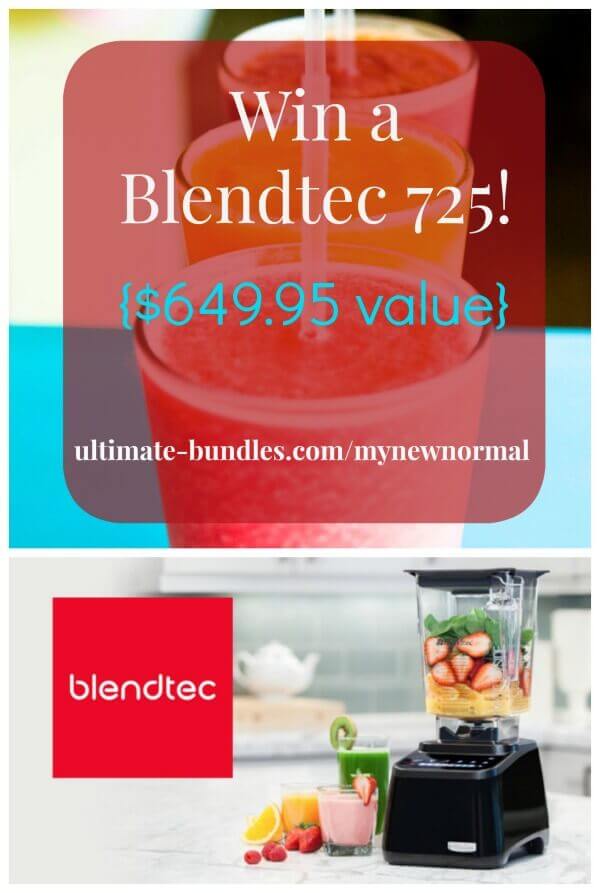 ;
Spoiler alert: Today's video post is from my husband!
Though it's certainly not a secret, I haven't written much about my husband's battle with cancer 7 years ago.;
It was a difficult and often dark time in our story, though from it has come much healing and hope.;
I could tell it from my perspective, but I don't think it's nearly as good as letting him share his journey, in his own words.;
I'll let Ryan take it from here…;
When doctors diagnosed Ryan with cancer, he felt alone. But now he knows he isn't.
This is where you come in.
Do you have a story of overcoming a difficult life circumstance? It could have to do with your health–or it could be a totally different type of trial that you overcame.
I want to challenge you to share your story, and to be part of a bigger movement that inspires others to define;their new normal.
#MyNewNormal — what's yours?;
We are currently gearing up for the fall Ultimate Healthy Living Bundle, and we are celebrating with a new campaign–#MyNewNormal.
#MyNewNormal will give one reader the opportunity to win a brand new blendtec 725! This high quality blender is worth $649.95!
To launch the campaign, Ryan wanted to share about his battle with–and victory over–cancer. And I think his story is so encouraging. And it's something I'd ask you to share on social media if you are inspired by it!
But more than that, we want you to tell;your;story…;
And here's how we are going to do it:
Choose one or do them all!
Email Ryan at ryan at ultimate-bundles dot com and tell;your story. We'll share many, if not all, of these on our site in the near future.;


Take a picture of yourself holding a sign with;#MyNewNormal;and then define what your new normal looks like, or will look like in the future. Share it on social media with the hashtag;#MyNewNormal;and tag Ultimate Bundles where you choose to share it (via;Facebook, Pinterest,;Twitter,;YouTube,;Instagram! — or all five);


Make a video of yourself telling your story of how you took control of your health (or anything else for that matter) and defined your new normal. Upload the video to your favorite video site, share it on social media using #MyNewNormal, and tag Ultimate Bundles;(via;Facebook, Pinterest,;Twitter,;YouTube,;Instagram!)
Everything is more fun with a Blendtec Giveaway!
To make this even more fun, we are going to choose the most inspirational story and buy that person a;BlendTec Designer 725 Blender.
This is Blendtec's best consumer blender, and is worth $650. Having a high quality blender for fresh juices and smoothies helped me to redefine my new normal, and I hope it does for you too.
Every video gets a FREE Ultimate Healthy Living Bundle (New 2014 edition)!
The;Ultimate-Bundles.com;team is feverishly preparing our 3rd annual Ultimate Healthy Living Bundle (This is theoretically hush-hush right now, so please keep it on the DNL. I'll let you know more details about it in the near future.)
Our goal this year is to put together an incredibly practical collection of eBooks, eCourse, and Bonuses that will help every one who gets one to redefine their new normal.
As soon as it's released we'll buy everybody who records and;submits their video to our website full access to this year's bundle.
We can only do this until;August 4th, so;submit your video right away;if you would like us to buy your bundle for you.
Here's to your new normal!
;
Image by https://www.flickr.com/photos/khawkins04/