(Summer Giveaway Week 2013) Win a Year's Supply of Eco-Friendly Laundry Detergent from My Dizolve!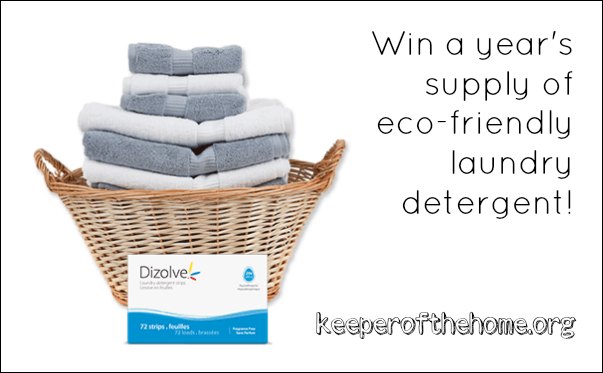 By Beth Ricci, Contributing Writer
Do you ever do laundry with a fussy teething baby hanging off one hip, and a cup of coffee in hand after an interrupted night of sleep? That's like pretty well my morning routine these day, guys. Seriously. That's only one of the many reasons I am in love with this new laundry detergent I was invited to try. Let me tell you four reasons why I love my new Dizolve laundry detergent strips!
No Measuring
It is literally just one little tear-off strip that you throw in the machine. Done. No measuring, no pouring, so scooping. No liquid or powder. No oops-I-dumped-too-much-because-I-haven't-had-enough-coffee-yet. It's way easier to do one-handed, which is uber-handy for, well, probably everyone.
Safe and Hypoallergenic
As naturally-minded keepers of our homes we want to be sure that the products we use are safe and non-toxic. Dizolve detergent proudly boasts that it is:
Hypoallergenic for sensitive skin
Free of 1,4-dioxane
Phosphate-free
Biodegradable
Safe for septics
I can tell just from smelling my laundry after it dries that it does not include any of those nasty fake perfumey scents. My laundry smells fresh, not fake – just the way I like it.
Effective and Frugal
I have been using My Dizolve detergent strips for about a month now. Since I was already using a completely natural and safe brand before, I'm happy to report that I saw no difference in the cleanliness of my laundry. Their website explains the frugality factor:
When you buy 72 strips of Dizolve, you get 72 loads of fresh, clean laundry because each strip contains exactly the right amount of detergent for one load. That's not the case with most liquid and powder detergents. You pay for 72 loads, but only wash 48 loads of laundry because the hard-to-read, over-sized caps and scoops trick most people into using much more detergent than they need.
It's so true! I hate peering in at the tiny lines, trying to figure out which of the three or more I'm supposed to be measuring to, wondering if I'm getting my money's worth. That's not the case with Dizolve thanks to the uniformly-sized strips. They're even perforated so you can just tear it off and throw it in.
If you have a really small load, just tear it in half – easy-peasy. Oh, AND you can use them in cold water which is what I use 90% of the time in order to save money!
According to independent research, 33% of all liquid and powder detergent is wasted due to over-dosing. That waste costs consumers in North America over $1 billion a year. Dizolve is already competitively priced, but when you factor in the elimination of over-dosing waste, it's a real bargain.
Eco-Friendly
Dizolve is much smaller and more concentrated than conventional detergent, which means that less fossil fuels are burned up transporting it around. It's also packaged in simple cardboard boxes which completely eliminates plastic jugs (which are huge waste contributors).
This is just so much smarter – I honestly don't know why every company doesn't do it this way. Check out this cool infographic that demonstrates the real environmental impact of laundry detergent (using Canadian stats, which are very similar to American).
(And don't forget to scroll all the way down to enter to win your own year's supply of Dizolve laundry detergent strips!)

Would you like to be entered to win a year's supply of laundry detergent?
(Actual prize is 7 boxes of detergent valued at approximately $105 total, which is more than a one-year supply for a family of four.)
Click below to complete one Rafflecopter form and then you're done! If you're reading in an email, make sure that you click through to enter from the actual website.
a Rafflecopter giveaway