Organize Your Life With a ListPlanIt Subscription (Review + Giveaway!)

By Jessica Smartt, Contributing Writer
I love organization, but my life is seldom organized. I'm an orderly person who's not very orderly. Can anyone else relate?
Needless to say, it can be frustrating sometimes. I have plenty of excuses:
"I keep up with it in my head." (Hmmm.)
"I'm too busy to be organized." (Tyranny of the urgent, anyone?)
"Every time I get really organized, someone else/life/reality messes it all up. Why bother?"
What it really boils down to is that I haven't found a good way to implement order into my life.
I was really excited to review ListPlanIt, since I've been eyeing it for awhile.
ListPlanIt is basically a massive collection of practical lists – to-do, to-buy, to-remember – all at your fingertips. You can create, edit, delete lists, and do it all from your smartphone or tablet. Additionally, there is a terrific database of printable lists to type or manually write in your items, if you find handwriting your lists to be therapeutic, like me.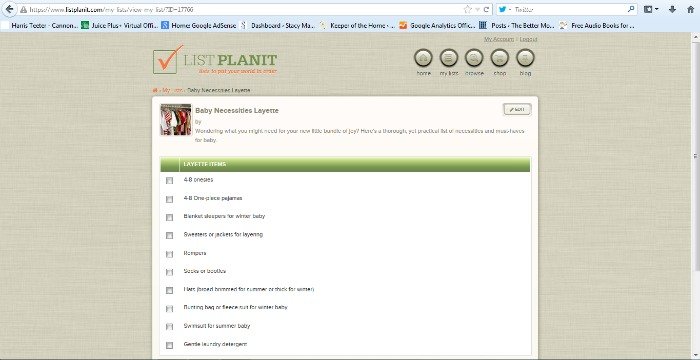 How Many Lists Do You Need?
There are so many lists available on ListPlanIt. Here are a few lists I'm currently using or am excited to implement:
Editorial calendar for my blog
Baby necessities checklists (bath, clothing, traveling, nursery, etc.) for baby #3, coming soon.
Social security numbers, stored in their secure site. (My husband has earned his title of Mr. Patient solely on how many times he has given me his social security number. Why do I not have that thing memorized yet??)
Honey-do list!
Stocking stuffer/gift inventories – I always tend to forget what I've bought and hidden throughout the year.
Things loaned/borrowed. Brilliant idea!
Errands to run
Password tracker and keeper
30 minute checklist – things I could complete in 30 minutes. How many times have I looked at the clock and thought, I should do something … What do I need to do?
Daily, weekly, and monthly to do lists. (Am I the only mom who could benefit from a reminder to brush her children's teeth? Please say no.)
Bill expense/schedule, to see at-a-glance when all the monthly bills are due.
Packing list. I am so embarrassed to admit to all of you that each trip, I actually re-write the same packing list, over and over. I know, I know…
Especially with my pregnancy-brain, the idea of effective lists is becoming more a necessity than a luxury. With ListPlanIt, there is a list for every list I'd want to make, and then some. All accessible in one place!

Better Than Paper?
See, I've tried something like this before. A few years ago, I got on a "organize-my-life" kick. (Have you ever had one of those?) I went to Target and bought a huge three-ring binder and mini-notebooks for all my various lists.
I was going to keep up with my lists and be organized.
I had bunches of notebooks and little sticky tabs for each list. I kept my budget, my shopping list, my to-do list, to-mail list, to-thank list, all in my massive homemaking binder.
You can probably guess where this is going. I found that binder the other day… and it was empty. The vision was there, but there were a few things lacking. For one, I had to carry this massive binder everywhere. For another, the lists just weren't easily accessible. I'd forget which one was where, and had trouble flipping back and forth between multiple lists.
I feel like ListPlanIt takes the best of my idea and streamlines it. I have my lists, but they're organized and portable.
Worth The Cost?
I'll be honest: I'm someone who doesn't like to pay anyone else for something I can do myself. And I can make a list. Right?
Honestly, no. Not like this. I love how handy these lists are to access, and how nicely organized they are. That was my trouble before; what good is a list if you can't easily find it when you need it? ListPlanIt makes it easy to be organized.
I found myself thinking more and more that the $5 a month for ListPlanIt is money well-spent.
Enter to win
Today ListPlanIt is giving away TWO free 1-year subscriptions to their site (two separate winners!)
Giveaway ends March 17 at noon. Disclosure: This giveaway was generously sponsored by ListPlanIt, and is open to residents of the U.S. All opinions expressed are my own.