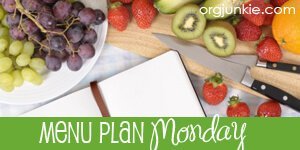 Hello again! I'm still puttering away with my restrictive diet… two weeks down, minimum of 6 more to go!
Each week I am stretched to find tasty, interesting, healthy and still frugal meals that we can all enjoy. I'm finding that being really purposeful to make yummy dinners (and therefore, having great lunches through leftovers) makes any kind of special diet bearable. You just have to get creative!
Monday: Salmon, sweet potato and broccoli chowder
Tuesday: Thai Chicken Stir Fry (another recipe from Real Simple, just like the chowder above, but I could only find it in my magazine copy, not on the web), over quinoa instead of rice.
Wednesday: At a church event (I'll bring leftovers for myself)
Thursday: Butternut Squash Risotto with a green salad
(I'm on a Real Simple kick this week- if you've never tried their recipes, they are almost always completely from scratch and use wonderful fresh ingredients, but are generally not too complicated or time consuming- try browsing through their recipes!)
Friday: Millet Root Vegetable Cobbler with steamed side veggies (I'm thinking asparagus, but it depends on the price at the produce market), for guests. For dessert, probably ice cream with fruit (for my hubby, who's craving ice cream, but feels bad buying it when I can't have any), and I will either have a smoothie or just some fruit.
Saturday: Pizzas on sprouted corn tortillas (tortillas are such a great way to make fast, simple, individual pizzas, and it's an interesting change from regular pizza dough). For mine, I intend to create a pesto concoction, make with goat's cheese instead of parmesan, plus we'll use some chicken, peppers, fresh herbs, and for my hubby, tomato sauce, onions, and cheddar cheese (lucky bum- I miss cheese!).
Sunday: Moroccan Tagine (a crockpot lamb dish, with fruit and lots of spices- it sounds divine!), with a green salad
As well, on Wednesday, I will be hosting a girls waffle brunch for my 3 favorite girlfriends from university (possibly our last girly get together before the last of our bunch gets married this spring). For them, I will be making Classic Waffles, and for myself, I will be altering Nourishing Tradition's pancake recipe to be egg-free and use goat's milk. I'll serve them with whipped cream and fruit (I can have the fruit, and I might just make a smidge of whipped cream for myself with stevia instead of sugar- a girl has to indulge once in a while, right?)
Someone recently asked what I am doing for breakfasts, and the answer is:
Breakfast sausages, which I just ran out of 🙁
Scrambled tofu (I'm not normally a tofu eater or advocate, but I'm feeling a little desperate here)
A little bit of sourdough spelt bread (though I'm trying to keep the bread minimal). I just bought some almond butter yesterday, which I am really excited to have in lieu of our regular organic peanut butter.
Fruit smoothies (with a nut/seed base rather than a yogurt base, and stevia instead of honey for sweetener)
Some "raw" buckwheat granola I made myself, with almond milk and berries
And my husband and daughter are also eating oatmeal and more toast than I'm eating (with cheese, peanut butter, etc.).
More menu plans at Organizing Junkie!
To those of you who've done similar Candida or restrictive diets before, any other great breakfast suggestions, or even just dinner recipe links? It would be very appreciated, and probably useful to some other people as well!