Rhubarb. Usually there are three responses when I ask the question "Do you like rhubarb?" They are reliably accompanied by facial expressions:
1. Facial expression: puzzlement and slight trepidation
Accompanying answer "I've heard of it but never tried it"
2. Facial expression: I just sucked on the most vile thing ever
Accompanying answer (emphatically) "NO" (sometimes "eww" or "yuck")
3. Facial expression: "heavenly rapture remembering the most delicious flavor ever"
Accompanying answer "I LOVE rhubarb but I never get to eat it!"
I am firmly in the #3 camp or at least I was. Prior to 2007 the last time I had eaten rhubarb (and gotten that facial expression) was during a road trip we took to central Indiana in 2003 to attend an Amish auction. I don't know which I was more excited about – the Amish food or the auction. Both turned out to be winners that day. At the auction I got, among other things, a glass circa 1920s chicken watering device that I display as sculpture. After that we went to the restaurant and had not only pure rhubarb pie (not ruined by the presence of strawberries) but "white" (green) rhubarb pie. I had two pieces.
So the first thing we did when we got The Yarden built was tromp out and find two rhubarb plants. One typical red (Valentine) and one "white/green" (Victoria) and put them in.
Here I must note, as all good rhubarb storytellers are obliged to do, these plants get big and don't like to be moved. We, in our enthusiasm, chose to ignore this information and put them somewhere where, two years later, they needed to be moved from. Luckily they survived and are now flourishing in their new spots where they are playing dual role of food and landscape plant. Their big, Jurassic looking leaves are a nice feature in a Zone 5 garden where nothing truly tropical can survive the winter.
Rhubarb is called "Pie Plant" and I have also heard it called "Grandma Plant" because it is often associated with old lady gardens and has somewhat fallen out of favor. This is a sad, sad state of affairs because rhubarb is a versatile plant that imaginative cooks can do a lot with.
Personally I am very attached to rhubarb for sentimental reasons. When my family moved to an even more rural location in Oregon in 1970, my mother put in a rhubarb plant. Per the above – long living and huge – the plant is still there. Ginormous. It provides enough stalks for more rhubarb goodness than my parents, their church friends and neighbors can eat. By the end of the summer my dad rides over it with the lawnmower. As much as we all love rhubarb, I think he enjoys this end of season ritual because, even as true enthusiasts, you can only eat so much of anything.
My mother is an excellent cook and, luckily, I liked cooking from an early age. She jokes that I showed my cooking enthusiasm from the get go because my favorite occupation as a tiny girl was sitting on the kitchen floor and banging on a pot with a wooden spoon. Rhubarb compote or "melted rhubarb" was one of the first things I learned to make. It is good for kids because you can use a plastic knife to cut it.
The below is more instructions than a recipe but you can't go wrong with it so give it a try with any quantity you have.
Take a big armful of rhubarb and cut the leaves and the stems off. Chop it into 1" pieces.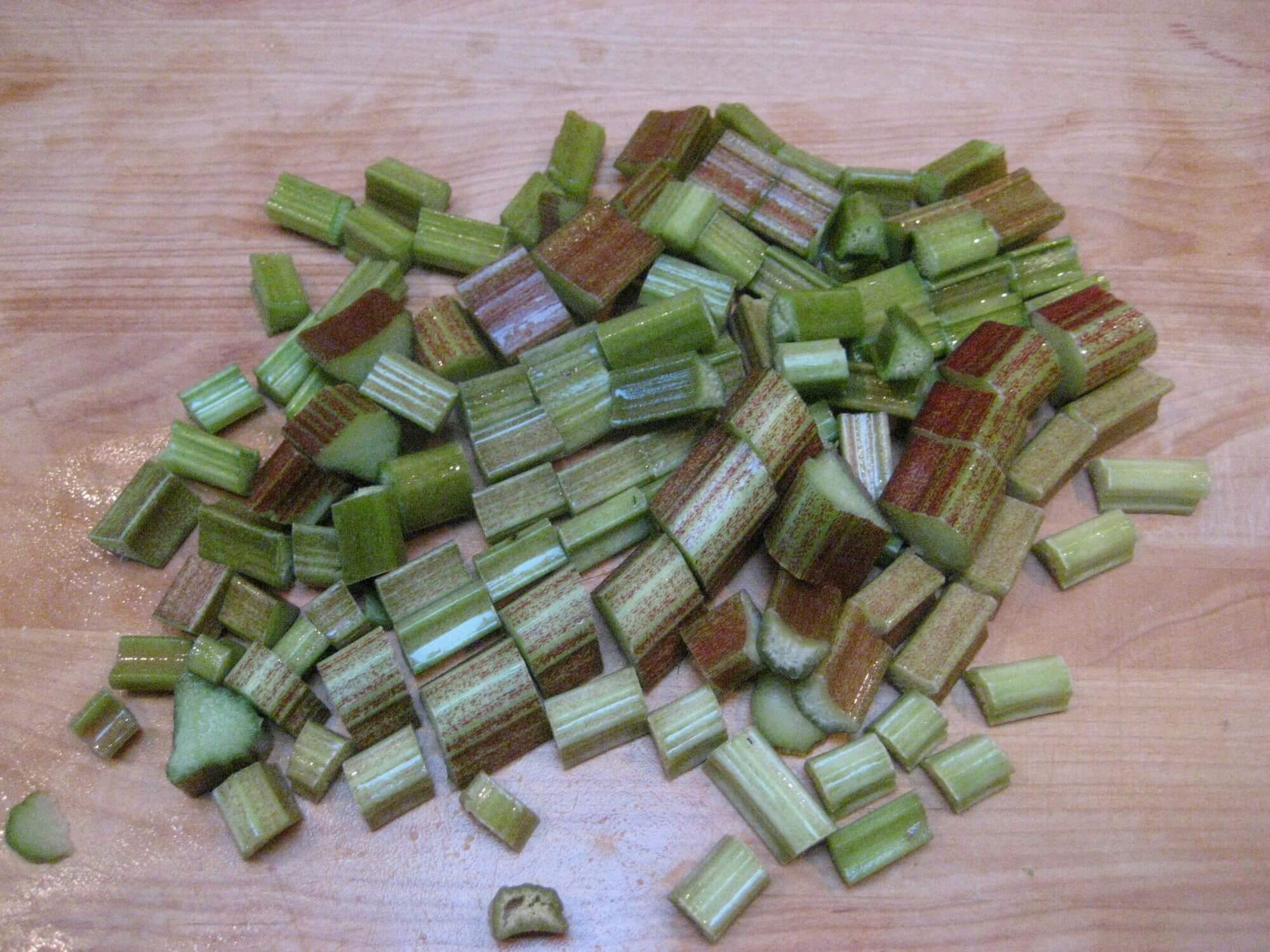 Get a big stock pot ready. Wash the rhubarb and with the water still clinging to it, put it in the stockpot on medium heat. Once the rhubarb starts melting it is very juicy so it is better to add less water at the beginning. Start with a ½ – 1 cup of sugar. [We always liked to use brown sugar because it gave it a deeper flavor but white sugar is good too.] Stir it all together and let it cook. It will begin to cook down. Stir it often. It will begin to get stringy and become a deep, beautiful reddish/brown color. Taste it and add more sugar as necessary. It is done when the individual chunks have disappeared and it is a thick liquid mass.
To me a pot of melted rhubarb on the stove, cooled to room temperature or still slightly warm is heaven. You can serve it on ice cream or with vanilla pudding or over pound cake. Or just eat it plain.
This is the first thing we did with the rhubarb in The Yarden and it was a taste of heaven. Just like I remembered it…
So tell the truth… do you like rhubarb? How do you like to eat it?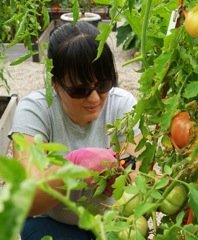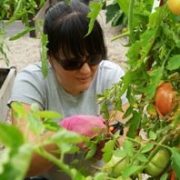 Awarded honorable mention in Mayor Daley's Landscape Competition for 2009, LaManda Joy's 1,700 square foot, heirloom organic garden in Chicago's 40th Ward is a laboratory and teaching ground for friends and neighbors. Her blog, theyarden.com chronicles the joys and challenges of urban gardening, entertaining, cooking and food preservation and reflects the skills and passion of its veteran creator.