Using Symbolism to Teach My Children the True Meaning of Christmas
Guest post by Beth of Red & Honey
"After they had heard the king, they went on their way, and the star they had seen when it rose went ahead of them until it stopped over the place where the child was. When they saw the star, they were overjoyed. On coming to the house, they saw the child with his mother Mary, and they bowed down and worshiped him. Then they opened their treasures and presented him with gifts of gold, frankincense and myrrh." Matt.2:9-11 NIV
What is the True Meaning of Christmas?
Real or artificial? The great Christmas tree debate is alive and well every year, but for my family, it simply must be a real tree.
Every year we would brave the cold and snow to go pick out a Christmas tree. It was always a big production to bring it home, saw off the end, stand it up straight in the base.
"A little to the left! No, now right… hmm, try turning it around 180 degrees," my mother would say, as my father muttered on his hands and knees, getting poked with branches and pine needles.
One year my mom said she'd had it with vacuuming up pine needles until spring, and that she found an artificial tree on clearance. We set it up, looked at each other aghast, and promptly headed out to the car, straight for the tree farm down the road. Never again, we swore.
We'd decorate the tree with little hardened salt-dough stars and cotton-ball sheep made in Sunday School. My Mom told us the story about the candy cane, and how it reminded us of a shepherd's staff, just like Jesus the Good Shepherd who knows our names.
The rich and deeply spiritual symbolism of Christmas was a significant part of my upbringing and spiritual shaping. I am now blessed with the opportunity to share these traditions with my children, as we set them on a foundation of faith and understanding of the true meaning of our celebrations at Christmas.
I understand that some people have differing opinions on how we should celebrate Christmas (or if we should even celebrate it at all!) Some claim that the supposed pagan history of many Christmas symbols and traditions mean that Christians should reject them.
Is this true? What do these traditions really mean? 
Symbolism is everywhere in our world. It is a largely cultural phenomenon whereby cultures ascribe meaning to otherwise benign objects and practices. Part of the fun of Christmas, for me, is the deep spiritual meaning that is involved in our traditions.
A symbol's meaning can evolve or change based on its current usage in culture, which means that even if an evergreen tree was once used by pagans in sun-worship, it does not mean that Christians today cannot use it to remember Emmanuel, the Everlasting Father, the Prince of Peace!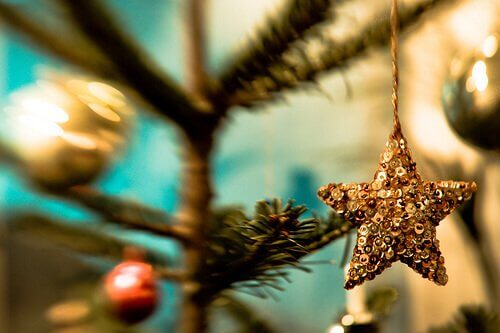 My faith comes alive in those evergreen branches that symbolize everlasting life and hope in Christ, and my hope is renewed by a simple star on top of our tree that reminds me of the night my Savior was born.
An amoral thing like a tree cannot be good or evil in and of itself, and if I chop down an evergreen tree, haul it into my living room, top it with a star and decorate it with lights, I am not participating in pagan tradition, I am teaching my children about the death and resurrection of our Lord and Saviour (the tree was chopped down and then erected again). I am teaching them about the Christmas story (the star that led the Wise Men) and about the hope that we have in the darkness through Jesus, the light of the world (those twinkling lights).
When we thoughtfully choose gifts to give our loved ones and present them on Christmas morning in an act of love, we are remembering the precious gifts given to a King born in a manger.
Even Santa can be used to teach children about a spirit of generosity through the story of St. Nicholas. He can also be a parable of the delight and mystery of life in Christ. Though we don't personally "do" the Santa thing in our house, I believe that Christian families can choose to participated in it well, always pointing back to Christ in the end.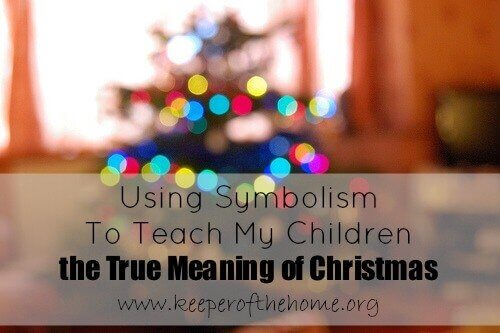 In our family, we have decided that we will teach our children the symbolism of Christmas and that all of it ultimately orients our hearts in worship toward the babe in the manger.
The angels, the candles, the wreaths, the bells… all of it is an opportunity to remind myself and to show my children the beginning of the mystery of God Incarnate when Love came to earth wrapped as a baby.
This is the wonder and magic of Christmas, and at our house, it starts with the annual trudging through an evergreen lot to find the perfect Christmas tree. 
So, you tell me: real or artificial?
And, of course, what are your favorite symbols of Christmas?