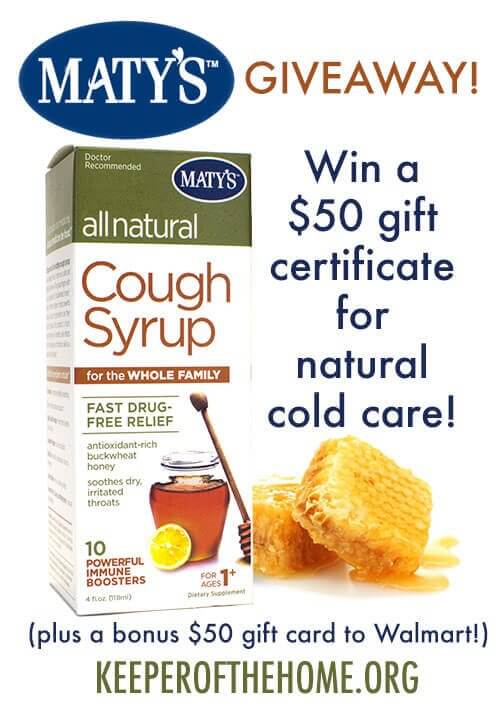 Are you looking for a way to help your family feel better when they get hit with a cold? Are you tired of drugstore medicines that are full of ingredients that you'd rather not get any where near your kids? Then we've got a great giveaway for you! Today we're offering up a $50 gift certificate for Maty's Healthy Products as well as a bonus $50 gift card to Walmart!
Help your family feel better the natural way with Maty's fantastic line of healthy products, including all-natural cough syrup, baby chest rub, vapor rub, breathe better nasal ointment, and baby ointment. Their line features real, food-based ingredients like buckwheat honey, apple cider vinegar, lemon peel, and sea salt, and excludes the unhealthy, unpronounceable stuff you find in your average drugstore cold remedies.

Stephanie recently reviewed their cough syrup when sickness visited her home and was grateful for the convenience of a product she could really trust, made with ingredients just like the ones she would reach for myself.
To enter our giveaway for a $50 gift certificate to Maty's Healthy Products as well as a bonus $50 gift card to Walmart, enter your information in the form below.
Disclosure: This giveaway was generously sponsored by Maty's Healthy Products, and we received a cough syrup sample for the purpose of review.