Is It Wrong for Moms to Work?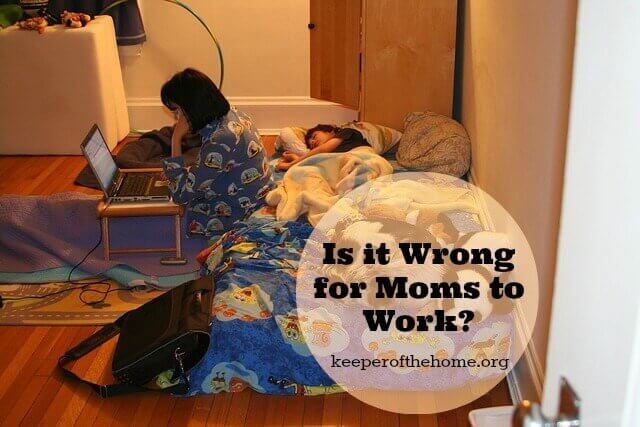 This summer we are taking some time to discuss some current issues that are on our minds–issues that we do not know how to answer. So far, we have explored the likes of birth control, thyroid problems, and wealth accumulation among Christians. We are relying on you, the Keeper of the Home readers, to weigh in as we wrestle with these often complex subjects.
By Erin Odom, Contributing Writer
Today I'm addressing what is often another very heated debate: Is it wrong for moms to work?
Like breast vs. bottle, natural vs. medicated birth and homeschool vs. public education, this conversation of working vs. stay-at-home mom can lead to severed friendships and feelings of failure.
But should these subjects be so divisive?
My Story
I never wanted to be a working mom. My mother had stayed home with me and my siblings in the 1980s and 1990s. She was a full-time homemaker.
And even though we did attend Christian school outside of the home, she was available for us 24 hours of the day, 365 days of the year.
She made our breakfasts, lunches and dinners. She did all the cleaning. She carted us everywhere. She was the first face we saw when we woke up in the mornings and the last face we saw before we went to bed at night.
And I wanted to be just like her when I grew up. There was no doubt in my head: I would be a stay-at-home mom.
When my husband and I became pregnant with our first child, I was working full-time as an ESL teacher. The plan was for me to stop working when she was born.
But our plans don't always pan out, do they?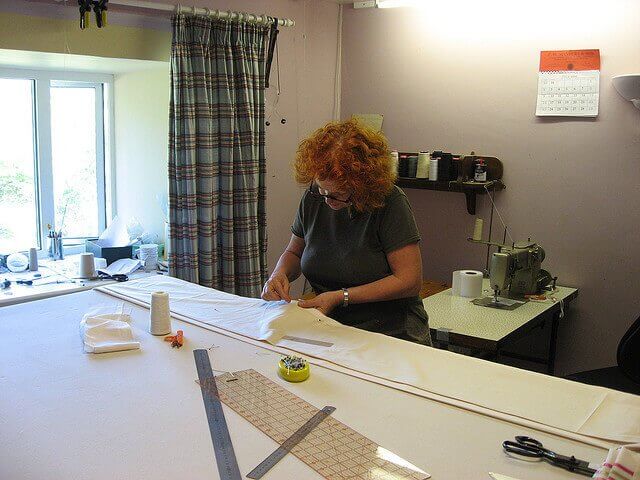 To make a long story short, my husband was in seminary at the time, and although he had a part-time job at our church, it was mainly me that was–albeit temporarily–supporting our family. We were scheduled to leave for the mission field shortly after our daughter's birth, so there would be no need for me to go back to work.
But…our plans to go to the mission field got delayed–by six months.
When I found out I would be working, I cried. I could not imagine leaving my tiny baby with anyone else to raise–even if it were just short-term.
It's possible to find blessings in working–when you really want to just stay at home.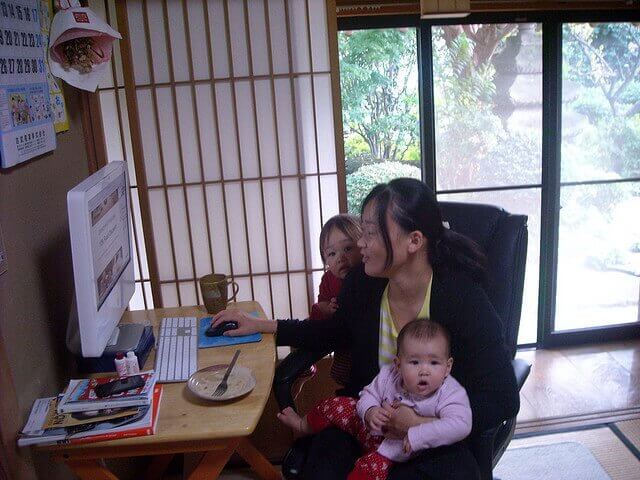 Even though I hated saying goodbye to my baby girl during the time I worked full-time outside of the home, it turned into being one of the biggest blessings in my life. My husband was able to rearrange his work and school schedule to be able to watch her during the mornings,  and one of the pastor's wives from our church–who had just become a grandmother herself–became a surrogate grandmother to our baby and cared for her each afternoon.
I would nurse our baby as soon as I picked her up from the sitter's house. The "adopted grandmother" and I would sit and talk–sometimes for more than an hour–and it turned into a mentorship of sorts!
I was also able to form some tight bonds with my Christian co-workers during that time, as we would gather together in the mornings for prayer.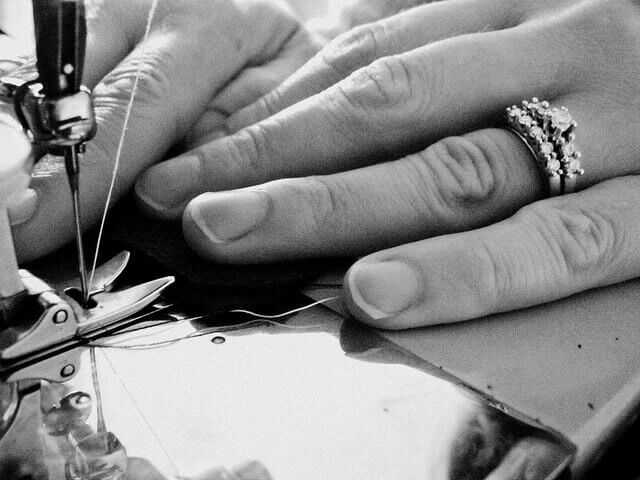 What does the Bible say?
When I've searched the Scriptures over women's place in the workplace and in the home, I'm always led back to the Proverbs 31 woman:
13 She seeks wool and flax,
and works with willing hands.
18 She perceives that her merchandise is profitable.
Her lamp does not go out at night.
19 She puts her hands to the distaff,
and her hands hold the spindle.
24 She makes linen garments and sells them;
We have no idea if this example of what the Bible calls "an excellent wife" and "a woman who fears the Lord" worked inside or outside of the home–or where her children were when she was working. But one thing we do know is this:
The Proverbs 31 woman worked.
27 She looks well to the ways of her household
and does not eat the bread of idleness.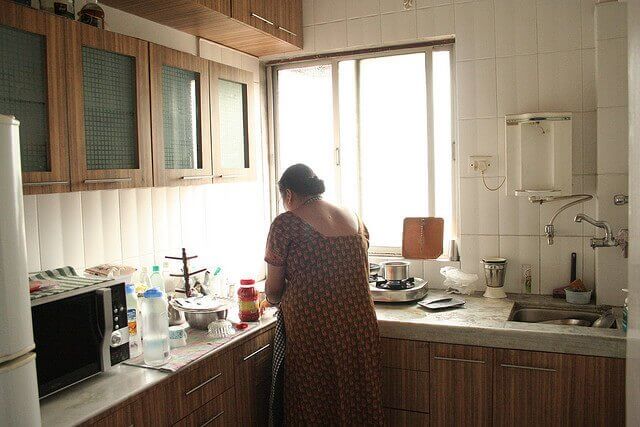 What about work-at-home moms?
To pick up on my story, even though my dream was to be a stay-at-home mom, I have really only had a short time in my 5 years of motherhood where I was just a stay-at-home mom.
And I've learned that that's OK.
During the course of the past five years:
I've been a missionary. While in training my baby stayed in the missionary daycare center. (Yes! You read that right! We received wonderful training, with a daycare center right on campus!) While ministering, I sometimes took our baby with us and sometimes took turns with my husband watching her.
I've been a stay-at-home mom who brought home no extra income.
I've been a part-time work-at-home mom who wrote for several local newspapers (and I still do this–but now as a bi-weekly mommy columnist).
I've been a part-time work-oustide-the-home mom when I tutored at a local elementary school and taught a group of homeschooled children Spanish. Then, my mother kept the one child we had at the time.
Now, I'm a work-at-home mom as I balance full-time motherhood with getting up very early and staying up late and maximizing nap and quiet times to run my website, edit here at Keeper of the Home, write columns for the newspaper, write eBooks and organize eBook bundle sales. My mother now keeps our girls one day per week, and I work a lot on Saturdays at a local coffee shop.
My current season allows me to be home with my girls the majority of the time, but it takes saying "no" to lots of things–like extra playdates and being involved in a bajillion mom's groups.
But, to be transparent, we need the money. Up until the past eight months or so, I've been a stay-at-home mom when we could barely afford it.
And this allows me to help bring in some income–by doing something I love (writing and connecting with readers!).
You never know why another mother is working.
Over the course of the past couple years, I've had people mention: Well, I'd love to blog or write like you do, but I just don't have the time. I need to spend that time with my children. My family comes first.
Yes, that has stung a little.
Because my family comes first as well.
I have another friend who had to give up homeschooling to go back to work because her husband is in school.
And then there are those mothers whose husbands want them to work to keep up with the "Joneses."
Or maybe a woman is working because the family is knee-deep in debt–from medical bills, school loans, or even credit cards.
Or, perhaps, there is the working mother whose husband refuses to work?
I personally think we can't judge other moms for working when we have no idea of their circumstances. Everyone's situation–everyone's income level–is unique.
What do you think: Is it wrong for moms to work?