Fun, Frugal Outdoor Summer Activities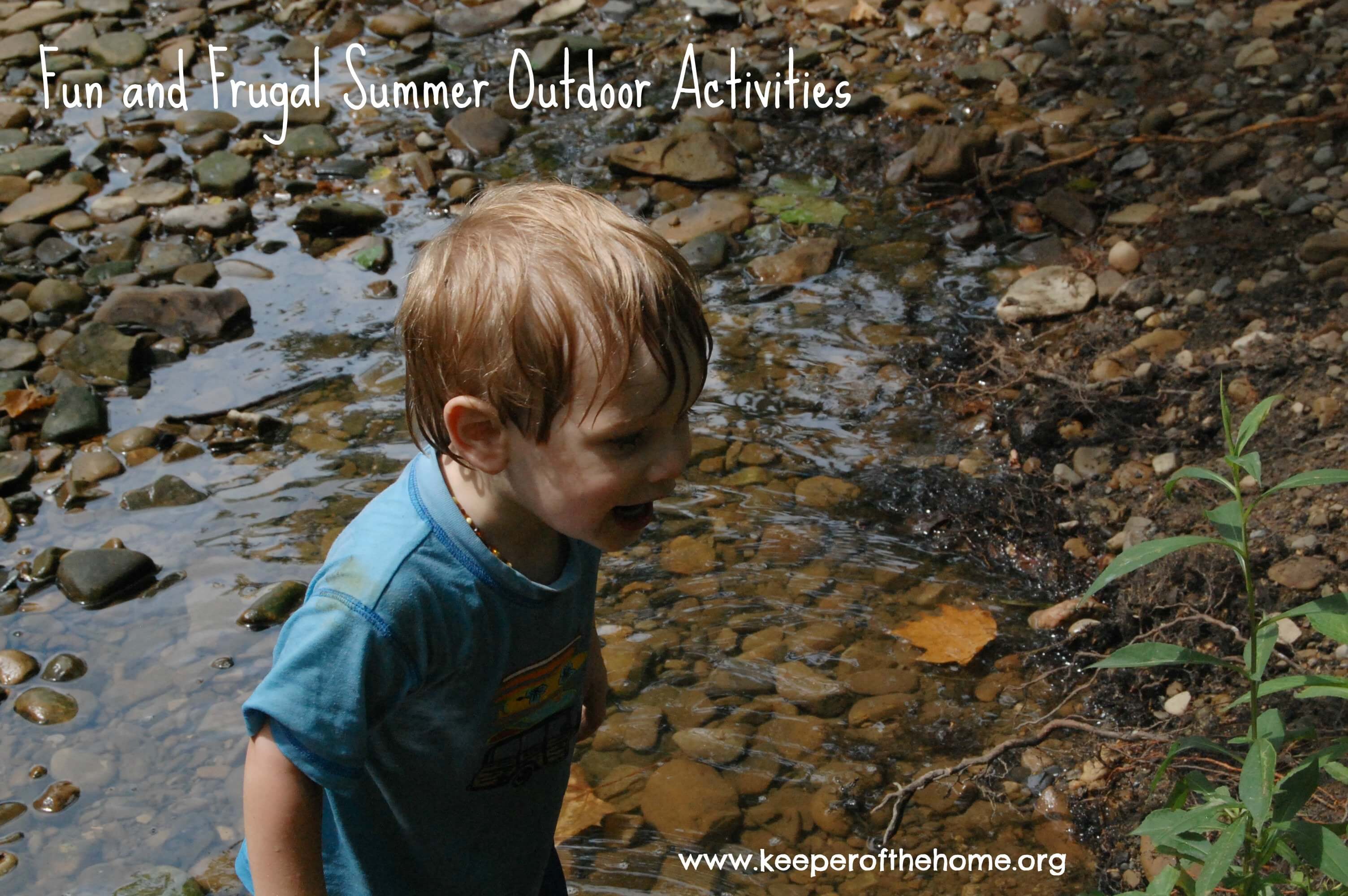 By Kate Tietje, Contributing Writer
One of the aspects we enjoy most about the summer is the warm weather. As soon as the sun starts peaking out and tendrils of warmth drift through the air, we are ready to go outside!
We're a bit past that now, seeing that it's the middle of June. We've had our fair share of 80+ degree days and a lot of humidity as well. While it hasn't deterred us — yet — it has definitely modified some of our outdoor activities. We have those which we'd rather choose on cooler days, and those we reserve for blazing heat.
There are so many wonderful, low-cost outdoor activities during the summer, both at home and away!
At Home Activities
We have already had some fun, themed outdoor play dates with our friends this year, and we look forward to more.
Ice Cream Picnic
We whipped up our favorite homemade ice cream (both dairy and dairy-free versions) and hot fudge sauce and invited our friends over. They brought some toppings, and we all dressed up our ice cream and had a picnic on the lawn. Kids also played on bikes, trikes, and with other outdoor toys while the moms chatted. It was a hit for all!
Messy Art Day
We're planning to do this very soon. We'll be wearing our oldest clothes and making lots of art projects! Finger painting (and feet too!), tie-dyeing shirts, pools of bubbles, play-dough, and anything else we can think of. We'll be encouraging the kids to get as messy as possible, then allowing them to "bathe" in the bubble pool when we're finished!
Scavenger Hunt
Many neighborhoods have sidewalks, or even nature trails that wind through them.  Create a short list of items that you might find in your neighborhood — oak leaf, pine cone, ant, etc.
Add small pictures next to the words for non-readers. When you go out to find the items, you can collect them in a basket, or take pictures of them, your choice. I'd rather take pictures of the bugs than take them home with me, personally. 🙂  My almost 4-year-old would probably disagree with me, since his reply to my "Bugs live outside" is "But he loves me!"
Ride Bikes
One of my kids' favorite activities is to ride their bikes. They could play outside on their bikes for hours, I think. (As this requires direct supervision, it's more limited than their backyard time, where we have a fence to keep them safe.)  Sometimes we head outside midday just to ride and get a little vitamin D from the sun.
Gardening
Let your kids have a little backyard garden of their own! Mine asked to grown cucumbers and cantaloupe this year. Last year it was watermelon and pumpkins. Let them be responsible for planting the seeds, watering, weeding, harvesting, and eating! Plus most kids just love digging in the dirt. 🙂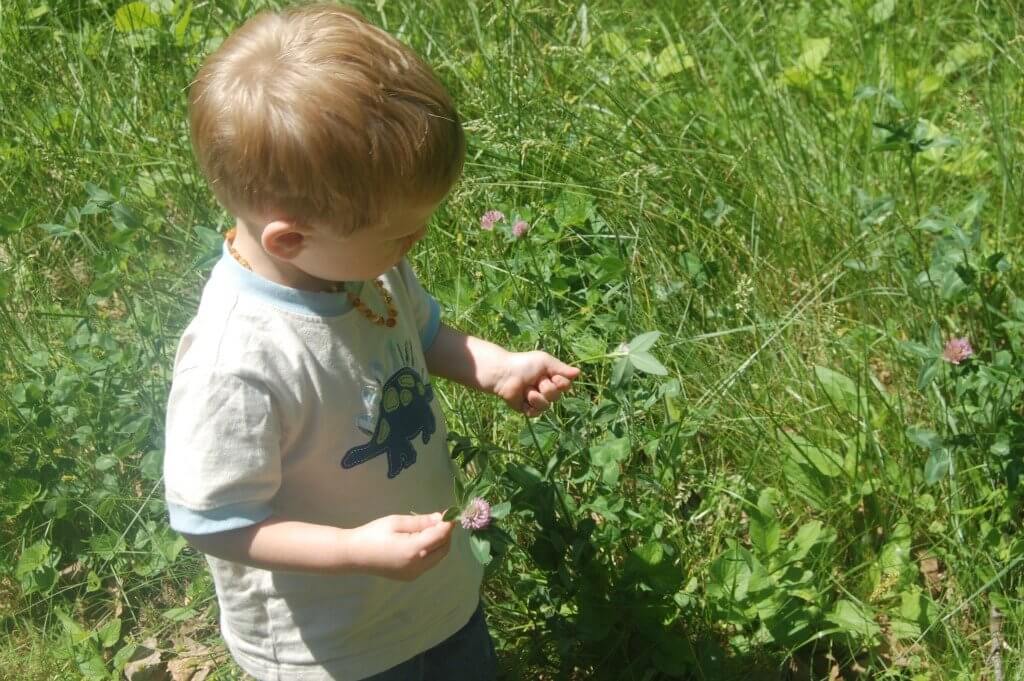 Away From Home Activities
Sometimes we get a little bored with activities close to home, so we venture out a bit.
Parks and Playgrounds
The eternal favorite is, of course, the playground! We have a rotation of several local parks that we go to, and often meet friends. The kids play on the equipment, and the grown-ups chat — or play along! Check your city's official website for the location.
You may also find special events in the parks some days. One park near us has an outreach program on Wednesdays that provides a free lunch to kids as well as supervised play and usually a special guest (last year, one lady brought her collection of reptiles for the kids to pet). Take some healthy snacks with you.
Wading
Some local areas have creeks that are good for wading. We wear bathing suits and crocks (to keep little feet safe) and head to the water. Nets are nice to have for fishing practice, or buckets for scooping up water. Look for creeks at local parks.
Zoo
Local zoos are great in the summer! They often have fun exhibits (beyond the usual ones) and events. A membership, if you have one close enough to you, is a great way to visit often and save money.
Splash Pads
I just love this trend of splash pads popping up everywhere. Many local parks, malls, and even neighborhoods now feature a splash pad or "fountains" for kids to play in.  They are often very close to home and the majority are free.
They are also appropriate for young toddlers and even crawlers in many cases. We have gone with our older two boys when they were around 10 months and they were able to enjoy it even then, while we followed closely behind. 🙂
Bonfires
If you have a safe location and enough adult supervision (or your kids are old enough), have a bonfire. Roast some hot dogs and marshmallows (try making your own) and enjoy an old-fashioned summer event!
Museums
Sometimes it's nice to get a break from the heat and head indoors. Local museums often have free or low-cost days, or memberships.
We have a children's museum near us that has "Curious Kids" events every Tuesday that are free with admission, and give kids a hands-on look at different topics throughout the summer. We'll definitely be going to some of those!
Swimming
Many cities have a local pool, or series of local pools. Rec centers or even a YMCA is another possibility. You may even find local beaches! We live nowhere near a coast, but we have a gorgeous lake beach near us. Many pools now have zero-depth entry, making them safer for the youngest swimmers.  Bring some water wings and your own suit and enjoy splashing around!
Make sure you're practicing summer safety, especially around water.
What are your favorite summer activities?
Disclosure: I have included affiliate links in this post, which means I will receive a percentage of all sales. Thank you for supporting this site!