Free Seventh Generation Dish Tabs and a $10 Credit for Natural Cleaning Supplies (for all KOTH readers!)
As naturally-minded mamas, we're all doing the best we can to use safer home and beauty products.
But as busy moms, it can be so helpful to find ways to cut down on our errands and shopping time. I know that these days, with four kids, homeschooling, working from home part time, and another baby on the way, I can seriously use all the help I can get!
This month I was asked to try out a new-to-me service called ePantry and I'm excited to tell you that not only is it genuinely helpful, but they have a super special offer for my readers only, so read on!
What ePantry is all about
Essentially, ePantry is a simple subscription service where you can customize your orders (and how often you want to receive them), so that household, cleaning, beauty and even baby products just show up at your door with no fuss and at very reasonable prices.
It's similar to the Amazon Subscribe-and-Save program in many ways, except that rather than signing up for each product individually, you put together a profile for your household, check off your favorite products, and then set your account for how often you want to receive your orders. Not only that, but their prices are good, and ePantry says their customers save 26% on average by shopping with them vs. their regular grocery store.
A week before each order goes out, you receive an email reminding you about it, and you have the chance to edit your order (remove or add an item, or even cancel that particular shipment altogether). It's a painless process and I found their website so easy to navigate!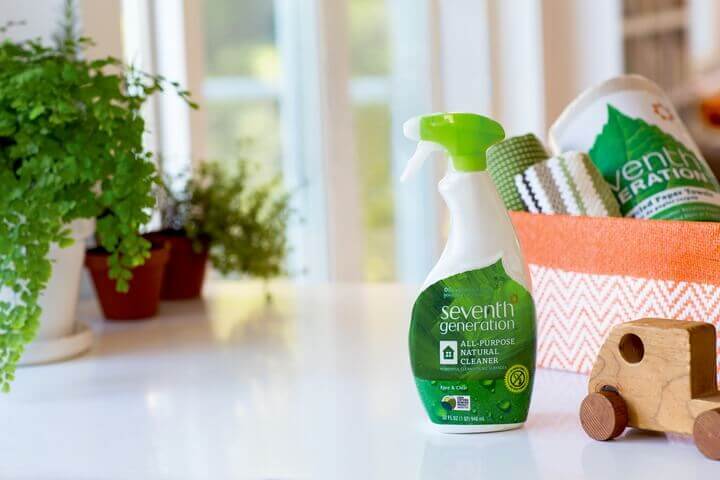 What products do they carry?
They currently have three lines of cleaners (Method, Mrs. Meyers and Seventh Generation – of all three, I would suggest Seventh Generation as the most natural).
Then there are skincare products (Yes To), toothpaste (Tom's of Maine), household items (like natural sponges or cloths, biodegradable garbage bags, etc.), baby care (Seventh Generation wipes, baby wash), razors and blades, feminine care (they even have the Diva cup!), paper goods, and more.
Their selection isn't huge, but in a way, it's sort of refreshing! You can't get lost in the site because it's so fast and easy to find your way around. I appreciated that.
I'd love to see them add a few smaller brands of natural cleaners and beauty products at some point, to give more variety and provide some other options. That said, from my interactions with the ePantry team, they seem extremely proactive and keen to really serve their customers well and their focus definitely seems to be more on green/natural brands than on conventional.

How the website works
When you first sign up, they'll ask a few questions about your household and give you suggestions for products you regularly use (which you can edit – you don't have to buy what they suggest). It just takes a minute, and then you're ready to place your first order.
From there, it's a cinch to edit any future orders, choose regular items you always want in your list, determine whether you want a box monthly or perhaps every two to three months, etc.
I did run into a small snag using my coupon code, but their customer service was excellent and they helped me through it quickly. They have a live chat, which I've heard is fast and very helpful. (And they even promised me they'd have extra customer service to specifically help any KOTH readers having issues – is that service or what? Wow.).
Not to mention, when you refer your friends to ePantry, they get $10 off and so do you!
What I ordered from ePantry
Seventh Generation Natural Dish Liquid, Tub & Tile Natural Cleaner, and Disinfecting Multi-Surface Cleaner
Casabella Scrubby Sponges
Seventh Generation Ultra Concentrated Natural Laundry Detergent (in Geranium Blossoms & Vanilla – yum)
ePantry & Co. Soy Candle in Eucalyptus & Spearmint (smells a.maz.ing)
Seventh Generation Baby Wipes
Yes to Blueberries pre-moistened towelettes. Normally I go for something more cost-effective, like a pump bottle of cleanser, but since we're about to be traveling, I wanted this for my carry-on.
It's worth noting that everything was packed very securely. I've had messy problems with previous orders from other companies, like liquid laundry soap leaking all over the place (and 1/4 of the bottle being wasted in the process), so I was really pleased to see everything taped, sealed, and tightly secured in my delivery.
Right now, ePantry is offering a very special offer for KOTH readers only.
One FREE pack of Seventh Generation Dish Tabs (valued at $5.99!) PLUS a $10 credit AND Free Shipping!
Y'all! Can you tell they're trying to woo you into giving them a try? Is it working yet? It better be, this offer is too good to pass up! 🙂
Here's how to get it:
Click this link. (You have to go through this link or the offer won't show up for you).
Answer a few questions about your household and personal preferences (it takes just a minute or two).
In addition to the free pack of dish tabs, you will get a $10 credit (off a $30 order) and FREE shipping. So fill your cart up with whatever you like (the dish tabs will appear automatically), until it hits $30, then you can go ahead and check out.
You'll see the $10 credit come off of your order and in total, you'll pay about $20 out of pocket for an order worth $35!
Wait patiently (it won't take long, don't worry) for your order to show up at your doorstep. (But don't wait to place your order — this offer is only good until Monday, February 2nd at 6pm PST/9pm EST!)

;
My friends at ePantry even put together a "suggested basket" of how you might use your credit:
Casabella Sponges- $4.55
Method Dish Soap- $3.89
Method All-Floor Cleaner- $6.11
Method Toilet Cleaner- $4.99
7th Generation Natural Stain Remover- $4.39
7th Generation Tub + Tile Cleaner – $4.39
7th Generation Disinfecting Multi-Surface Cleaner – $4.39
7th Generation Hand Wash – $3.89
7th Generation Auto Dish Packs- Free with your offer! 
With your $10 Keeper of the Home credit, the total is $26.60- that's only $3.32/product! (That also means you're getting a $43 order for just $26.60 out of pocket. Not bad, huh?). Click here to have the suggested basket automatically added to your cart!
Of course, you can get whatever you want with your credit, so what are you waiting for? Go get your order! 🙂
Offer ends Monday, February 2nd at 6pm PST/9pm EST.
Disclosure: I received a free order for the purpose of review, and the links in this post are my referral credit. It doesn't cost you anything, but I earn a small credit when you take advantage of ePantry's awesome deal.