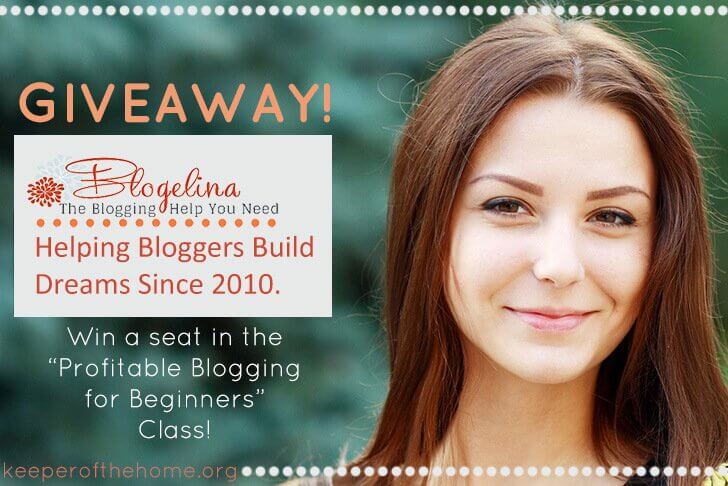 IMPORTANT: This giveaway is ending but Keeper of the Home readers can now get this fantastic class for just $.99! That's $24.01 off the normal price! Click here to get the discount!
Have you ever wondered what it would be like to have your own money-making blog? You want to start – but you just don't know how? Or, maybe you have a blog that would like to take to the next level and start earning an income from it?
If you want to learn the basics of how to set up a blog, how to take your blogging to the next level, or how to begin earning money from your blog, this Blogelina's "Profitable Blogging for Beginners" class is for you!
When you sign up for this class, here's what you'll get:
A FREE Blog Set-Up – Blogelina takes care of the techie side of the set-up so you don't have to. All you have to do is just have to start blogging!
A FREE Year of Web Hosting
A 60-Page How-To Manual – packed with information that will help take the overwhelming out of starting your own blog
4 weekly online class sessions where you can ask your questions and get personalized feedback
Blueprints, step-by-step tutorials, networking with other bloggers — everything you need to grow your blog.
This class will cover:
How to Get Your Blog Started on the Right Foot
Questions to Ask as You Begin Blogging
How To Actually Set Up A Blog
Why Your Blog Design is So Important
9 Different Ways to Easily Monetize Your Blog
How to Draw Visitors to Your Blog
and so much more!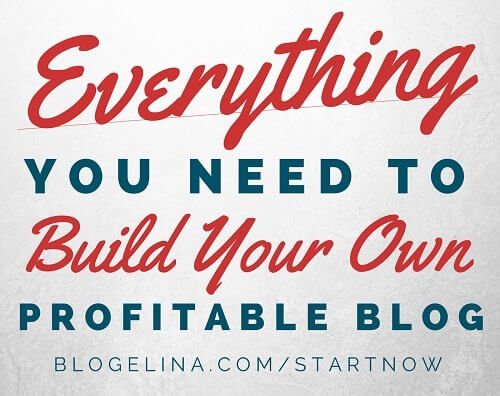 Blogelina has been featured on the Dave Ramsey show, and is well-known for their ability to help bloggers make a successful start. Hundreds of bloggers here have gone through this course in the past and taken away the tools to make their blogs a success.
Sign up for the Blogelina Profitable Blogging for Beginners class today!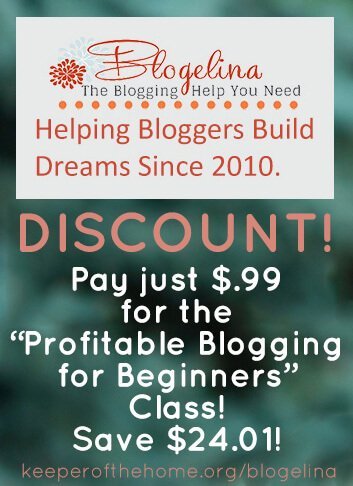 Bonus! Keeper of the Home readers can now get this fantastic class for just $.99! That's $24.01 off the normal price! Click here to get the discount!
*If you're not 100% satisfied with your experience with Blogelina, you are free to walk away at any time during the class session! PLUS, you'll get to keep your copy of the class manual and your free year of hosting – Blogelina will refund your money!
At Blogelina, they're committed to helping bloggers start and build their own successful, profitable blogs. Blogelina was started 5 years ago as a way to help other bloggers NOT make the same mistakes others do when starting their blogging career. It's their hope and dream to help other moms who want to stay at home with their kiddos be able to do that and still contribute to the family income through blogging! Their 4-week blogging class has help hundreds of bloggers learn what it takes to start and run a profitable blog!
To enter to win 1 of 10 seats in Blogelina's Popular 4-Week "Profitable Blogging For Beginners" Class, please fill out the form below. Good luck!