Thanks to AromaLove London for this great turquoise diffuser necklace and congratulations to our winner!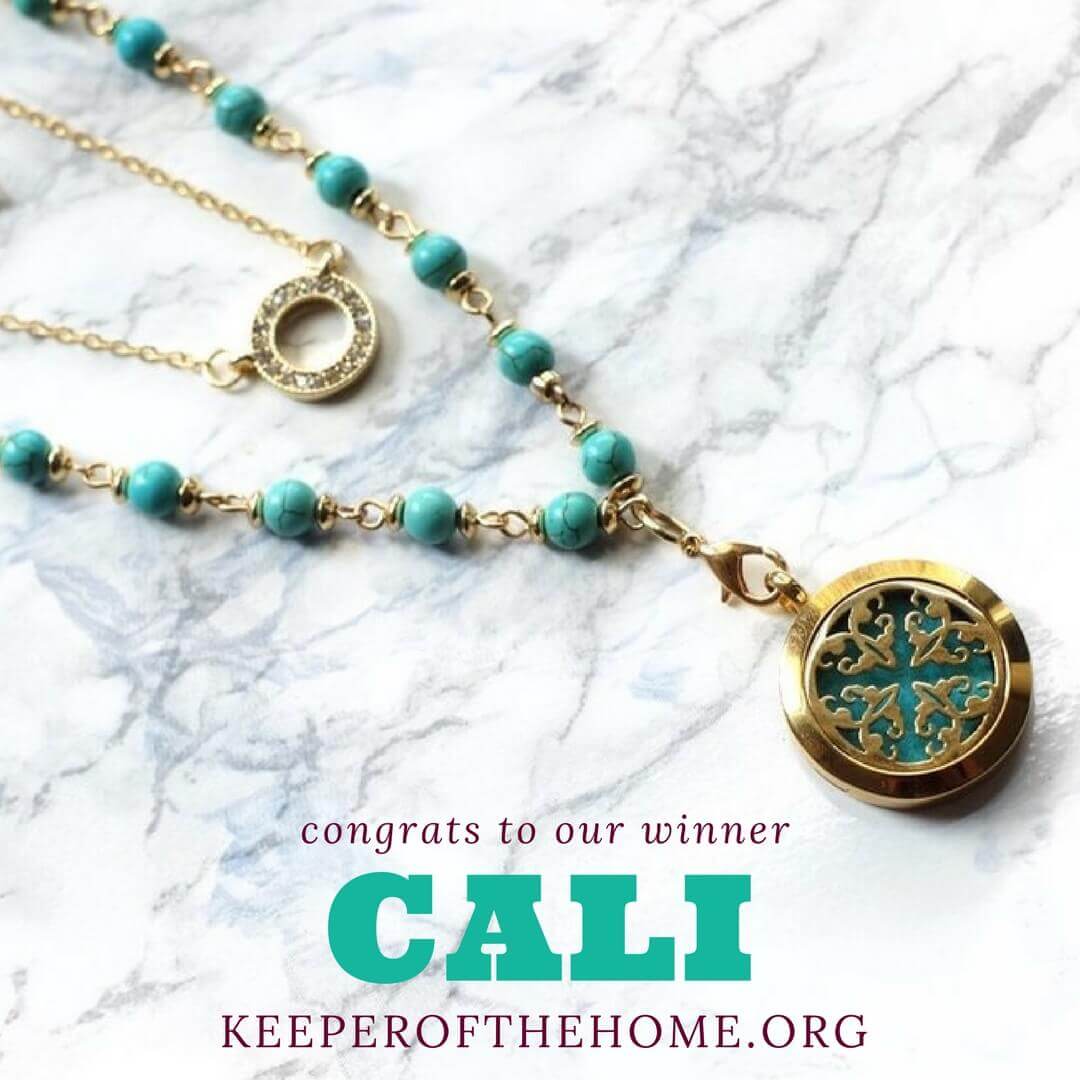 HOW TO ENTER:
Check out the details about this giveaway below.
Enter up at the bottom of this post between today (January 9, 2017) and Sunday, January 15, 2017 at 11:59 PM EST.
AromaLove London was founded in 2016 by Manisha Patel, a makeup artist, jewellery designer, artist, and creative entrepreneurial soul with a passion for essential oils, style, and beauty.
She started designing jewellery when she was just a little girl, making and selling friendship bracelets to the other girls in the schoolyard.
When Manisha began using essential oils herself, she was drawn to the idea of diffuser jewellery, but wanted something prettier than the off-the-shelf items that were widely available. Even the higher priced items seemed to be lacking in quality, fabricated from metals and adhesives that would corrode and degenerate over time.
Wanting to bring her own aesthetic to the aromatherapy jewellery market, she designed her own line of diffuser wearables, adding unique design elements that lend a luxurious feel while offering prices that are often lower than her competitors.
What are diffuser necklaces?
AromaLove London Diffuser Necklaces are much more than just a pretty bit of bling: they deliver the proven therapeutic benefits of aromatherapy anywhere, anytime. Whether you use essential oils for healthful reasons or just for their lovely scent, a diffuser necklace is a way to do so with a touch of elegance.
A diffuser necklace is a portable, wearable, fashionable way to get all the benefits of essential oils without going to the spa. Each necklace is a locket with a unique design. Along with your necklace, you will receive an assortment of diffuser pads in an array of fashion colours.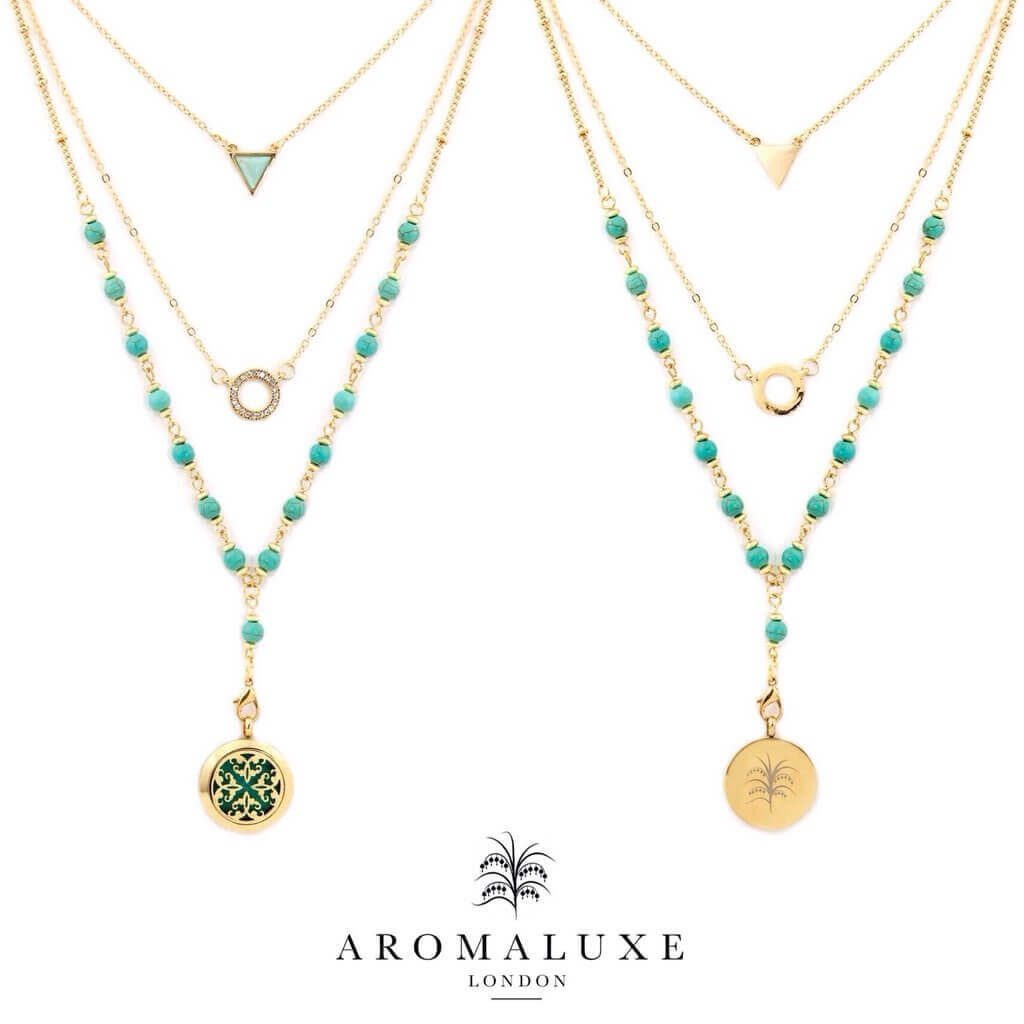 The essential oils are held within the jewellery, allowing you to inhale the diffused scent while worn and also allowing for some topical benefits as well, depending on the style of the necklace. Just a few drops will last all day long, no matter where you are or what you are doing.
Each AromaLove London diffuser necklace is made of 100% hypoallergenic, vegan, and cruelty free non-reactive materials. We take the time to source each element from the most ethical suppliers we can find, searching the globe to bring you the best possible quality. Each piece is then assembled by hand in London or the United States before it is shipped to you.
About this Necklace
Value: £28.00 GBP ($34.74 USD)
This multi-layer turquoise diffuser necklace has an 18K gold plated chain, with decorative turquoise beads, and geometric charm shapes. It comes in a velvet bag with 9 eco-friendly colourful diffuser pads.
NOTE: The necklace is coated in a layer of 18K gold plate. Excessive use, water, hand lotions, perfumes, etc. will result in the gold plating tarnishing.
The locket is made from stainless steel with gold plating. The locket plating is triple coated and UV finished.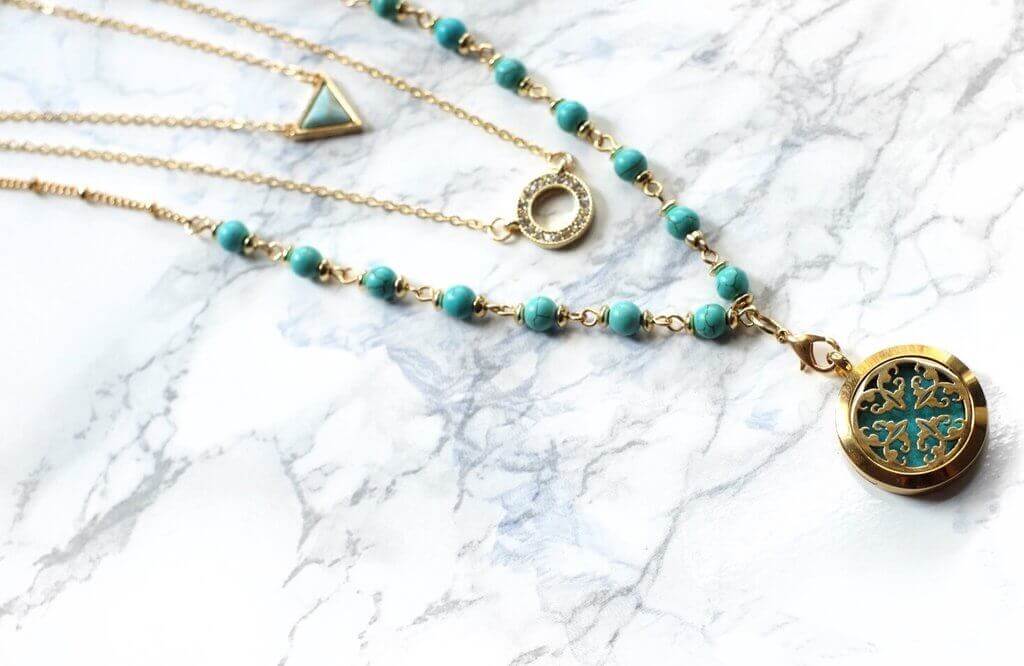 EVERYONE WINS: KOTH Exclusive to Save 10% in January!
I'm constantly getting compliments for the AromaLove diffuser necklace I wear. With this month's special offer (just for KOTH readers!), you get 10% off your entire cart purchase at AromaLove, including diffuser jewelry and essential oil apparel (some of which have already been reduced!).
Use coupon code KEEPER10 at checkout. Offer ends 1/31/17. (And don't forget to check out our weekly Real Deals posts for more great offers.)
Enter to Win this AromaLove London Diffuser Necklace
a Rafflecopter giveaway