Are you thinking Christmas yet?
I'll confess, I wasn't really. Until this weekend.
As I went through and selected my favorite picks from each shop that is participating in our Christmas Gift Guide, my brain was spinning with perfect ideas for all those on my list. There really is a fantastic selection of items here!
How to use this Gift Guide
Take a look through now and get some ideas. If you're ready, go ahead and be one of those awesome, uber-organied people who does their shopping in October!
If you're not one of those (I'm more of a November gal, myself) the beautiful thing about this guide is that it isn't going anywhere.
For 3 months, from now until January 15th, you can look at this guide at any time. Go back to find a company that you forgot the name of, go find new inspiration for a gift that you're stuck on, or just get something that you need from a business you'll be happy to support!
At any time, you can find this guide here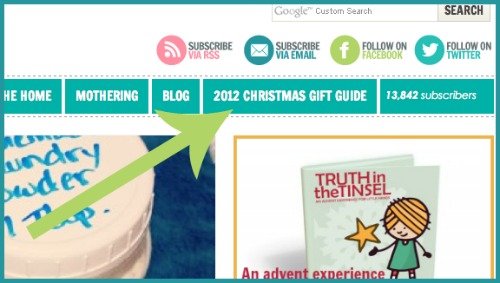 or here…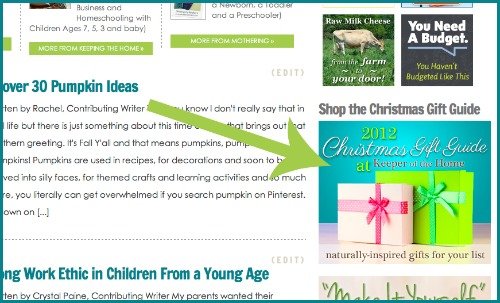 You'll notice that many companies have also included coupon codes to help you save money, so be sure to check those out!
I have also gone through each shop and selected a handful of "Stephanie's picks" which are things that stood out to me as something that I would give to someone on my own list, that I would enjoy receiving, or that I simply thought was a beautiful/novel/useful gift idea. These might help to get your gift-giving juices flowing, but know that each shop listed also has MUCH more in-store than the few items I linked to.
Find us on Facebook
Starting next week, we'll be highlighting companies one at a time on our Facebook page, so that you can get familiar which each of the individual shops listed in the guide (think of it as us giving you a gentle nudge that the number of days left to do your Christmas shopping are getting shorter each time you see one of the posts).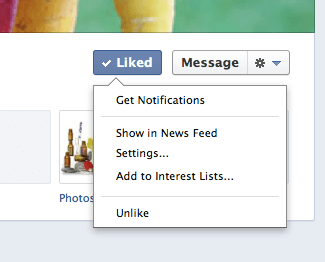 Make sure that you've "liked" our page, and also that you have chosen to "Show in News Feed".
***If you "like" our page, but have been wondering why you haven't been seeing our updates, it's due to the changes that Facebook keeps making. In order to see the pages that you want to subscribe to, you'll need to manually select this "Show in News Feed" option or you may not see their updates.
It takes literally less than one minute, and we want you to receive our posts, be a part of our conversations and see the resources we're sharing with you, so go do it now!
Without further adieu, here is the long awaited 2012 Christmas Gift Guide… happy shopping! 🙂
The 2012 Keeper of the Home Christmas Gift Guide
(in alphabetical order)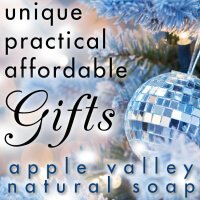 Apple Valley Natural Soaps: A family operated business that offers all natural skin care for the entire family. Over 30 varieties of solid shampoo, body, and facial bars; herbal salve; solid lotion; jojoba and argan oils; lip balms; body scrubs and more!
Stephanie's picks: I'm partial to the Wheat and Honey Almond Bar and the Man 2.0 Bar is perfect for men. The Kitchen Spice Bar smells delicious. Himalayan Pink Grapefruit Tea Tree Pedi Scrub is a lovely bath luxury, the Creamy Butter Lotion Bar stays in my diaper bag, and Organic Herbal Salve is our go-to for owies of all kinds.
Price Range: $3.50-$25 Use discount code "KEEP10" for 10% off your order until Dec. 31st! Shipping:  USA only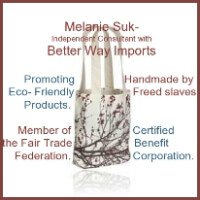 Better Way Imports: A wide variety of products including cards, bags, jewelry, blankets and more all made by women now freed from slavery.
Stephanie's picks: Vibrant and colourful Sari Bari scarves from India are just beautiful. For jewelry, I spotted a gorgeous wide silver bangle bracelet, white coral dangly earrings, and a black stone circle necklace that I would definitely wear. Love the Daughters of Cambodia tea towels in Dusk!
Price Range: $5.50- $89 Shipping: Can ship to USA and Canada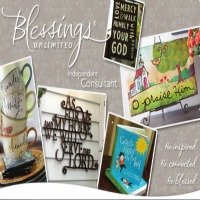 Blessings Unlimited: Home decor and gifts created to encourage hearts and bring meaningful beauty to your home.
Stephanie's picks: For the kitchen… Vintage Rose Cake Pedestal or Queen Anne's Lace Pitcher. For grandparents… Four-Panel Photo Frame. For a friend or sister… Blessings mug. For a Christmas-lover… set of 4 Ceramic White Plates. For anyone… copper-finished Door Knocker stamped with Psalm 91:1.
Price Range: $10-$100 Shipping: USA only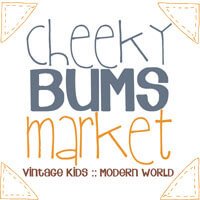 Cheeky Bums Market: Offering wooden eco-friendly hand-crafted toys and blocks, vintage style clothing and hair accessories, and cloth diapers and diapering accessories.
Stephanie's picks: I loved the Brown Organic Elephant Onesie for babes, and the Pinky Patchwork Dress for a little girl. The Classic Paper Doll Blocks are such a novel yet vintage toy! Cheeky Gem Clips would suit fine little girls hair. Know a cloth diapering addict? The Owl or Lime Cocoa Bean wet bags are so fun.
Price Range: $4-$40  Use code "KEEPER20" for 20% off any purchase  Shipping: Cheeky Bum Market always offers $1 shipping on any order! Ships within the USA.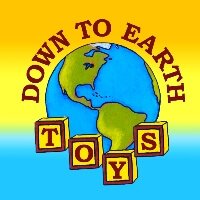 Down To Earth Toys: Natural, wooden, and organic toys for the children in your life! All of their toys are made in the USA, Europe, or by Fair Trade.
Stephanie's picks: Rainbow Playsilks provide endless imaginative fun, and these Castle Blocks are some of the coolest wooden blocks I've ever seen. Little ones would love either the Cuddle Doll or Natural Waldorf Girl or Boy dolls. Soft Fruit and Vegetable Rattles would be a perfect fit for a gorgeous wooden Child's Kitchen.
Price Range: $5.00-$250 Shipping: Use code "Keeper" to receive free shipping (continental US only, expires 12/31/12). Canadian customers can contact Down To Earth toys for a shipping quote.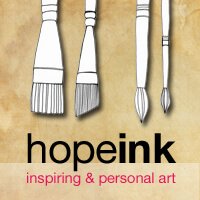 Hope Ink: Artwork inspired by the timeless truth of Scripture, along with custom personalized graphic design. The artist, Emily, is a stay at home mom of four kids who loves to share the beauty of God's Word in a fresh, winsome way.
Stephanie's picks: This Jeremiah 29 customized print is beautiful for any child's room, or a Personalized Vintage Airplane Scripture for a boy. I could totally picture this vibrant, cheery print in my kitchen or family room reminding me to Choose This Day, and I also like this simple and classy Vintage Windmill Photo Scripture Art.
Price Range: $15-$210 Use code "KOTH2012" for 15% off your entire order (expires 11/30) Shipping: Ships to both USA and Canada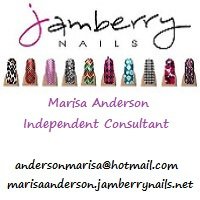 Jamberry Nails: Jamberry nail shields are a solid film covering applied to nails using pressure and heat to create a chip proof bond. A non-toxic, latex/chemical/odor free option for beautiful nails! They can last up to two weeks on fingers and 6 weeks on toes!
Stephanie's picks: Bright and pretty, I love Turquoise Floral and Decorative Coral. The French Tips (White on Clear) are an elegant choice, and Christmas Red Plaid is just plain old fun for the holidays. My little girls would LOVE the Jamberry Juniors in Pink Primrose and Colorful Polka.
Price Range: $10.00-$19.99 Buy 3 sheets and the 4th free! No coupon code needed. Shipping: Ships to USA only.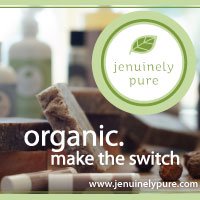 Jenuinely Pure: 100% natural products for the face, body, home, and baby. Handmade by a full time mom using only organic, safe and nourishing ingredients!
Stephanie's picks: I personally love using their All Purpose Cleaner, and foaming Facial Cleanser— they work well and smell great! Their gift sets are just perfect to bless those in your life that want to use more pure and natural organic products… I like the Home Gift Set (cleaning, laundry, soap, etc.), the Body Care Gift Set, and especially the Baby Gift Set.
Price Range: $2.95-$89.95 Use code "KOTHXMAS" for 15% off total order (expires 1/15/13) Shipping: Ships to USA and Canada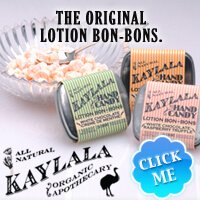 Kaylala:  Handcrafted natural and organic products free of petrochemicals, GMOs, parabens, and artificial ingredients. They support sustainable agriculture and source their ingredients accordingly including emu oil from their family farm!
Stephanie's picks: Rich oil full of essential fatty acids, I'd love to try their Emu Oil. Cocoa Peppermint Body Souffle and Sweet Cheeks Face Polish sound divine. Their White Chocolate Orange Supreme Hard Candy Lotion Bon Bons make me drool, even if they are meant for dry hands, not hungry mouths. And what about these Herbal Remedy Mini Emu Egg Bath Bombs? Love!
Price Range: $5.95-$74.95 Shipping: USA and Canada. Use code "freeship2012" for free shipping on orders over $75 (offer valid through 12/25/12)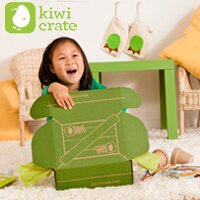 Kiwi Crate: Delivering creativity to your doorstep, Kiwi Crate sends your little one all the materials needed for multiple fun and engaging arts, crafts and science activities. Chock full of projects perfect for kids ages 3-7, these crates are designed to encourage creativity, exploration and discovery.
Stephanie's picks: As a non-crafty mom who still wants to do make and do fun things with her kids, this looks like just the thing. Their gallery of past Kiwi Crates looks just awesome. Oh, grandparents… I know what we want for Christmas. 🙂
Price Range: $19.95 Shipping: Ships in USA only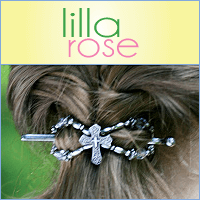 Lilla Rose: Unique and beautiful hair jewelry including the amazing, patented Flexi Clip. The Flexi Clip can hold any type of hair in almost any style!
Stephanie's picks:  I wore this Scrollwork Stoneset in Wood clip all the time when my hair was longer. The silver Celtic Knot is my favorite smaller clip. If you love owls… check out the new Who's Hoo clip. My little girls is partial to the Soaring Pink Butterfly mini clip. With my new short hair cut, I'm eyeing this set of glittery Circle Stone-set bobby pins.
Price Range: $9-$30 (Any new Lilla Rose customer can get a free item when you buy 3. Email Linda Menke at [email protected] with your customer number, email & the free item you want) Shipping: Ships to USA and Canada.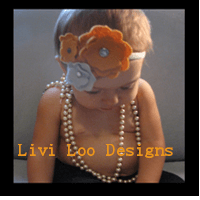 Livi Loo Designs: Sweet and stylish headbands for baby girls and ladies alike. They have a unique vintage charm that helps create a look all your own!
Stephanie's picks: I think we should actually call this one "Lindsey's pick" because my ad manager immediately told me she knew what to buy her toddler twin sisters for Christmas when she saw these headbands. 🙂 Darling pink, rhinestone embellished soft wide headbands, clusters of orange and pink felt flowers on a thin, stretchy headband, bold pink felt flowers, and this blue gingham on a traditional headband would be perfect for an older girl.
Price Range: $6-$21 Use code "Christmasguide" to get a free hairclip when you order three headbands! Shipping: Ships to USA and Canada.
Visit Alysha's Facebook shop here!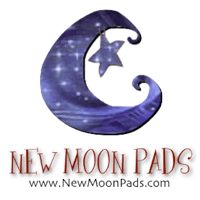 New Moon Pads: Reusable washable cloth menstrual pads, postpartum pads, and feminine linens combining beauty, comfort, and function. A Work-At-Home-Mom company committed to quality products, reasonable prices, environmental responsibility, and the well being of women worldwide.
Stephanie's picks: Their 100% organic cotton women's pads and breast pads are a truly sustainable choice, and look soft, too. I've never heard of Foldable pads like these ones, but I'm totally intrigued! No matter which of their many styles and sizes of pads that you choose, there are SO many fabric patterns and colours to choose from. My faves are Circles on Pink and Autumn Garden.
Price Range: $4.99-$121 Shipping: Flat rate shipping at $6.99 worldwide.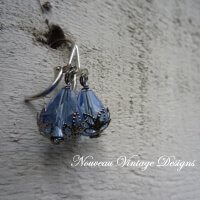 Nouveau Vintage Designs: Handcrafted jewelry designed by stay-at-home mom Jessica Leslie. By combining elements of crystal, stone, shell, and glass, each piece is as unique as those who wear them!
Stephanie's picks: It was hard to pick my favorite earrings, but here are a few that especially caught my eye… Blythe (peach and champagne beads on brass), Robyn (classic white glass pearl with antique brass), Esther (beige stone with dark wood accents), Avery (various shades of warm orange stones on unique wishbone hooks), and I couldn't not mention the Eliza pendant (a chunky rhinestone with hand wire wrapping).
Price Range: $10-$20 Shipping: Ships to USA and Canada.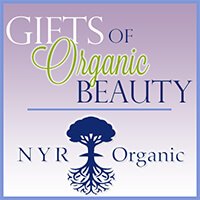 NYR Organic: Loved in the U.K., new to America– Neals Yard Remedies certified organic beauty products make perfect holiday gifts for friends and family!
Stephanie's picks: These Remedies to Roll are an easy introduction to using essential oils and a perfect purse size. I'm always happy to see organic and non-toxic cosmetics. The Geranium and Orange Body Collection sounds heavenly, as do many of their lovely gift sets. And stocking stuff alert… an organic skin care line for men!
Price Range: $9-$77 Shipping: Ships to USA and Canada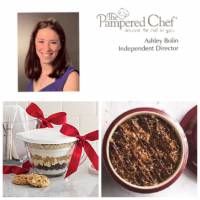 Pampered Chef: Independent Director, Ashley Bolin offers high quality kitchen tools to save you time and money in the kitchen!
Stephanie's picks: I have a fondness for stoneware and think that every cook should own some. I particularly love my Loaf Pan, Large Bar Pan, and Rectangular Baker. This large Bamboo Bowl would make a wonderful salad bowl (and there were many other inexpensive bamboo items for stockings, teacher gifts, etc.).
Price Range: $2.00-$250 Shipping: USA only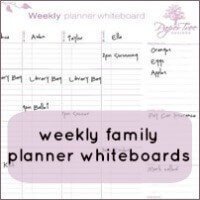 Paper Tree Designs: These unique, reusable, magnetic whiteboard planners are perfect to use as a Weekly Planner, Daily Planner, Menu Planner, Chore Chart, and more. There is even a space for To Do Lists and Grocery List, perfect for the busy mom!
Stephanie's picks: Although all three colours are lovely, I would choose My Weekly Planner in Duck Egg Blue in a heartbeat. The fine-tipped whiteboard marker is also a fantastic find- how much neater would my own whiteboard look with one of these?
Price Range: $24.99 Shipping: USA and Canada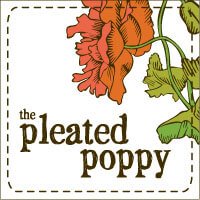 The Pleated Poppy: A shop full of handmade goodness! From wearable accessories to organization for your purse, each item is carefully designed and made to bring a little happiness to your day.
Stephanie's picks: Why have I never shopped here before?? I've been missing out. Look at these precious Boys Ties in Citrine Dot! The Infinity Scarves in Grey and Hot Pink look comfy and cute. This Petal Drop Necklace would look lovely on anyone. The Pencil Pouch in Grey Damask and iPad Case in Raspberry Pink are practical but pretty. And this Bloom Belt? Stunning!
Price Range:$6-$85 Use code "HOMECHRISTMAS" for 15% off any purchase (expires 1/15/13) Shipping: USA and Canada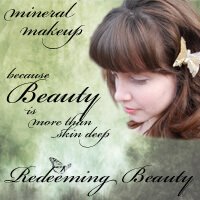 Redeeming Beauty Minerals: All natural, hand-crafted beauty products: mineral makeup, sugar scrubs, toothpaste, and dry shampoo. No chemicals, bismuth oxychloride, talc, fragrances, parabens, dyes, fragrance oils, perfumes, or preservatives. Safe for sensitive and blemish-prone skin.
Stephanie's picks: Beautiful shimmery eyeshadows! I liked so many of them but the ones I oohed and ahhed over the most were Faerie Kisses, Dusk, Sugar Cookie, Creation, and Brownsugared Rosedrop. The Pure Eyes Primer is also a great idea to keep your eye shadow on longer and intensify the colour.
Price Range: $5-$20 Shipping: USA and Canada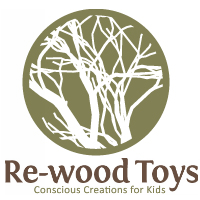 Re-wood Toys: A Canadian owned business that believes in recycling, reusing and repurposing wood to make wonderful toys for children.
Stephanie's picks: I'm eagerly awaiting the arrival of a Wooden Donut Teething Necklace for myself (or rather, for my teething baby extraordinaire, 8 month old Kepler). This Handmade Wooden Dollhouse looks heirloom quality. My kids would have a blast playing with these (all wooden) Toy Dinosaurs, Star Wand with Ribbons, or this Medical Pretend Play Set (clever!). And what baby wouldn't like his own wooden key ring to chew on?
Price Range: $10-$250 Shipping: USA and Canada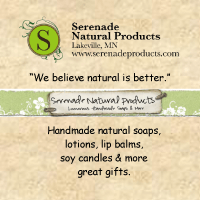 Serenade Natural Products: A home based business located in New Market, Minnesota, offering handmade natural soap, lotion, lip balm, soy candles and more.
Stephanie's picks: The names have got me drooling as I imagine how good it all smells and it's so nice to find natural and non-toxic products like these. Especially the Pumpkin Spice and Apricot Chamomile 100% natural soy candles. Or how about a Hot Spiced Vanilla Soy Wax Tart to melt and make your house smell delicious? This Lavender Soy Body Butter sounds rich and decadent.
Price Range: $5-$18 Use code "FIRST15″ to receive 15% off for any first time customer Shipping: USA and Canada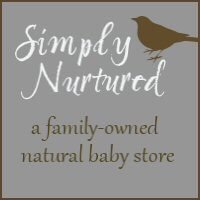 Simply Nurtured: A boutique for mom and baby featuring natural products for pregnancy, birth, and the first years. They carry baby carriers, cloth diapers, organic mattresses, and more.
Stephanie's picks: I must have a thing for teething necklaces, but these Smart Mom Teething Necklaces are a great idea for any mom of an infant. The Hidden in my Heart Scripture Lullabies are simply beautiful and soothing (I have Volumes I and II and adore them both). I love my Original Moby, and a Nursing Cover is a nursing mom's best friend- this Time for Tea design is so pretty!
Price Range: $10-$100+ Use code "GIFT" to receive 10% off your purchase! Shipping: USA and Canada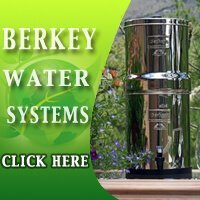 United Environmental Solutions: An environmental company that offers the opportunity to enjoy clean water at an awesome price. Trusted distributors of Berkey, Kooltek, Hydro-Quad & CleanStation.
Stephanie's picks: What about giving the gift of pure water this Christmas? The Royal Berkey is the ideal system for a family, with a large water capacity, a very high quality filter, and great tasting water (we've been using a Berkey for two years). These Sport Berkey bottles are affordable and a perfect for filtering water no matter where you are (camping, travel,etc.). A Shower Filter is another way to reduce the chlorine load for your family and would be a thoughtful gift.
Price Range:  $37-$1,795 Shipping: USA and Canada