UPDATE: Congratulations to our winner this month: Dandi. Be sure to check back in December: we have TWO great giveaways planned! 🙂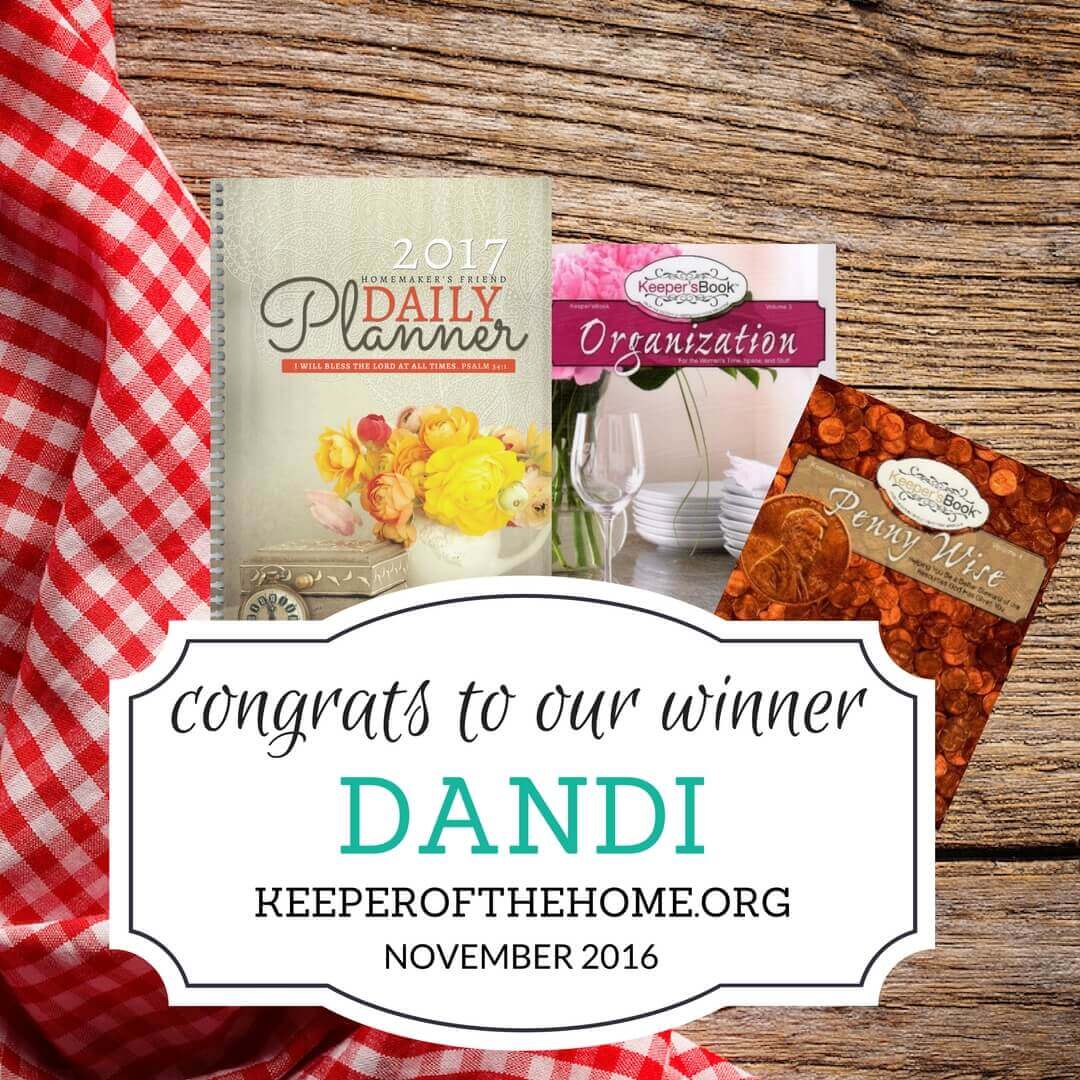 We're thrilled that the folks from Homemaker's Depot are offering an exclusive offer to Keeper of the Home readers this month.
And I'm so very excited that they are ALSO offering one lucky winner a 2017 Homemaker's Friend Planner PLUS a set of 2 eBooks: Keeper's Book: Organization and Keeper's Book: Penny Wise.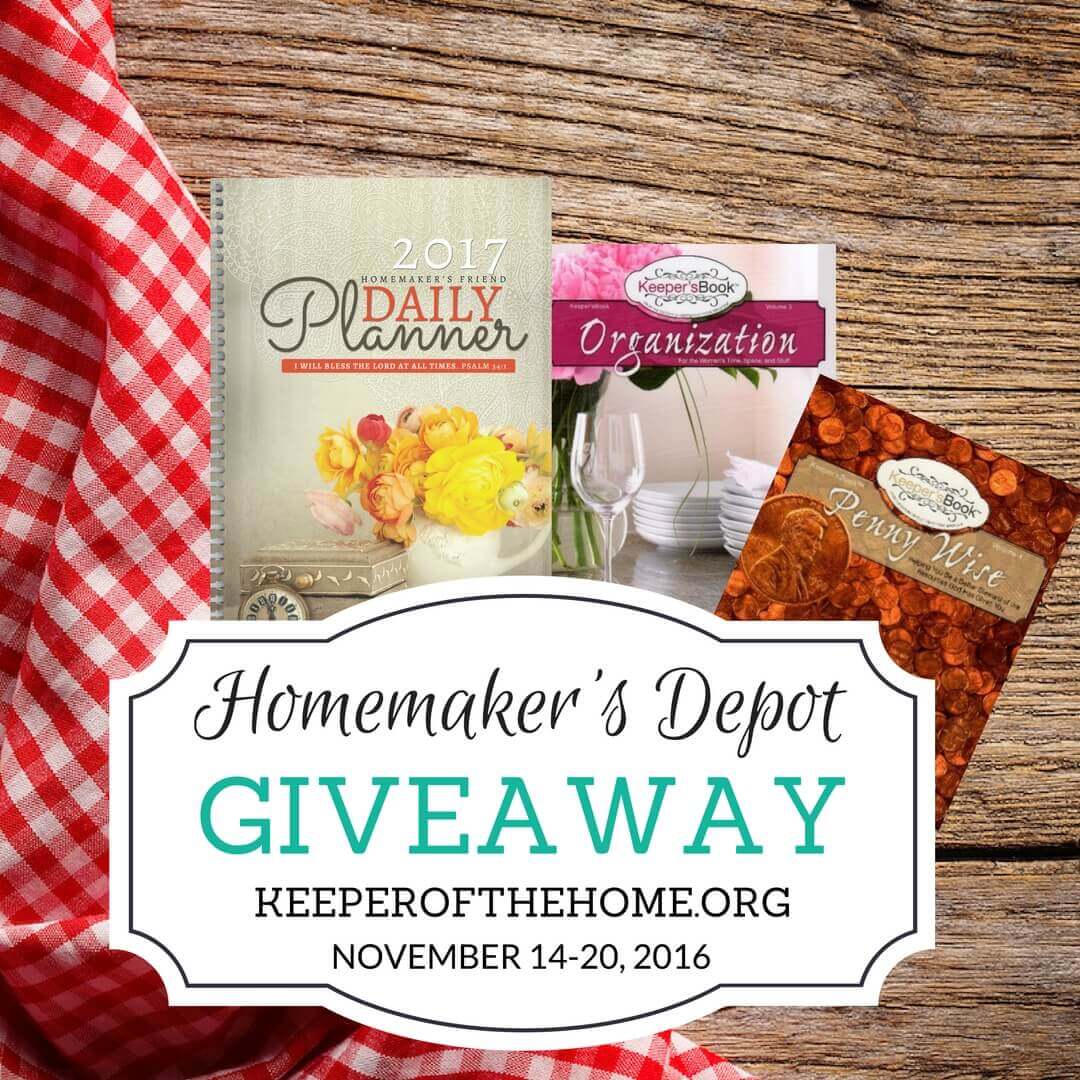 HOW TO ENTER:
Check out the details about this giveaway below.
Enter up to 9 entries per person at the bottom of this post between today (November 14) and Sunday, November 20 at 11:59 PM EST.
What is Homemaker's Depot?
Homemaker's Depot offers inspiration through books and other resources to strengthen your faith in God.
It's a family-owned and -operated business that is located in the mountains of northeast Washington. The owners, Dan and Sue, are blessed with six children.
Sue is the designer of the Homemaker's Friend Daily Planner. The planner was developed after several years of motherhood and homemaking. Since her first publication in 2010, thousands of homemakers have benefited from the daily planner. (And that planner is part of the November exclusive Real Deals offer…so be sure to check that out!)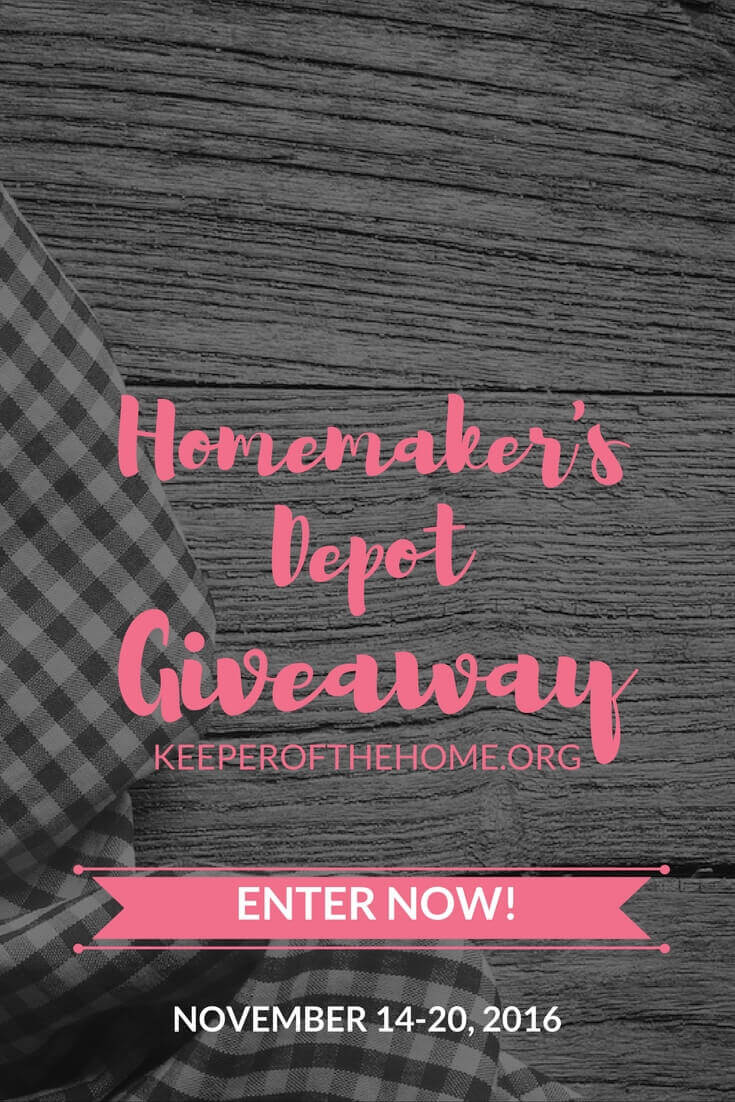 Why is this planner special?
Have you ever had your battery die on your phone and all of a sudden you realize you don't have access to all of your phone numbers? Yikes!
That has happened to me more than once and it is not a good feeling. I've been using my phone's address book for so long I no longer have a paper address book.
What will happen if I lose my phone or somehow it gets wiped clean? I'll spend way too much time searching for those important numbers!
The Daily Planner starts off with your list of 10 most important phone numbers. 
Turn the page and prepare to be encouraged. Sue Hooley takes you into her world of rush and chaos and shares how menu planning changed her atmosphere of chaos into focus.
The Homemaker's Friend Daily Planner is 5.5″ x 8.5″ and divided into the following seven tabbed sections:
Weekly Layout

Two-page spread with entries for each day
Menu planning & To-do list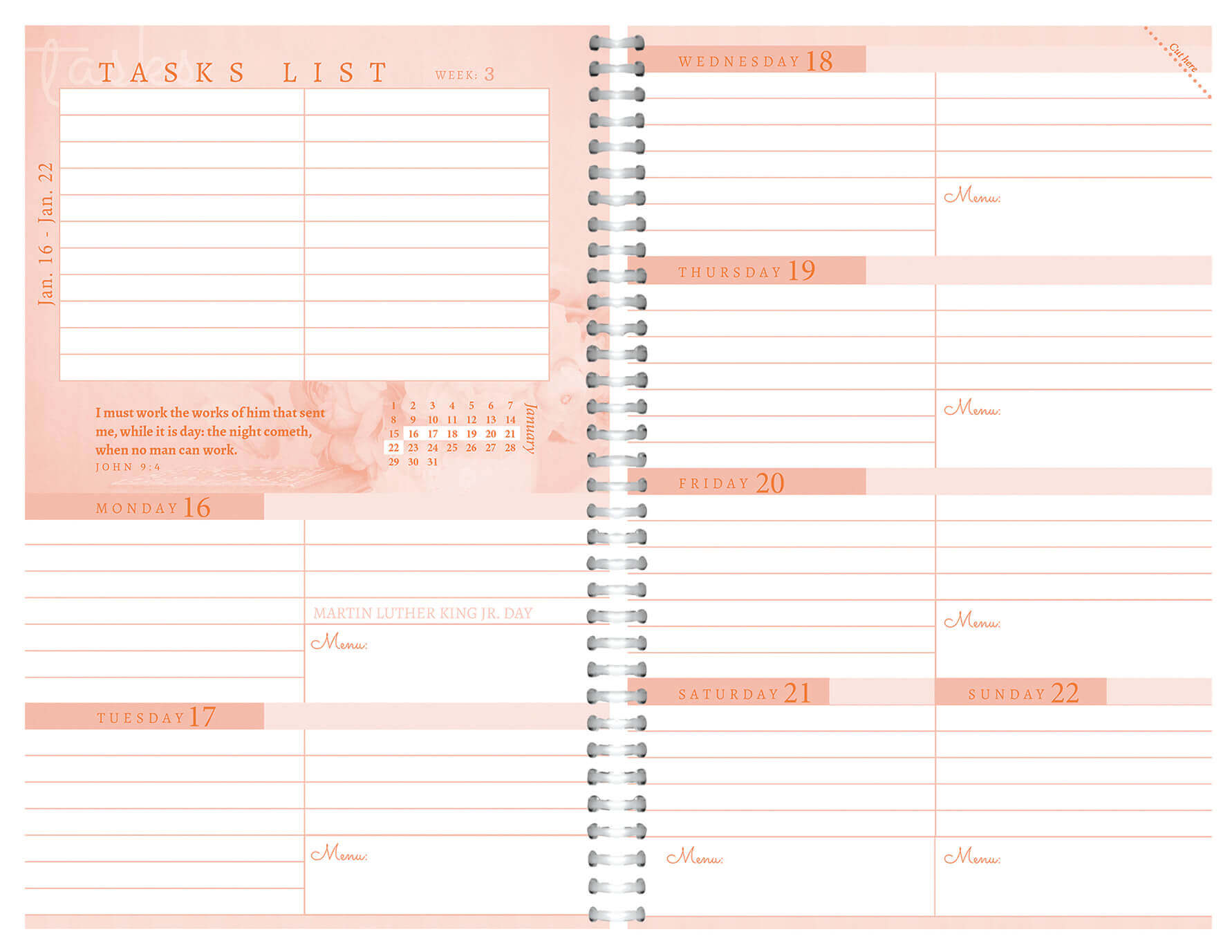 Monthly Calendar: 2-page Month View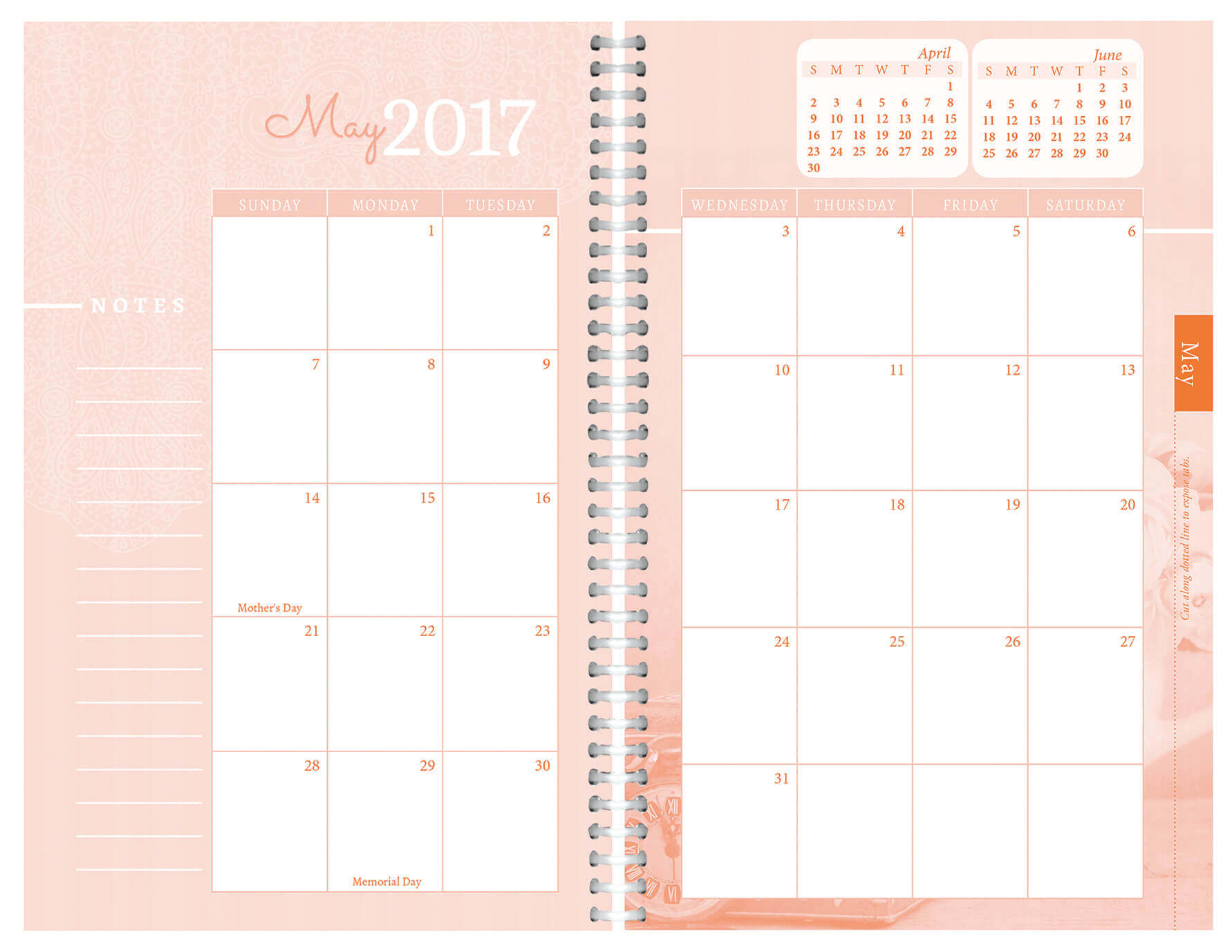 Year Calendars: 2017 and 2018 calendars with place for notations
Shopping List: Perforated shopping list
Task List and Project Section: Untitled pages for you to customize for your own duties and ideas
Events Sections: Yet more untitled pages for you to customize
Information: Short-term information that is relevant to 2017
What's so great about these books?
For one thing, they're packed with information that all of us Keepers NEED and WANT.
Need help with clutter control? Want a hand organizing your home? Looking for time management ideas? In KeeperBook's Organization, 32 authors share their insights and experience to bring you the ideas and motivation you need to be the organized person you want to be.
Struggle with making sense of money? Keeper'sBook Penny Wise is packed with inspiration and information that will help you be a better steward of the time, money, and talents God has blessed you with. Keeper'sBook Penny Wise is the work of 22 authors.
Enter to Win a planner and eBooks from Homemaker's Depot
a Rafflecopter giveaway