UPDATE: Congratulations to our winner!
Here we are, at the point in the summer when it's time to start planning for the next school year! How is that even possible? In our area of the globe we are returning to school August 16…which means we only have about four weeks left!
It seems that every year that first day appears out of nowhere even though we've spent some time getting our (back-to-school) ducks in a row. Moms end up feeling overwhelmed, a little worn out, and a bit neglected during this time of the year.
That's why we thought it would be amazing to create a giveaway specifically for all the razzled and frazzled mommas out there. This Keeper giveaway showcases some of our favorite and good-for-the-soul products.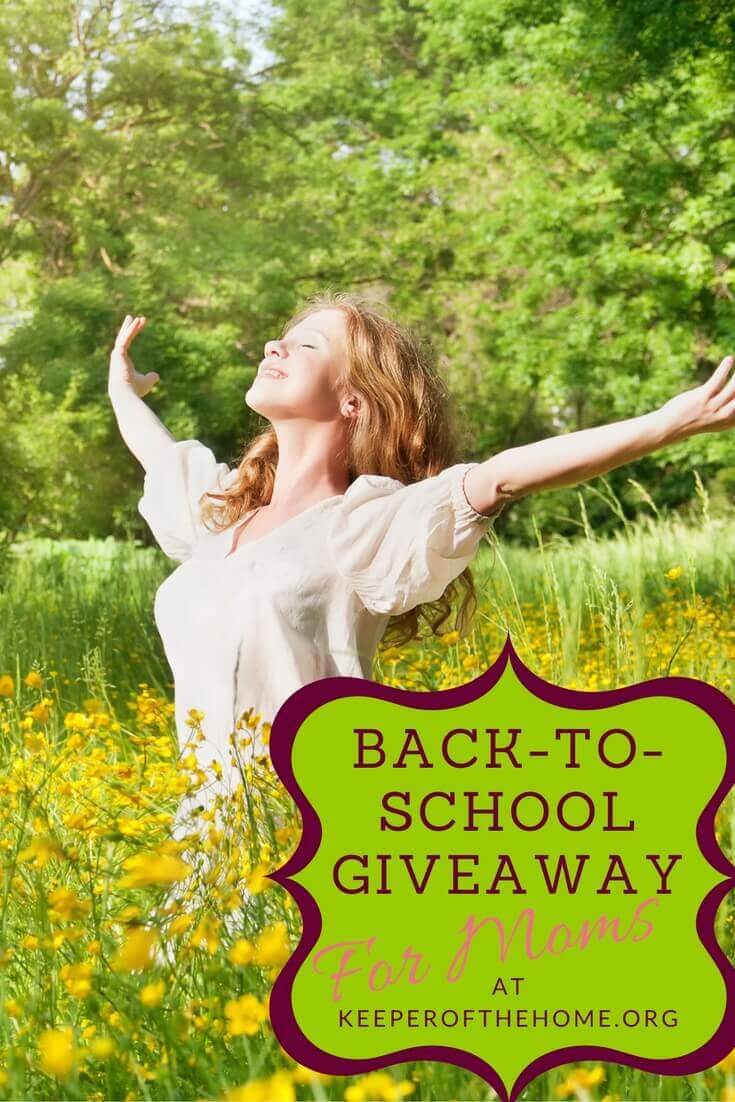 Whether your kids are going to public school, private school, or homeschooling, I'm sure you can identify with the amount of  stress of traversing the empty aisles to find last minute notebooks or the right kind of 11-pocket folders: two yellow, two blue, two green, two white, three purple, all with clasps and 3 holes!
Get some Momma Pampering while you control the back-to-school chaos so your family can win, thrive, and have the courage to face this school year together. Don't miss these easy peasy back-to-school tips for the family… but only after you enter this giveaway! 🙂
This back-to-school giveaway is for you, moms. It's something special to thank you for being a mom. Remember to take care of yourself and to take a minute to breathe. Don't let the chaos drag you down: keep smiling, keep trusting God, and keep at the most important work you can do!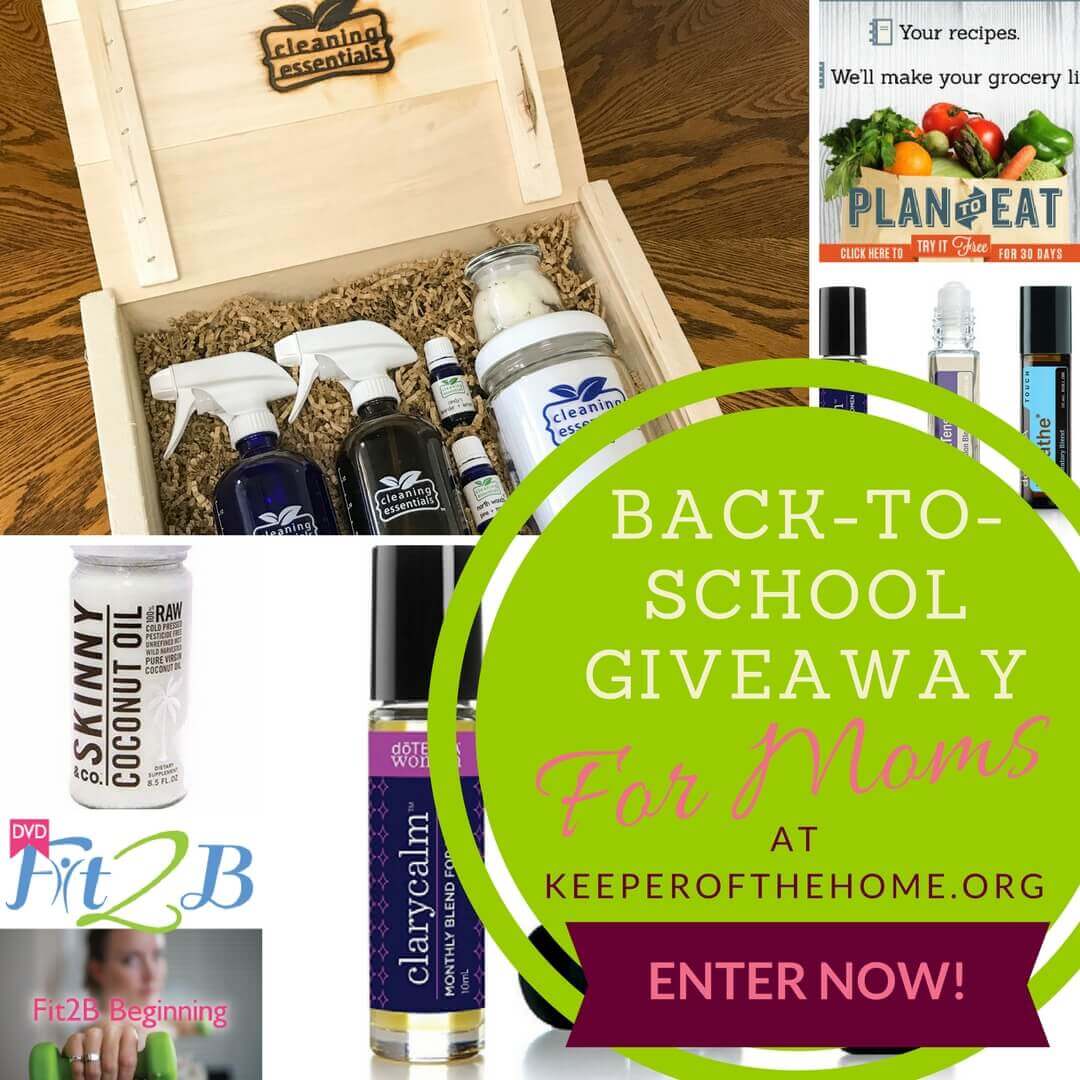 Up Close with Our Back-to-School Giveaway for Moms
This Keeper of the Home Back-to-School Giveaway for Moms is worth $373.67!!! We've been working hard to find just the right combination of awesome and useful and fabulous, and we think we've done it!
Check out our favorite back-to-school essentials for moms and enter below for a chance to win.
HOW TO ENTER:
Check out the details about this giveaway below.
Enter up at the bottom of this post between today (July 10) and Sunday, July 16 at 11:59 PM EST.
Value: $24.00
AromaLove London's Silver Tree Of Life Aromatherapy / Essential Oils Diffuser Necklace is beautifully constructed, high-quality lockets are specifically designed with ventilation holes to gently diffuse your favorite scent. These vents allow you to get the full effects of your aromatherapy oils throughout the day and night. Made of 100% surgical grade (316L) stainless steel with heavy locking magnets and a solid back, these lockets are built to last for everyday use without staining your skin or clothes.
What this includes:

Necklace
Chain
Pads for diffusing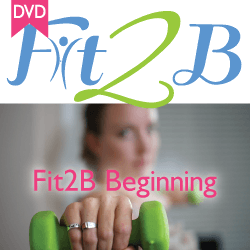 Value: $129.00
Fit2B Studio specializes in strengthening cores that have been through a lot… We know how abdominal trauma can have a domino-effect on your whole body. You can trust that all of our workouts – and we have a LOT of them – will restore, rebuild and reshape you without wrecking your progress. Your Warmup For Life: Streaming Tummy Safe Fitness Wherever You Are.
What this includes:

Access to all Fit2B workouts all of the time
Includes Fit2B Mobile app
Private Member Forum on Facebook
Discounts on Ecourses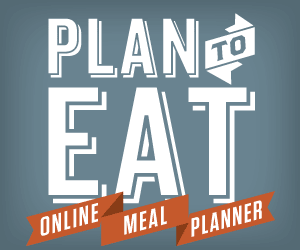 Value: $39/year
Plan to Eat is an online menu planner that uses your recipes, scheduled for the days you want them. It automatically makes your grocery list, organized the way you like to shop, using the recipes you've selected. Plan to Eat makes it easier to eat real food, prepared at home, with your family gathered around your own table.
What this includes: Access to the following:

Collect recipes from anywhere into your Recipe Book
Drag-and-drop your recipes onto your Planner
Print your shopping list or access it on your phone
Eat healthier food.
Save time & Money.
Know what's for dinner.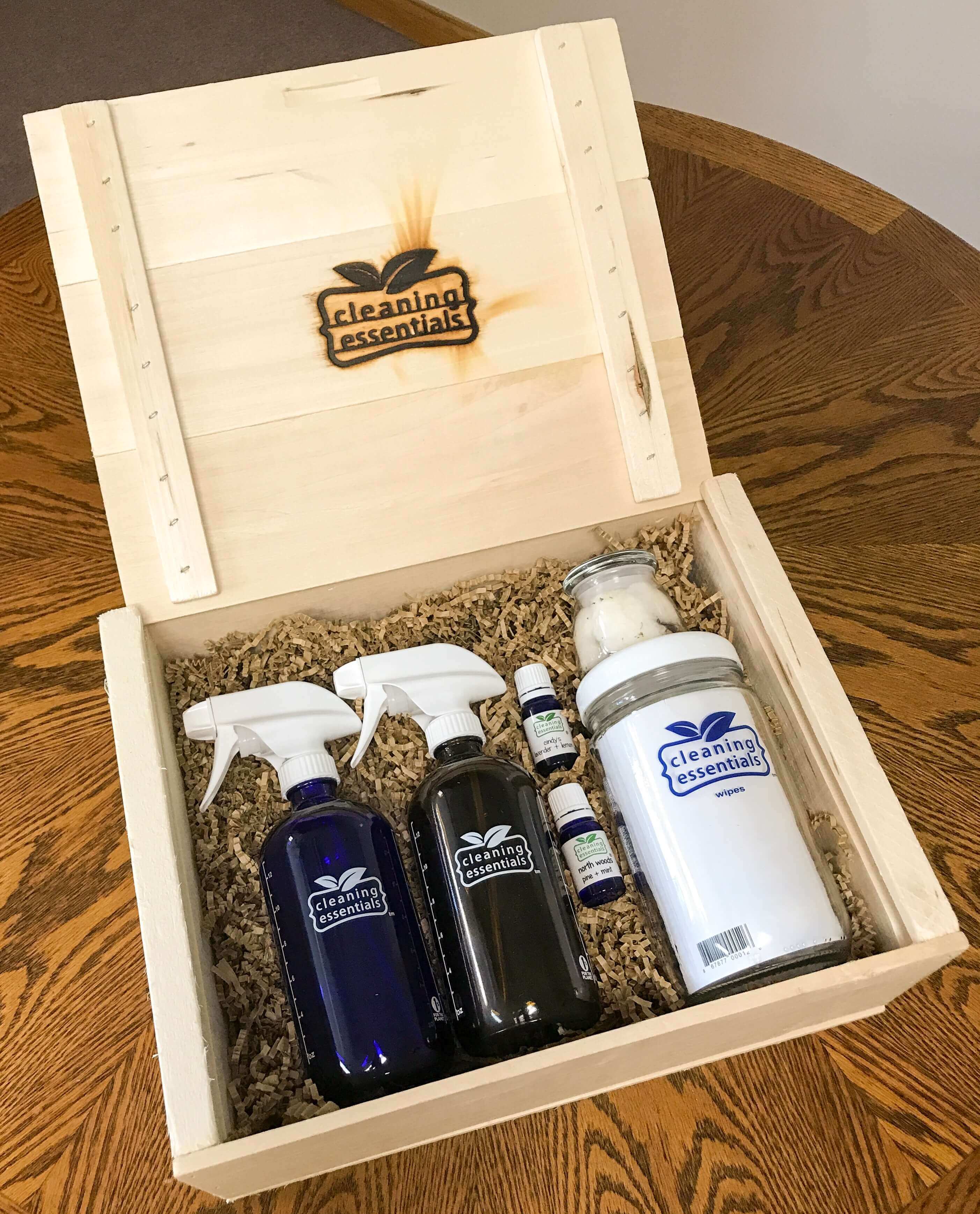 Value: $76
Cleaning Essentials is a company dedicated to helping families replace store-bought household chemicals with safe, non-toxic homemade cleaning solutions powered by the natural antibacterial and aromatic properties of Essential Oils. They procure their own essential oils only from sustainable sources, and work closely with suppliers and distributors to ensure the purest Essential Oils for the most reasonable price.
Includes (such as size, product specs, etc)

Durable, refillable 16 oz amber glass sprayer bottle makes it easy to replace wasteful store-bought chemical cleaners with all-natural, non-toxic homemade cleaners you make yourself at home. Simply choose a recipe, add ingredients to the fill lines on the bottle, shake, and you're ready to clean!
Aromatherapy Essential Oil Diffuser; Organic Cotton & Durable Glass; All-Natural, Non-Toxic DIY Air Freshener can be used anywhere
16 oz. Cobalt Blue Glass Spray Bottle for DIY Cleaning with Essential Oils; 5 Non-Toxic, all-natural homemade cleaning recipes printed right on the side. Durability Guaranteed. Made in USA. Sprayer w/ stream, mist & off settings.
Cindy's Blend 100% Pure Lavender & Lemon Essential Oil; ½ oz. Organic Steam-Distilled EO for use in aromatherapy, homemade cleaners, DIY body care, or diffuser
North Woods 100% Pure Essential Oil Blend: Pine, Mint & Wintergreen; ½ oz. Organic Steam-Distilled EO for use in aromatherapy, homemade cleaners, DIY body care, or diffuser
Reusable Wet Wipes- DIY Container for Reusable Cleaning Wipes – 32oz glass jar has instructions to make your own zero-waste, non-toxic, safe & effective eco-conscious wet wipes using essential oils.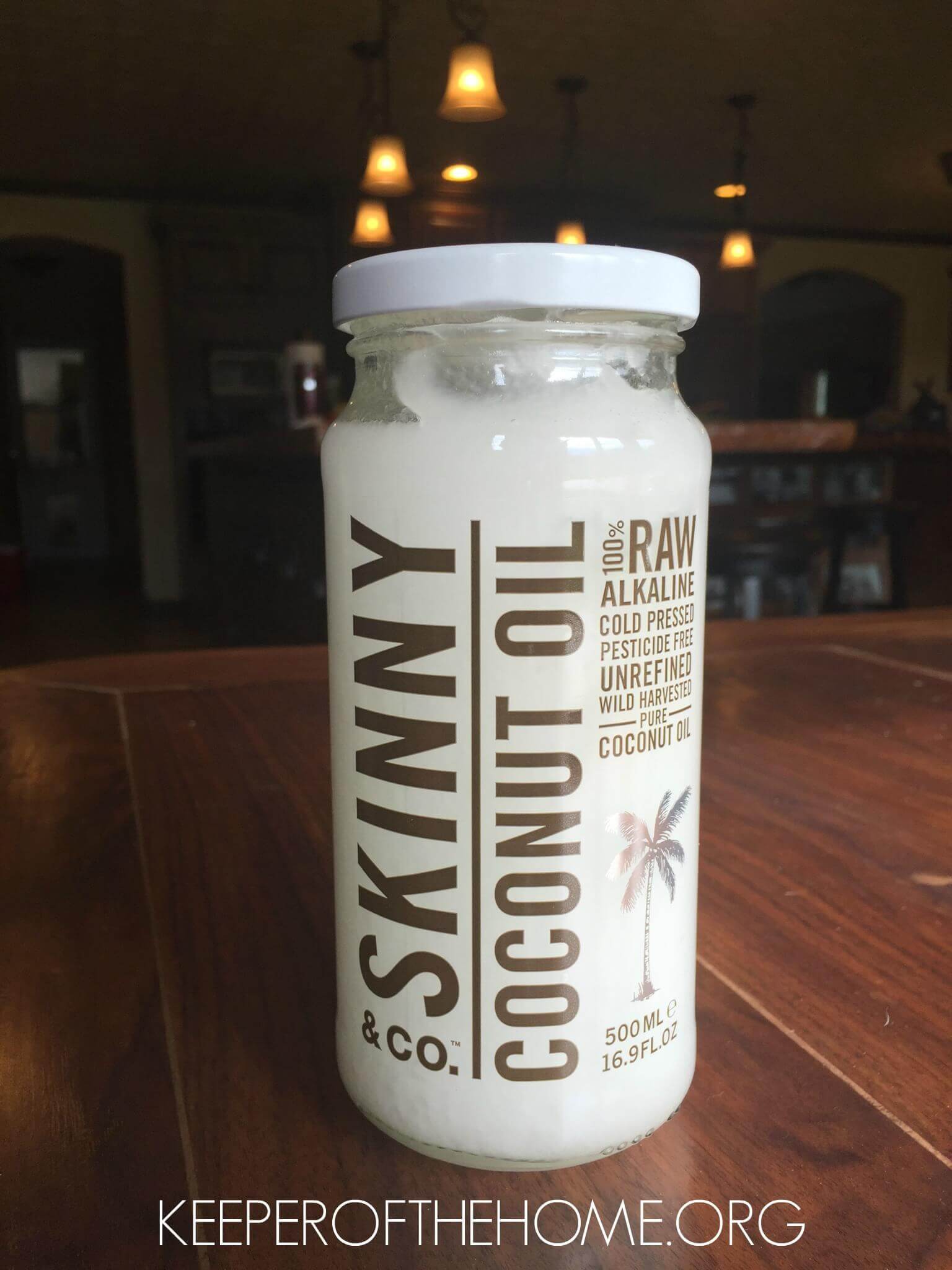 Value: $20
Skinny Coconut offers high-grade coconut oil and beauty products that are free of toxins. Ingredients that are found 100 percent from the Earth with no preservatives and no artificial added ingredients – from tree to table. Coconuts are wild harvested and manually extracted at low temperatures near 80 degrees, preserving the delicate enzymes and maintaining a high nutritional value. Skinny & Co gives back 10% of proceeds to build schools, teach English and fund year-round farming in Vietnam.
Click here to learn more about coconut oil, my favorite tips for how to use coconut oil, and how I determine what kind of coconut oil is best. 
doTerra roller blends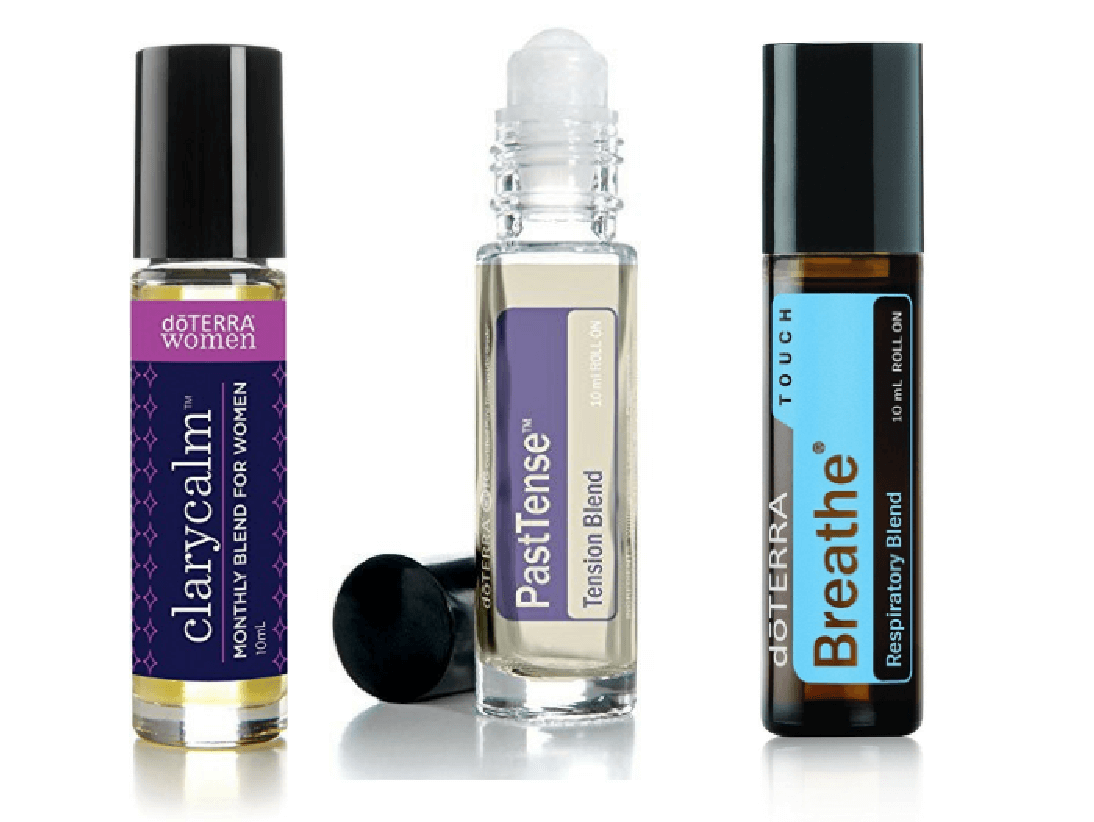 Includes one each of the following:
doTERRA Breathe Roller Bottle (1) 10ml  Roller Bottle 
Value: $17.33
This is a remarkable blend of essential oils including Laurel Leaf, Peppermint, Eucalyptus, Melaleuca, Lemon, Cardamom, Ravintsara, and Ravensara. doTERRA Breathe maintains feelings of clear airways and easy breathing while minimizing the effects of seasonal threats. doTERRA Breathe can be applied topically to the chest, back, or bottom of feet, or diffused at nighttime to calm the senses and promote a restful sleep.
doTERRA PastTense® Roll-On Tension Blend (1) 10ml  Roller Bottle 
Value: $24.67
PastTense® provides calming comfort with the strength of CPTG® essential oils of Wintergreen, Lavender, Peppermint, Frankincense, Cilantro, Marjoram, Roman Chamomile, Basil, and Rosemary. These distinctive essential oils are known for their soothing effects and quickly promote feelings of relaxation and calm. PastTense comes in a convenient 10mL roll-on for easy application when at work, school, or home. Simply apply to the neck, shoulders, or behind the ears. For aromatic and topical use.
doTERRA ClaryCalm® Roll-On  Monthly Blend for Women (1) 10ml  Roller Bottle 
Value: $32.67
dōTERRA ClaryCalm® is a proprietary blend of CPTG Certified Pure Therapeutic Grade® essential oils that provides a soothing and calming effect during a woman's menstrual cycle. A topical blend of Clary Sage, Lavender, Bergamot, Roman Chamomile, Cedarwood, Ylang Ylang, Geranium, Fennel, Carrot Seed, Palmarosa and Vitex, ClaryCalm provides a cooling, soothing effect to the skin and helps balance emotions
Enter to Win Our Back-to-School Giveaway for Moms
a Rafflecopter giveaway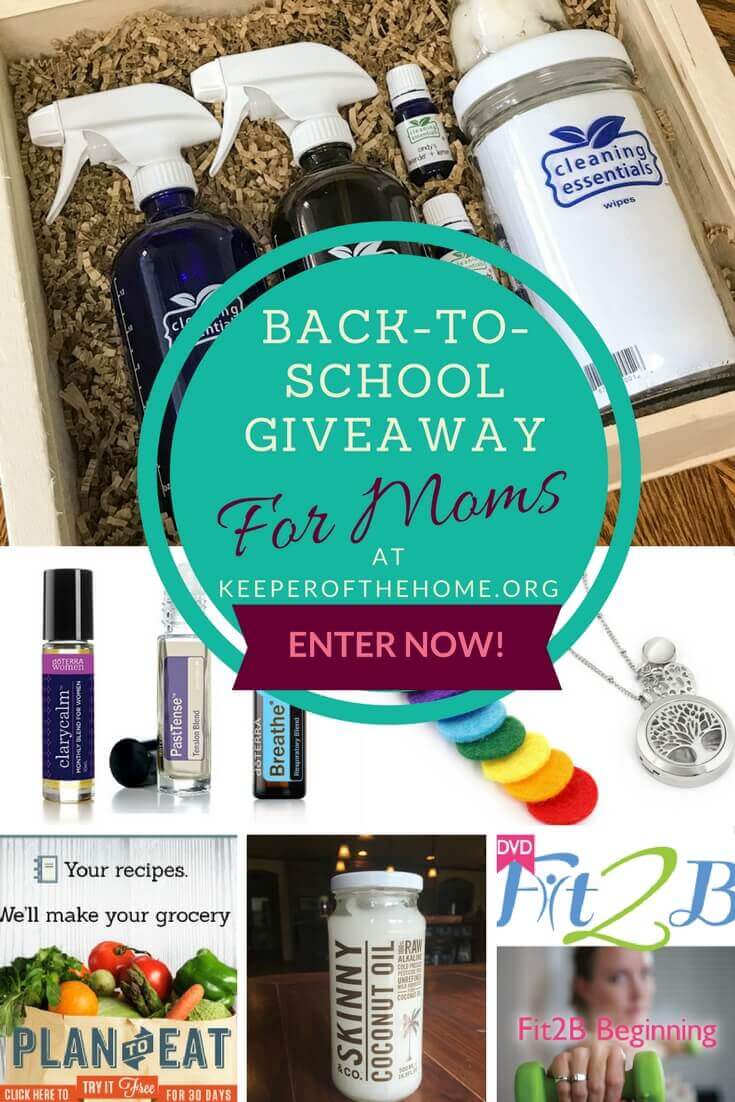 Disclosure: This post includes affiliate links. Thank you for supporting our work and mission!