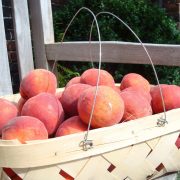 Print Recipe
Sweet Probiotic Fruit Chutney
Adapted from Nourishing Traditions
3

cups

chopped fresh fruit

apples, peaches, pears, firm plums or apricots, mango, papaya

grated rind of 2 lemons

juice of 2 lemons

1-2

tablespoons

natural sugar

such as rapadura or sucanat [I rarely use this, as if you're using ripe fruit, it should be sweet enough]

2

teaspoons

sea salt

3/4 - 1

cup

whey

½

cup

crispy nuts

chopped [optional, omit if using for jam]

½

cup

raisins

3

teaspoons

spices [I use fresh

coarsely ground cinnamon & nutmeg usually]
Mix lemon juice, rind, rapadura, salt and whey.  Combine with chopped fruit.

Stir in optional nuts, raisins, and spices, and place in a wide mouth quart mason jar.  Press down lightly, adding more whey (I've also added some fresh juice from the fruit, too) to cover the fruit.  Mixture should come to 1 inch below the top of the jar.

Cover tightly, and keep at room temperature for 2 days, then transfer to fridge.  Use within 2 months.
Jam Variation:
Omit nuts and after fruit is ready for transfer to fridge, puree until smooth.  Store in the fridge with a little whey or lemon juice poured over the surface to prevent discoloration.  I usually make my chutney that hasn't been eaten right away into this jam, as the lactic acid continues to break down the fruit over time, changing the texture.