Welcome to a special edition of Weekend Links.
Today I want to introduce you to the women whose ebooks and other resources are a part of this week's Ultimate Homemaking Bundle.
Instead of our usual links from around the web, I've given you a smorgasbord of links all about homemaking!
The twelve categories below are the same categories included in the ebook bundle. It includes 84 resources like ebooks, printable packs, ecourses and audio files, all intended to help, encourage, inspire and equip you as you do "this most important work" (C.S. Lewis is a smart guy, huh?)
If you love the stuff you're reading from these authors below, chance are you'll love the bundle their ebooks are a part of.
You can pick up a PDF edition for just $29.97 or get the Kindle edition (which includes all the PDF files as well) for $39.97.
THIS SALE HAS NOW ENDED. Hopefully we'll do it again next year!
Even better, add on a 2-for-1 bundle to your order, where you get two additional bundles for the price of one, which makes them perfect, affordable gifts.
(Psst… you could also find two other friends and go in on it together, and get 3 bundles for the price of 2, and split the savings).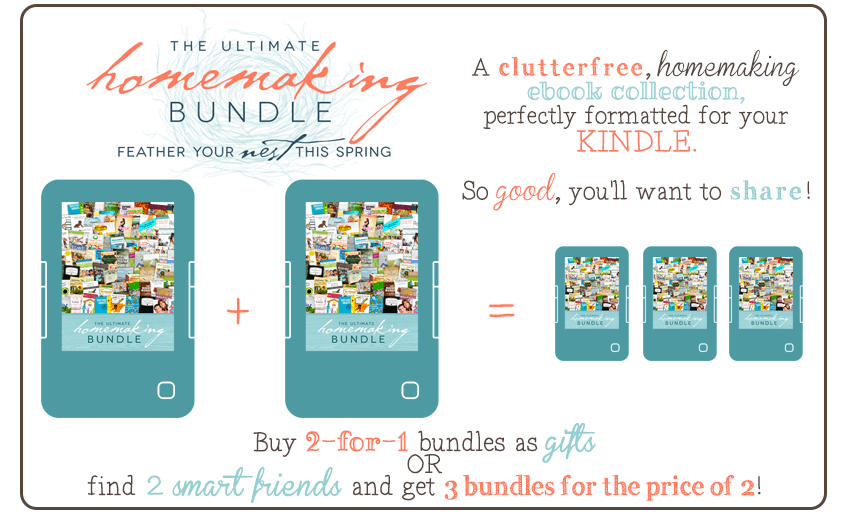 Food
10 Awesome Gluten Free Resources @ Intoxicated on Life
Raw Lime Coconut Chocolate Bliss Balls @ Keeper of the Kitchen
Blondie Brownies @ Simple. Healthy. Tasty.
Continuous Brew Kombucha vs Batch Brew @ Modern Alternative Mama
Classic Nourishing Hot Cocoa @ Nourishing Simplicity
Slow Cooker Zuppa Toscana @ Joyful Thrifty Home
Faith
Finding Time for God When You Can Hardly Find Time to Breathe @ Imperfect Homemaker
10 Scriptures to Help You Get Through the Hard Days @ Beauty in the Mess
Financial stewardship
5 Meals From One Pot of Beans @ Schneider Peeps
Frugal Living: Groceries @ Serving Joyfully
How to Afford to Be a Stay At Home Mom @ Growing Slower
When Life Hands You Lemons (unemployed series) @ Schneider Peeps
5 Ways to Build Your Savings Account @ Today's Frugal Mom
Staying at Home With Your Kids When You Can Barely Afford It @ The Humbled Homemaker
Health & wellness
A Skeptic's Guide to Essential Oils: How They Work @ Intoxicated on Life
Five Steps to Treating a Cold Naturally @ Joyful Thrifty Home
Hot Honey for Strep Throat @ Simple. Healthy. Tasty.
How to Make Detox Bath Salts @ The Encouraging Home
10 Tips to Get Rid of Lice Naturally @ Nourishing Simplicity
What's Really in That? Hidden Ingredients in Consumer Products @ Virginia George
Beating Seasonal Allergies With Essential Oils @ Living the Fitness Lifestyle
Homemaking
Preparing Your Home (and Your Heart) for Hospitality @ Young Wife's Guide
Time Management Resources @ Joyful Thrifty Home
7 Ways to Add Hours to Your Day @ Beauty in the Mess
Homeschooling
The Importance of Finding Good on the Hard Homeschooling Days @ Managing Your Blessings
How to Occupy Your 2 Year Old While You Homeschool @ Imperfect Homemaker
How to Get the Most Out of Homeschool Co-ops @ Schneider Peeps
Must Haves for Homeschooling Boys @ The Encouraging Home
Scheduling Their School Days (and a free printable) @ The Modest Mom
Holidays & special events
(there were too many good posts to fill the other categories, so I pulled a few seasonally appropriate holiday posts from my own archives…)
3 Simple Mother's Day Gift Ideas
Frugal and Simple Mother's Day Gifts
HealthIER Camping Food: 7 Tips for Taking Real Food With You
Motherhood
The Resolve of an Imperfect Mother @ Simple Life, Abundant Life
What's Your Son Got to Say Tonight? @ Raising Real Men
Maybe Your Two Year Old Just Needs You @ Sarah Mae
Moms, You Can Be the Game Changer @ Purposeful Homemaking
Potty Training Mom of 9 Tells All @ Visionary Womanhood
Marriage
The best question @ The Art of Simple
5 Ways to Ruin a Good Marriage @ Serving Joyfully
7 Ways to Have a Great Marriage for the Homeschooling Couple @ The Modest Mom
How to Date Your Husband When You Can't Afford Dates @ Beauty in the Mess
Pregnancy & babies
Follow your heart, mama @ Life Your Way
Things to Consider When Writing a Birth Plan @ My Joy-Filled Life
Post Partum Basket @ My Joy-Filled Life
10 Questions for Expectant Moms to Ask BEFORE the Third Trimester @ Keeper of the Home
Dear Mom Who Tried to Breastfeed and Thinks She Failed @ The Humbled Homemaker
Self-care
5 Easy Pick-Me-Ups That You CAN Do – Yes, You! @ Raising the Barrs
5 Things That Help Me When I'm Feeling Overwhelmed @ Simple. Healthy. Tasty.
Taking Care of Mom @ The Encouraging Home
The Busy Mom's Guide to (Almost) Not Exercising @ Purposeful Homemaking
Working from home & blogging
Is Being a WAHM a Compromise You Should Avoid @ Raising the Barrs
Managing Life as Work-at-Home Mom @ Keeper of the Home
Time Management, Growing Your Audience & Self Doubt @ How They Blog
Amazing, right? That's just a teensy, tiny taste of what's included in the Ultimate Homemaking Bundle.
Still curious about it? Wondering how it all works or what the catch really is?
As a blogger, I get a lot of emails. Occasionally, I get rude emails. Other times, I get super spammy ones. Some days, I wind up reading an email that leaves me scratching my head in bewilderment over what exactly it is they're trying to say.
And sometimes I get emails that just make me smile because I think they're so awesome. Like this one I got from Tiffany during a previous bundle…
Ok, I am very interested in this bundle because I am now just starting down the road to healthier eating…. But, at the risk of being rude, what's the catch? Seriously almost $1000 worth of stuff for only $30!???!?! That doesn't make any sense to me. How are you doing it and what (if any) are the hidden costs???
Thank you for your time
Tiffany.
No, thank you, Tiffany, for being so honest and blunt. I really loved her email. It gave my husband and I a good laugh, and answering her question about the bundle was even more fun.
Here's the answer… there's no catch. There are no hidden costs.
Here's how these bundles work:
We can offer such a mind-blowing deal because all of the authors involved have teamed up to offer this 84 ebook (and other digital resources) bundle for a short time only (6 days).
We make the cost crazy low so that it's irresistible and lots of people want to buy it.
Through the sheer quantity of bundles sold, we each earn enough money to make us walk away happy, plus more readers learn about our books and blogs, which makes us even happier.
Corporate sponsors who want to introduce you to their amazing products offer them for free (sometimes you just pay the shipping charges- depends on the offer) as a form of advertising.
We, the organizers, pull the whole thing together for a small commission on each bundle sold, which covers the costs of our team and rewards us for our time spent organizing it.
YOU get the best deal of all… a massively discounted bundle, with $700 of relevant and practical homemaking eBooks and $200 of free bonuses from companies you'll love.
There you have it. Over $1000 of products for just $29.97. Everybody wins. Everybody is happy. Everybody gets a great deal. THIS SALE HAS NOW ENDED. Hopefully we'll do another one next year!
Happy Weekend!