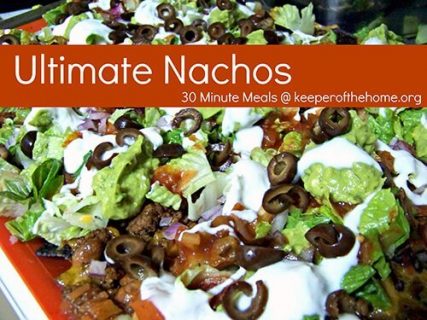 Ultimate Nachos Recipe
Yield 4 -6
Ingredients
1 pound ground beef (you may use less)
3 tablespoon taco seasoning
1 1/2 cups pinto OR black beans
Approx. 10 cups blue corn tortilla chips
3-4 cups cheese
Toppings (any combination of the following): lettuce, salsa, sour cream (or plain yogurt), guacamole, black olive, diced onions, fresh cilantro, sliced jalapenos, green onions, chopped tomatoes.
Instructions
Preheat oven to 350 degrees F. Brown ground beef in a large skillet. Add the homemade taco seasoning and beans. Stir well and let cook for 2 minutes.
Spread tortilla chips out on a large sheet pan. You can cover the pan with parchment paper to keep the nachos from sticking.
Sprinkle half the cheese over the chips. Top with the meat/bean mixture. Sprinkle on the remaining cheese.
Bake the nachos in the preheated oven for 10 minutes. While the nachos are baking, you can make your guacamole, prep the rest of your toppings, and clean up.
Once the nachos are done baking, top with your choice of toppings. Serve with a spatula.
Courses Main Course
Recipe by Keeper of the Home at https://keeperofthehome.org/ultimate-nachos-30-minute-dinner/