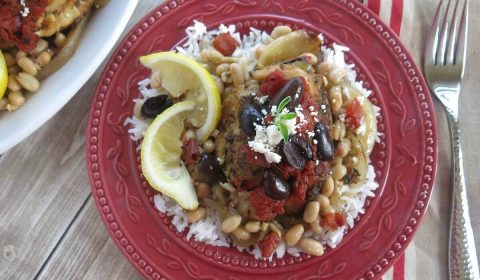 Slow Cooker Greek Style Chicken
Ingredients
1 large yellow onion, chopped
6 cloves of garlic, crushed and sliced
3 lbs. bone-in chicken thighs, skin removed
2 tbsp lemon juice (approx. 1 lemon)
15 oz. fire-roasted tomatoes, diced
1/2 cup pitted Kalamata olives, halved
2 cups soaked & cooked white beans (or two 14 oz. cans drained & rinsed)
Optional: Lemon slices and crumbled feta cheese for serving
Greek Seasoning Mix
1 tsp dried oregano
1/2 tsp each of onion powder, garlic powder, parsley, thyme and sea salt
1/4 tsp freshly ground black pepper
1/8 tsp nutmeg
Instructions
Lightly coat the bottom of a 6-quart slow cooker with olive oil or coconut oil.
In a small bowl, combine the Greek Seasoning Mix ingredients. Evenly distribute the seasoning mix among the chicken thighs by sprinkling both sides of each thigh with the seasoning mix.
Place chopped onion and garlic in bottom of slow cooker. Then arrange the seasoned chicken thighs over the onions and drizzle the lemon juice across the top.
Evenly spoon the tomatoes and olives on top of each chicken thigh.
Cover and cook on high for 5-6 hours or on low for 7-8 hours.
During the last 30 minutes of cooking time, carefully remove the chicken thighs (tongs work best) and place on a platter. Stir in the beans, if using – otherwise, skip this step. Then carefully add the chicken back to the crockpot and continue cooking.
When ready to serve, place about a half-cup of rice (or grain-free cauliflower rice) on each plate, if desired. Then place the chicken thighs over the rice with a large ladle or two of the white bean mixture. Garnish with lemon wedges and crumbled feta cheese, if desired. Enjoy!
Recipe by Keeper of the Home at https://keeperofthehome.org/slow-cooker-greek-style-chicken/