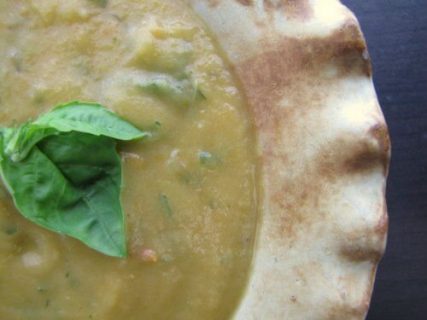 Spring and Summer Soup Recipe
Ingredients
1 onion, chopped (sweet onion, like Vidalia is best, if available)
2 carrots, chopped
2 celery ribs, chopped
1 medium zucchini
2 cups of roughly chopped new or fingerling potatoes, or Jerusalem artichokes (which are not artichokes, but root vegetables)
4-6 cups chicken broth
2-3 tomatoes, quartered
1 leek, chopped
3/4 - 2 cups fresh basil leaves, to your taste (reserve a little for garnish)
1 cup fresh parsley leaves
1 Tablespoon fresh thyme or 3/4 tsp dried
Pepper
Coconut oil or butter for sauteing
Olive oil, optional
Instructions
Melt a few tablespoons of coconut oil or butter in a large stockpot over medium-high heat. Add the chopped onions, carrots, celery, zucchini, and Jerusalem artichokes or potatoes. Saute for about 5 minutes. (Sauteing vegetables before adding stock or broth is a great way to increase the flavor to any soup.)
Once the vegetables are beginning to soften, add broth and bring to a boil, then reduce heat and simmer for approximately 10 to 15 minutes.
Add tomatoes and leek and simmer for another 10 minutes, or until the potatoes or Jerusalem artichokes can be easily mashed.
At this point you may choose to eat the soup as is, or puree (either completely or partially). An immersion blender works well for pureeing soup that is still warm.
Once blended, add the salt, basil, parsley, and thyme to taste, blending briefly to distribute throughout. Add a drizzle of olive oil for a touch of extra flavor.
If you wish to use a regular blender, wait until the soup has cooled a little, then blend in batches adding the herbs as you go. Once you are satisfied with the consistency of the soup, salt to taste and add the olive oil if desired. Don't fill the blender all the way to the top. . . the lid may pop off and soup could fly everywhere (ask me how I know)!
If you have little ones who are able to eat soft vegetables by themselves, be sure to set some aside before blending. My 1 year old loves to eat soup veggies (she likes the pureed soup too, but needs more help with that)!
If you desire a more chunky soup (and don't wish to puree it at all), chop the herbs finely and stir to distribute evenly.
Season with pepper and add a sprinkling of freshly chopped herbs as a garnish.
Courses Appetizer
Recipe by Keeper of the Home at https://keeperofthehome.org/simple-soup-for-the-spring-and-summer/