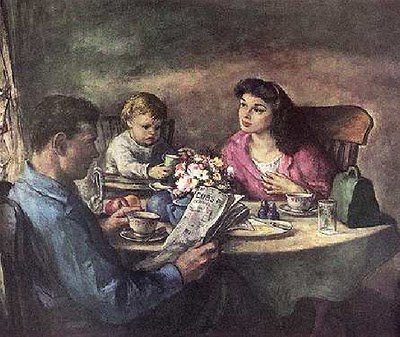 Written by Sharon Kaufman, Contributing Writer
"She does him good… all the days of her life."
Continued from yesterday's post…
But What if My Husband Objects?
This is not unusual and can be frustrating. I have found that submission, prayer and/or a respectful appeal (in order to come to an agreeable solution, if need be) always honor God, guards against frustration and often obtains an open-mindedness from my husband. Here are some typical and reasonable objections your husband might offer:
"I really don't care to eat that stuff."
Personally, I would love to serve seafood once a week, but Robert loathes anything out of the water. Knowing that the Omega 3's that fish provide are vital to health, I put it before the Lord and the answer came – COD LIVER OIL. Can you believe that? My husband would rather go hungry than let one morsel of mackerel, etc. pass through his lips, yet he will gladly slurp down a spoonful of cod liver oil (lemon taste, not fishy) every morning.
A friend of mine tried numerous times in numerous ways to introduce unrefined coconut oil to her husband, but he disliked it and detected it no matter how she disguised it in his food. Finally she relented and put her gallon of coconut oil to rest.
Subsequently, one evening after retiring for bed, her husband, attempting to kiss her goodnight, gagged and then lamented, "I cannot even give my wife a kiss goodnight without tasting that stuff!" Since she was no longer using coconut oil in the kitchen, she had begun using it as a skin moisturizer.
But here's the clincher. My Bible study group met at this lady's house. When it was my turn for snack, I made popcorn – popped in coconut oil and slathered with butter. After study, her husband waltzed in and ask for something to nibble on. Not remembering the coconut oil debacle, I handed him a bag of popcorn. He gobbled it down with absolute relish, savoring every bite. Realizing this, it was all I could do to keep a straight face.
The Lord often manifests His sense of humor in providing answers and encouragement!
"We cannot afford organic."
This is where it really pays to know your stuff. If you've educated yourself, you can respectfully appeal to your husband. Pray first, then approach him with ideas to make whole food work within your budget. Following is a sampling of what you might present:
Economize by:
Assure your husband that you will pray as Jesus instructed, "Give us this day our daily bread", and believe He will. Robert and I live on a meager income and have never had to compromise at the grocery store because God has faithfully provided for us. We have not been disappointed and have found that our "thankfulness quotient" has skyrocketed.
"I'm happy with the way we've always eaten."
If this is your situation and your husband will not be persuaded otherwise, and if it concerns his tastes rather than the budget, there are many things that you can do to make his meals more nutritious. Here are some ideas:
Make your own salad dressings (the ones your hubby really likes) and mayonnaise.
Buy bacon and wieners, etc. that do not contain nitrites and nitrates.
Make hamburgers from grass-fed beef instead of conventional beef.
Buy snacks your husband prefers (potato chips for instance) that are made with cold-pressed monounsaturated oils instead of polyunsaturated heat-extracted oils.
Make healthy alternatives of the processed foods he's used to – for instance, stuffing made from scratch that mimics (no, it tastes better than) the mix you make on top of the stove.
"What about desert?"
Your husband may fear that his sweet tooth will be starved (actually, that's not a bad thing). Assure him that you will make his sweets from scratch (perhaps this is yet another way to budget for whole foods), using healthy alternative sweeteners – palm sugar, organic maple syrup, Rapadura, stevia. (Follow this link to learn why agave is even worse than HFCS.)
Since I have never baked much, our sweet treats include puddings, baked apples, parfaits, homemade ice cream, fresh peaches (or other fruit) with cream (yum!). These sweets offer less carbs than baked goods and also some nutrition in the form of eggs, cream and milk. Still, these types of foods should be served only occasionally since they still contain sugars. Alternatively, try serving salty treats such as popcorn, popped as mentioned above, peanut or almond butter on celery or salty nuts prepared for optimum nutrition.
Some Practical Ways to Nourish Your Husband
Make breakfast. After fasting 10 hours or more and with a full day ahead, breakfast is vital for energy and general health. "Eat breakfast like a king, lunch like a prince and dinner like a pauper."
Pack a lunch if your husband eats away from home while working.
If your husband fills up on the main course and neglects his salad, serve the salad as a first course along with his favorite (healthy homemade) dressing.
Provide plenty of good fat with each meal; it satiates hunger better than carbs or protein. Your husband will go longer without needing snacks. Slather cooked veggies in butter (fat also assists in the delivery and metabolizing of nutrients in your body).
God is Honored
When it is your desire to "do your husband good" in this fashion God is glorified. He will provide in ways that you never dreamed of. Pray about any difficulties you encounter, continue your education, plan your menu, go to bed earlier, listen to your husband, and eat as many meals together as possible at the table. Go ahead…do him good!
What other snack and economizing ideas can you offer? How has your husband responded to your "doing him good" in this way?