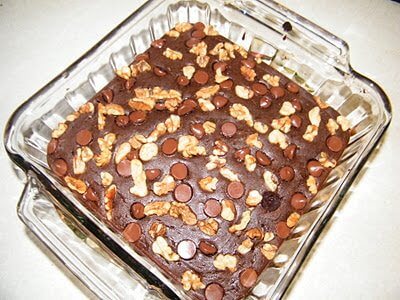 Secret Ingredient Brownies
Ingredients
1 can of 16 ounces of organic black beans, or cooked soaked beans
3/4 cup Sucanat (or sweetener of your choice)
2 tablespoons coconut oil
1/3 cup cocoa powder
3 eggs
1 1/2 tablespoons pure vanilla (if you have homemade that would be best, I'm going to be making some myself very soon!)
pinch of salt
chocolate chips (optional)
walnuts (optional)
For a more cake-like brownie, add 2/3 cup flour (gluten free or whole wheat) and 1/4 cup water

Ingredients

Key Step: Rinse the beans

*you don't want to be having a beany taste while eating these*

Mix ingredients in a food processor or a blender
Instructions
The first thing you need to do is to rinse your canned or cooked beans thoroughly. This is extremely important as you don't want that beany liquid taste!
Preheat oven to 350 degrees.
Next, you pour the beans, eggs, vanilla, coconut oil, sucanat, and cocoa powder into a food processor or blender.
Blend until smooth, add the pinch of salt (and flour and water if you want to add it) and pulse until well mixed.
Grease your a 8x8 baking dish with coconut oil and pour batter into dish.
Top with optional walnuts and chocolate chips.
Bake for 30 minutes or until middle is done.
Cool before serving and enjoy!
Courses Desserts and Sweets
Recipe by Keeper of the Home at https://keeperofthehome.org/secret-ingredient-brownies/