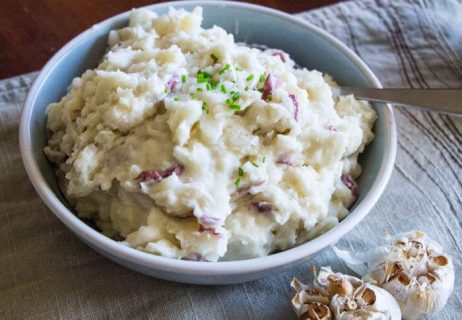 Rustic Roasted Garlic Mashed Potatoes
Yield 8
Ingredients
5 lbs potatoes (I prefer a yellow or red potato, but anything is fine), chopped into large chunks. If you're keeping the skins on, I recommend organic.
1 tsp sea salt (or to taste)
1/2 stick (1/4 cup) butter -- grass fed is ideal, as is raw/cultured
1 cup dairy -- I like to use 1/2 cup sour cream (or creme fraiche) with 1/2 cup whole, raw milk. But you could use all milk, all sour cream, buttermilk, etc.
1-2 heads of roasted garlic cloves, minced or pressed (personally, we like more than less– I put two whole heads of garlic, about 16 cloves, into mine!)
Dairy-Free Variation:
Substitute coconut oil for the butter. Instead of using milk and sour cream, you could use a mixture of chicken broth and coconut milk, or just omit the coconut milk and use all chicken broth (but you won't want quite as much, since it is thinner than dairy). This will give it a rich flavor and you probably won't even miss the dairy.
Instructions
Pre-heat oven to 400 F. Put a large pot of water on to boil (I use a small stockpot).
[cap id="attachment_34649" align="alignnone" width="300"]This is what the garlic look like after being roasted. See how I've opened them by cutting off just the tips?[/cap]
Snip the top off the garlic head(s) (but leave the peel on). Put them on a tray or uncovered pan and let them roast in the oven for about 30 minutes, until soft and fragrant and the peels are brown on the edges.
Boil the potatoes in their skins until they are soft enough to easily pierce with a fork (about 20-30 minutes). Don't leave potatoes boiling or sitting in hot water longer than necessary, because they will develop more of a gluey consistency. Best to drain them straight away, even if you won't get to them for a little while.
Add the butter to the pot until melted. Add in sour cream (milk, creme fraiche, broth, etc.), milk, salt, and garlic. Using either a potato masher or a hand mixer, begin to mash the potatoes and mix in the butter. I don't like mine super-smooth, but you can beat them until smooth if you like them that way. It helps to give it a few minutes to let the flavors shine, especially the garlic.
Courses Side Dish
Recipe by Keeper of the Home at https://keeperofthehome.org/real-food-holiday-progressive-dinner/