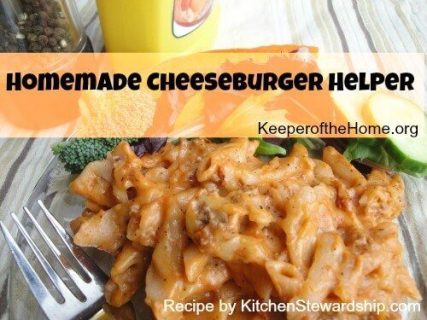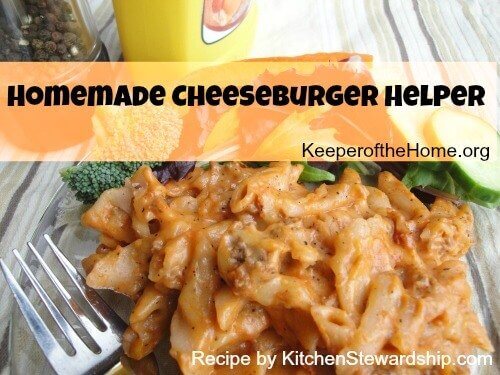 Dad's Cheeseburger Helper
Ingredients
1 lb. ground beef
1 tsp. black pepper
1 tsp. onion powder or 2-3 tsp. onion flakes
¼ tsp. garlic powder (or 1 clove minced garlic)
1 ¼ c. tomato sauce
hefty squirt of mustard
1 ¾ c. water
½ tsp. salt (or more to taste)
2 ½ c. pasta (whole wheat works fine, any shape)
2 c. shredded sharp cheddar cheese
Instructions
Brown and drain beef.
Stir in pepper, onion powder, garlic, tomato sauce, and mustard.
Pour in water and pasta.
Bring to a boil and reduce heat.
Cover and simmer 15 minutes, stirring occasionally until the water is absorbed and the pasta is cooked.
Turn the heat off and stir in the cheese.
GF adaptation:
Use gluten-free pasta (tested with brown rice pasta) and reduce the water by a 1/4 c. to avoid mushiness.
Courses Main Course
Recipe by Keeper of the Home at https://keeperofthehome.org/no-you-dont-have-to-make-your-own-ketchup-recipe-homemade-cheeseburger-helper/