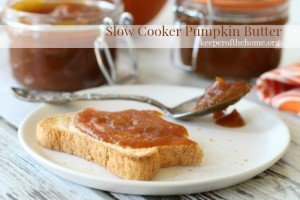 Easy Slow Cooker Pumpkin Butter
Yield 6 cups
Ingredients
6 cups of homemade pumpkin puree (or three 15 oz. cans)
1 1/2 cups pure maple syrup
1 1/4 cups unfiltered apple cider
1 tablespoon pure vanilla extract
2 tablespoons pumpkin pie spice
2 teaspoons ground cinnamon
1/8 teaspoon sea salt
Instructions
Place all of the ingredients into a 4-quart slow cooker and stir well to combine. (If using canned pumpkin, be sure it's pure pumpkin and not pumpkin pie filling.)
Cover and cook on low for 5 hours, making sure to stir mixture halfway through the cook time to prevent burning since some slow cookers run hotter than others.
After 5 hours of cooking, remove the cover, stir the mixture and then set the cover back on slightly ajar, so some steam can escape during the remainder of the cooking time. Continue to cook the pumpkin butter on low (with the cover ajar) until it's dark brown and thick (about 2 hours).
Turn off the slow cooker, stir the pumpkin butter and allow it to cool to room temperature. Then, transfer it to mason jars or other airtight containers.
Makes 12 half-cup, or 6 one-cup jars. (Store in refrigerator for up to two weeks or freeze up to one year.) Enjoy!
Recipe by Keeper of the Home at https://keeperofthehome.org/make-slow-cooker-pumpkin-butter/