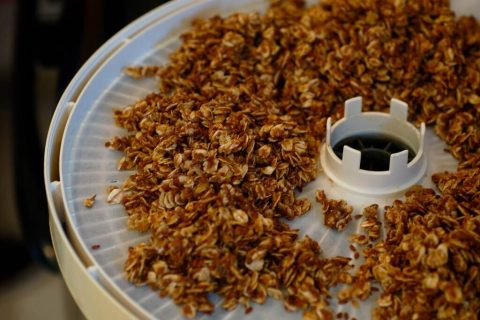 Homemade Granola Recipe
Ingredients
About 14-16 cups sprouted buckwheat (I get this amount by sprouting two medium sized packages of the whitish-green, not the dark brown kasha, buckwheat from my baking aisle in the grocery store- it's probably about 4-5 cups of dry buckwheat).
3/4 cup extra virgin olive oil
3/4 cup raw honey
1 coffee grinder's worth of ground flax seeds
2 coffee grinder's worth of ground raw sesame seeds (you can interchange these two somewhat- I was low on sesame seeds, so I did 2 grinder's of flax and only 1 of sesame and it was fine)
Lots of raisins to taste
Lots of goodies such as handfuls of raw pumpkin seeds, raw sunflower seeds, chopped almonds or walnuts, dried fruit of choice (unsulphured apricots, dates, figs, cranberries, etc.)
Instructions
Sprout the buckwheat. Here's a very simple explanation of how to do it: Soak buckwheat overnight in a bowl of water. In the morning, put the buckwheat in a colander, and rinse it very, very well with cold water (buckwheat emits a mucilage, much like flax seeds when they get wet, so if you don't rinse well enough, they get goopy and smell very off- make sure to shake them around while rinsing to do a thorough job each time). Set the colander in or over a bowl, cover it with a towel and set it aside. Before you go to bed, rinse very well again, and cover overnight. Continue to rinse at least twice a day until it has short sprouts- around 1/2 cm (maybe a 1/4 of an inch or a little shorter?). It usually take 2-3 days.
Mix all together well in a very large mixing bowl.
Spread on greased mesh dehydrator sheets, just high enough so you can easily fit the next tray on top.
After a few hours, use a fork to break it up a bit into chunks. Leave it to dehydrate overnight or until completely dry and crispy.
Courses Desserts and Sweets
Recipe by Keeper of the Home at https://keeperofthehome.org/i-love-my-dehyd/