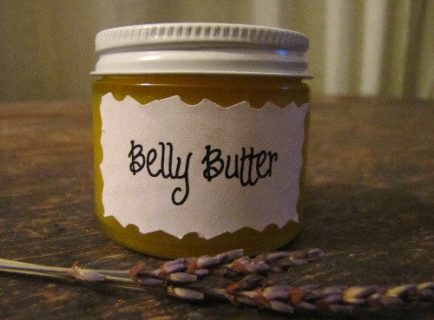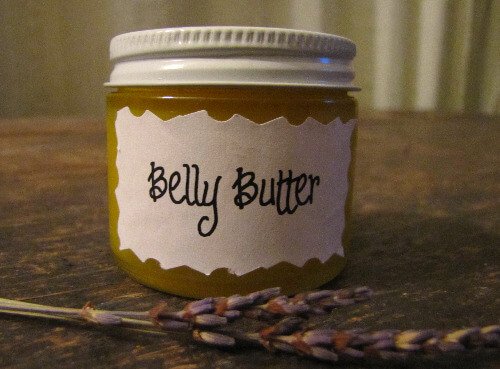 Mama's Belly Butter
Ingredients
To make 4 ounces (I usually divide this between a couple of 2 oz jars) you will need:
1/2 cup cocoa butter
2 tablespoons wheat germ oil
2 teaspoons sesame seed oil
2 teaspoons apricot kernel oil
2 teaspoons vitamin E oil
4 teaspoons grated beeswax
2 teaspoons vanilla extract (optional)
Instructions
Measure all ingredients, except vanilla, into a heavy saucepan. Warm mixture over low heat until cocoa butter and beeswax have melted (two to five minutes). Stir well.
Remove from heat and stir in vanilla, if using. Another option would be to add a few drops of essential oil such as those mentioned in this post.
Cool briefly then pour into jar(s). Leave lid off and allow to cool completely (this should take about an hour). It will look very runny at first:
The butter will begin to thicken and harden immediately. It will look something like this after 10 minutes:
Once completely cool, place lid on tightly and add a label. Then "wow" your friends at the next baby shower with a gift of homemade belly butter!
To help skin remain soft, rub a small amount onto the stomach daily. Upon application, it may appear oily, but will quickly be absorbed.
Recipe by Keeper of the Home at https://keeperofthehome.org/homemade-belly-butter-all-natural-pampering-for-pregnant-mamas-2/