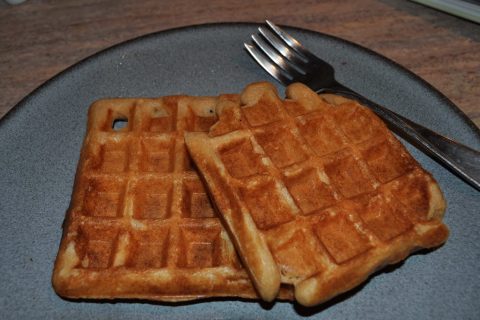 Whole Wheat Buttermilk Waffles
Ingredients
2 eggs
2 cups buttermilk
2 cups white whole wheat flour
1 tsp baking soda
1 tsp baking powder (rounded)
1/2 tsp salt
3 Tbsp melted butter
3 Tbsp slightly softened coconut oil (if you use unrefined coconot oil it adds a nice bit of sweetness)
Instructions
Beat eggs well, then add buttermilk to eggs and beat.
In a separate bowl, mix together flour, baking soda, baking powder and salt. Stir into egg mixture.
Add butter and coconut oil and beat just until smooth.
Use a hot waffle iron.
Soaked Version:
Combine the 2 cups of whole wheat flour with the 2 cups of buttermilk in a mixing bowl, cover with a cloth, and let sit overnight. In the morning, add the eggs to the flour mixture and beat, and then add the rest of the inredients and beat just until smooth. These take a little more time to cook, because the batter is a bit heavier, or kind of spongy, so be sure to leave them on the iron a bit longer than usual.
Notes
Makes about 12 waffles, depending on the size of your waffle iron.
Courses Breakfast
Recipe by Keeper of the Home at https://keeperofthehome.org/healthy-breakfasts-whole-wheat-buttermilk-waffles/