ec·zema (ek′sə mə, eg′zə-)
noun
a noncontagious skin disorder of unknown cause, characterized by inflammation, itching, and the formation of scales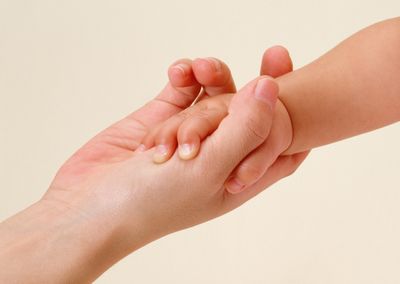 This is actually one of the most common complaints, questions, etc. that I hear, in relation to natural health remedies, and in response to my recent mention of my own eczema, I was asked about it once again.

How I do get rid of my (or my child's) eczema???
First, for some more detailed definitions of eczema and the different types, check out this webpage.
Second, my brief disclaimer: I am not an expert on eczema. Forget even the fact that I am not any sort of certified medical practitioner (which is important to note), but you should also know that although we have dealt with eczema quite extensively as a family, I still do not feel that I fully have a grasp on all of the why's behind it or the how's of dealing with it. What can I say? I'm a work in progress. 🙂
What causes eczema? 
Although you will get many varying answers on exactly what causes someone to develop eczema, one thing is certain. The dryness, scaliness, etc. of eczema itself is not the main issue (though it is definitely an aggravating and sometimes painful condition). It is simply a outward symptom of a deeper issue going on in the body.
Some of the many causes of eczema that we have either personally dealt with or that I have known about include (and note that this list is probably not exhaustive, but merely what I have learned so far):
Allergic or sensitive reactions to particular foods
Reactions to chemicals and toxins, in food products, body care products and cleaning/household products
Reactions to environmental triggers, such as dust mites, mold, etc.
Toxicity in the body that the liver cannot handle, and so eczema develops as the body tries desperately to flush out the toxins through the skin, which is one of the body's major organs of elimination
Dryness and irritation of the skin that develops due to dehydration (not enough water- this is far more common than you would think)
Dryness, irritation and inflammation of the skin that develops due to insufficient good fats, particularly Omega 3 fatty acids (these good fats help to moisturize and lubricate our skin from the inside out, as does the water that we drink)
Hormonal changes and imbalances
A weakened or compromised immune system, and sometimes even high levels of stress or tension
As you can see, the causes can be extremely varied, which means that there is no "one size fits all" prescription for treating eczema. Unfortunately, this is the route taken by most (though not all) conventional or allopathic medical doctors.
The most common method of "treatment" is to prescribe some sort of cortisone (steroid) cream. Although this has the benefit of relieving the irritation and itching and bringing the skin back to normal (and it does help to temporarily bring relief, which can help the skin to heal more quickly), it doesn't actually solve any of the underlying problems.
Cortisone or steroid cream is concerning because of two main side effects. The first is external, and that is that is actually thins the skin and ultimately makes it weaker and more susceptible to infections, etc. The second is internal, and what happens is that some of the steroid is absorbed into the bloodstream (remember- anything you put on your skin can and will likely be absorbed into your bloodstream!). Once there, it can alter hormone levels and can even cause reduced growth rates in children. For these reasons, we personally choose to avoid all cortisone creams in the treatment of eczema.
So how do we go about treating and dealing with eczema in a more natural, holistic and long-term way? Join me next week for Part 2, where I will share some of what I have learned and have tried for myself and my children!
I'd love to hear from any readers who are dealing with (or have dealt with) eczema personally or in their family! Particularly, if you have worked with a naturopath or any more naturally-minded practitioner, what types of underlying causes have you discovered?
Read the other posts in this series: